Review: Very Hungry Caterpillar Children's Show Soars in NYC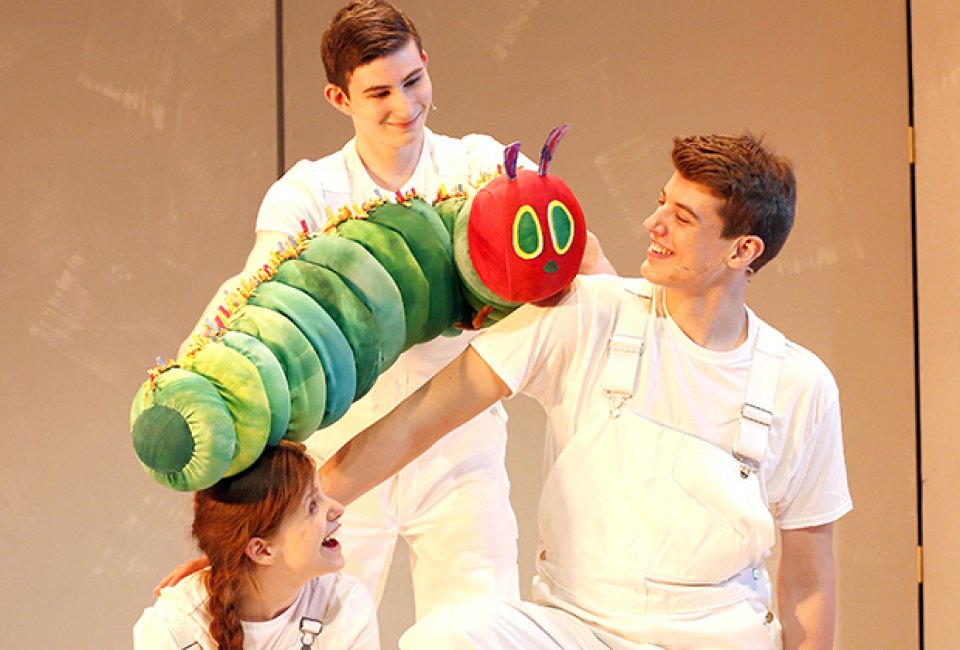 2/3/16
- By
Rose Gordon Sala
Note: This show returns to NYC in February 2023 to the DR2 Theatre in Union Square.
It's never easy to successfully adapt a popular book for stage or film (the expectations!), nor to keep a theater full of toddlers and preschoolers engaged and seated for an hour. Yet the latest stage adaptation of Eric Carle's beloved The Very Hungry Caterpillar, playing in NYC this winter, does all that and more.
The Very Hungry Caterpillar Show, which opened January 30, retells four iconic Carle tales with 75 handcrafted large-scale puppets, four actors who double as puppeteers and narrators and subtle but lyrical music that readies the audience for the animal magic about to appear on stage. It's earnest, colorful, artsy and will hold your kid in awe for 60 solid minutes.
This sweet production, which first opened in Australia, begins and ends by an actor holding up one of the popular board books it retells—The Artist Who Painted a Blue Horse, Mister Seahorse, The Very Lonely Firefly and The Very Hungry Caterpillar (in that order)—​and that nod to the original storyteller and illustrator is followed by a show that hews word-for-word to the books.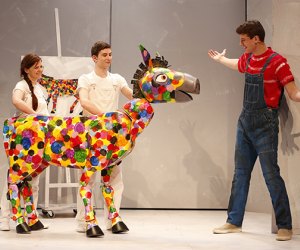 Carle's colorful animals really come to life on the stage—75 in total!
With minimal narration, the production is a visual feast that relies on the bright colors and personalities of Carle's characters to take center stage. Colorful fluttering scarves, neon-hued puppets created in the illustrator's familiar collage-style that prance about and flashy stage lighting, combined with clever soundscapes like crickets and firecrackers, transport the audience to the inner pages of each children's story. Music composed by Nate Edmondson helps fuel the action and alert viewers to upcoming events with attention to rhythm and movement rather than verse. The orange elephant of The Artist Who Painted a Blue Horse gets a long, slow trombone as kids in the audience laugh and point to his impressive trunk, while the trumpet fish of Mister Seahorse arrive with Jamaican steel drums and trumpets sounding in the background.
RELATED: Best Winter Events for NYC Preschoolers
It's a quiet, minimalist show, so don't expect dancing in the aisles or lots of interactive elements, though many kids will call out the answers to rhetorical questions just the same. My 3-year-old gasped at reveals like the shake of the green lion's mane. Some kids will squirm halfway through, but the eye-catching puppets created by local outfit The Puppet Kitchen, some bedecked in glitter and measuring several feet in width, always manage to reel back little eyes and attention spans. And no one minds a little squirming in children's theater.
Tip: Prep your kids for the show by reading all four of the books, not just The Very Hungry Caterpillar. Though her eyes were glued to the stage, mine occasionally leaned over to ask: "Where's the cat-a-pilla?"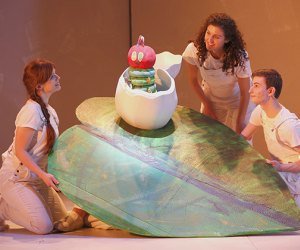 Three caterpillar puppets are used to demonstrate the hungry insect's transformation.
The show's fourth and final tale about that hungry caterpillar is worth the wait. Three caterpillar puppets are used to show the hungry insect's transformation as he eats his way across the stage. From the glowing moon and the caterpillar literally popping out of the egg to the devouring of junk food, the metamorphosis is beautifully told right up through the finale, where the butterfly spreads its wings—a 12-foot span—across the stage.
RELATED: 50 Things to Do Indoors with NYC Kids
There really aren't scary parts to this show. I only heard one child cry at the outset when the lights darkened, so even the shyest of tots likely will warm to this show. It's the perfect pace for the 2- to 6-year-old crowd, though we saw plenty of pacifiers, babes in slings and post-kindergarten siblings, too.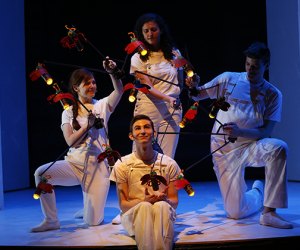 The sweet, melodic Very Lonely Firefly kept kids spellbound as they watched the many twinkling lights.
Set at the intimate 47th Street Theatre, it's hard to find a bad seat. You'll be cozy with your neighbors, but it makes it easier for kids to see the action. It runs an hour with each book told in 10-15 minutes; no intermission. Tickets start at about $50, but Mommy Poppins readers can snag tickets for $29.50 by using the promotion code MPOPPINS during checkout. Tip: They will stow a stroller for you, but it must be collapsed; bring the umbrella version or leave it at home if possible due to limited space.
The Very Hungry Caterpillar Show by Rockefeller Productions runs through April 17 at the 47th Street Theatre at 304 West 47th Street (between 8th and 9th Avenues). Tickets are available now online or by calling 212-279-4200. A single Spanish-language performance and an Autism-friendly show are available.
Looking for a pre- or post-show bite to eat? Head to Ninth Avenue, rather than east toward Times Square. You'll find all manner of quick eats from Two Boots Pizza to Yum Yum Bangkok to Amy's Bread, a favorite Theater District snack spot. Or head south down Eighth Avenue to check out one of NYC's family-friendly food courts, City Kitchen, at 44th Street.
All photos by Carol Rosegg/courtesy of the production.
Places featured in this article: