Ditmas Park and Kensington Neighborhood Guide for Families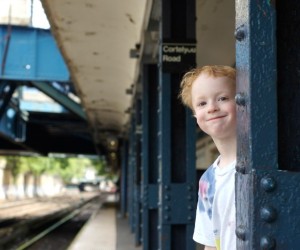 1/3/16
- By
Mariko Zapf
Just south of Prospect Park, Ditmas Park and Kensington are neighboring Brooklyn nooks oozing family-friendly charm. Centered around Cortelyou Road and Church Avenue, most flock to the area for excellent dining options, including The Farm On Adderley. There are also several tried-and-true destinations for fun, including the terrific Lark Cafe, which offers a calendar full of toddler entertainment.
Some staples of community life such as bookstores, children's shops and playgrounds are not as plentiful as you might expect. Instead, visitors and residents share unique experiences such as Kensington Stables, Green-Wood Cemetery and one of the hippest farmers markets around, Cortelyou Greenmarket. For just a taste of both neighborhoods, a single day might be enough. But to really feel like a local, we recommend you dedicate a full day to each enclave. We hope you love these sweet spots as much as we do.
Check out our NYC Neighborhood Guide to find the best things for kids to do in each of the city's most popular hoods.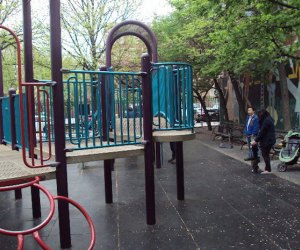 This Tot Lot is just one of the area's favorite playgrounds. Photo courtesy of New York City Department of Parks and Recreation.
Where to Play
Outdoor Playgrounds
Some locals lament the lack of swings in the Kensington/Ditmas Park area. However, there are a handful of solid playgrounds sure to delight the under-10 crowd. Albemarle Playground and the Lt. Federico Narvaez Tot Lot (above) are among the favorites. Hit Albemarle to climb and run around—there is plenty of space to get your sillies out. The Tot Lot is smaller, but the location along Cortelyou Road is perfect to break up weekend brunch and errands. Honorable mentions include the Greenwood (in neighboring Windsor Terrace) and Di Gilio playgrounds. Go there for hopscotch and a change of pace. And when swings are a must, head to the Parade Ground, a short walk north out of the neighborhood.
RELATED: Park Slope Neighborhood Guide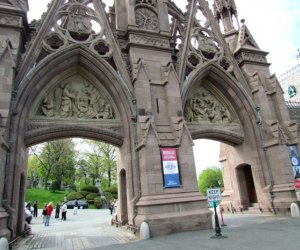 Though not a playground per se, the pretty and massive Green-Wood Cemetery offers family events, activities and sights. Photo by David Berkowitz via Flickr.
Unique Outdoor Options
For older children, consider Kensington Stables for special occasions. It offers guide-led rides through Prospect Park, as well as lessons for the enthusiastic rider. Another option is Green-wood Cemetery, a part of which is located in the northern section of Kensington. The cherry blossoms rival those at nearby botanical gardens and it even has foraging tours. It also hosts the annual Battle of Brooklyn reenactment and more activities. Don't forget to look up here, too. At the entrance you'll find some of Brooklyn's only wild parrots chattering away in massive nests.
Rainy-Day Escapes
Lark Cafe, which makes a pistachio cardamom bread that is out of this world (and gluten-free), is known for its wonderful children's classes that can be enjoyed rain or shine, year round. Sing-alongs and more take place in an adjacent room, complete with bench seating for caregivers. It also boasts a terrific menu for a quick lunch with the kids.
Libraries
Believe it or not, the last time we visited the Kensington Library, it was to knit. You'll find loads of great events there. The Cortelyou Road branch of the Brooklyn Public Library also has interesting activities, including themed Jeopardy! for teens, as well as more traditional story time and crafts events. The staffs at both locations are wonderful.
RELATED: Brooklyn's Best Drop-In Indoor Play Gyms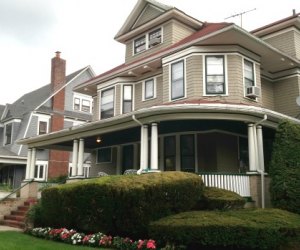 Take older kids on a walking tour of Ditmas' pretty Victorian homes complete with wraparound porches. Photo by Karen Green via Flickr.
For Older Kids
Ditmas Park is home to some of New York City's most unique architecture. Tree-lined streets filled with Victorian homes—many of them original—carry visitors back to gilded-age NYC. Why not take your tween or teen on a walking tour along Courtelyou Road; count the wraparound porches and brush up on your Brooklyn history.
Where to Eat
Along Cortelyou Road
This popular stretch in Ditmas Park has an abundance of restaurants; some are more family-friendly than others. Top picks include neighborhood favorite The Farm on Adderley, where often you find families dining next to couples, who themselves are next to a table of grown-up friends. All are welcome, and the kids' crispy tofu is delightful. The garden in warmer weather is not to be missed. Asya boasts delicious Indian food. Just down the road, Mimi's Hummus is a haven of yummy Middle Eastern delights, many of which are tucked inside a pita pocket. It's tiny, so skip prime time if your children are still young. Want to keep things simple? The slices at San Remo satisfy the pickiest of pizza lovers. Consider Lea for a more upscale Italian option.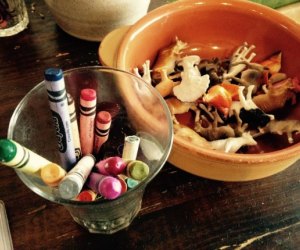 Kids are most welcome at The Farm on Adderley.
Church Avenue and Beyond
The restaurant scene along Church Avenue in Kensington isn't quite as bustling as along Cortelyou, but there are some terrific options. Church Bar is a go-to spot for basic fare—soups, salads and sandwiches—and we end each meal with the bread pudding. Brooklyn Comfort is another family favorite. The menu is imaginative and multiethnic with loads of kid-friendly options, and the prices are great. For an excellent brunch, head to Hamilton's in next-door Windsor Terrace. The brioche French toast is exceptional, the vibe is lively and kids are welcome. If you are in the mood for something Mom might not make at home, head to Sawasde Thai on McDonald Avenue. The curry puffs and pad ta-krai are wonderful. The restaurant is tiny, so consider takeout and enjoy a picnic at the nearby Albemarle Playground.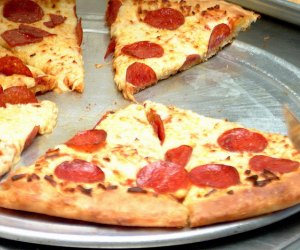 San Remo's pizza is both traditional and unexpected.
Getting there
Ditmas Park is served by the B and Q subway lines and a number of city buses, including the BM1, BM2 and BM3. The B and Q stop at Church Avenue and Newkirk Plaza; the Q stops at Courtelyou Road and Beverly Road. For Kensington, take the F or G train to Fort Hamilton Parkway. Expect to be on the train for at least 40 minutes from Midtown Manhattan.
Top image: Waiting on the train at Courtelyou. Photo by Tim Pierce via Flickr.