Kensington Stables: NYC Kids Can Go Horseback Riding in Brooklyn's Prospect Park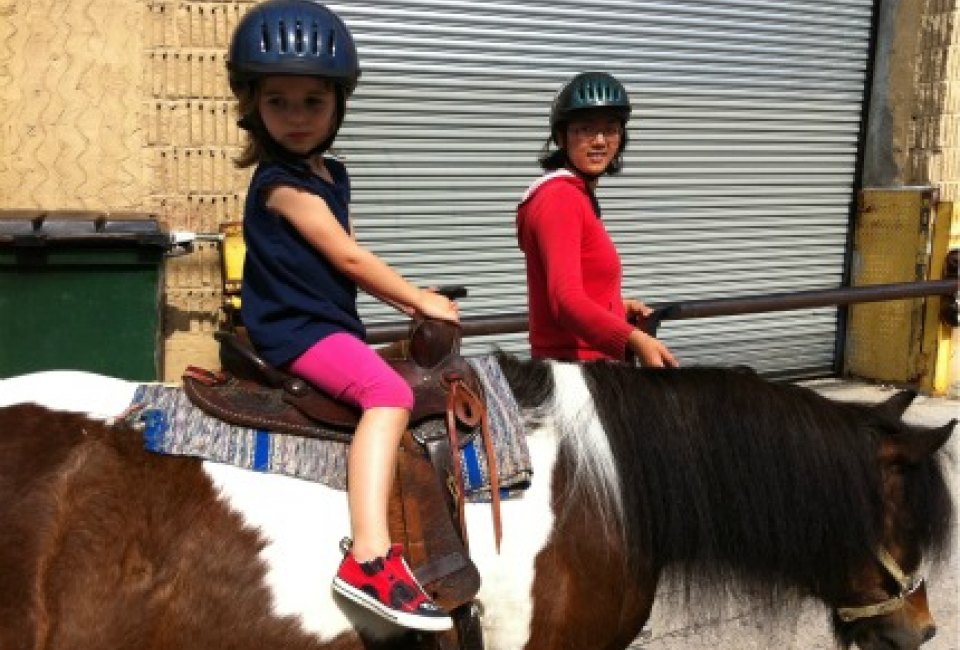 10/26/11
- By
Karlyn
I used to think that I'd need to leave the city to take my son horseback riding. But when we moved into Park Slope, Brooklyn, I discovered we were right near Kensington Stables.

When Kensington was originally built back in 1930, there were other stables in the area but today it's the only horse game in the neighborhood. Visitors can hop on horses and enjoy trail rides in Prospect Park. Kensington also offers riding lessons, party packages and even therapeutic services.

Since my son is only four, I knew he wasn't quite ready for some of those programs, but with the promise of a pony ride, we set out to explore the stable.
Kensington Stables is located on a quiet corner just a few blocks west of southern Prospect Park. Once there, my son opted to skip the pony ride, but his friend took one up and down the street.

Even if your child is too young (or scared) to ride, there's plenty of fun to be had. My son and I took a free tour of the stables with one of the workers, Samsam. She introduced him to the horses, Snickers and S'mores, and led us around. My son loved getting up close and personal with the animals, and even got to feed them carrots. You should bring your own bag, or purchase one at the deli around the corner.

At the office, we leafed through Ted Lewin's beautifully illustrated, retro-looking children's book Stable, which came out last year and is all about Kensington and its horses. You can purchase a copy there. And if you're lucky enough to find an old horseshoe just outside the stable's entrance, you can take it home as a free souvenir.

Kensington Stables offers guided tours of Prospect Park on a 3.5-mile scenic bridle path. Riders ages 11 and up of all skill levels can walk along the edge of Prospect Park Lake, past the Nethermead Arches and through the Midwood, exploring and learning about Brooklyn's premier green space. Horses are available daily from 10am-8:30pm, and an hour-long ride costs $37 per person. If you have a younger child who's eager to go, you can request a handler to help your kid for $57 per child.

Kensington also offer English and Western (with a riding lessons for children ages 6 and up in Prospect Park or in one of its two arenas: a recently renovated space near 15th Street or a more intimate area in the barn. Rates vary but they're not cheap (there's a reason equestrian pursuits seem synonymous with the rich and famous!). Group lessons cost $57 per hour and $34 per half hour, but you can save a few bucks if you buy a package. There are also spring and summer sessions for children ages 6 to 11, and a summer intensive for teens. If you've got a daughter who's constantly begging you to buy her a pony, you could try to satisfy her with a pony party (hey, it's cheaper than actually buying one).

Certified helmets are required—you can borrow one for free or buy them at the stable—and riders should wear comfortable clothing with closed-toed shoes.

My son and I will definitely return to Kensington. As he gets older, there will be more for him to do here. In the meantime, I hope I can convince him to actually get on the pony during our next visit.
Kensington Stables is located at 51 Caton Place, 718-972-4588.
Places featured in this article:

Sign up for our free
newsletters.
Mommy Poppins is a family activity website that helps people find things to do with kids.
©
2023
MommyPoppins. All Rights Reserved.
mp-prod4-v4.32.99
We use cookies and other data collection technologies to provide the best experience for our customers.
Learn More
t Click Here to Sign Up!