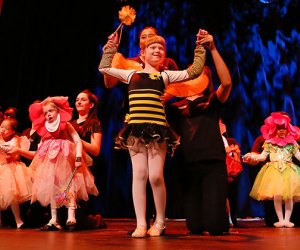 Special Needs Programs and Classes for New York City Kids
Some kids take so many extra-curricular activities they barely have time to play, but for other kids, finding the right after-school classes can be a challenge. Whether your child has a developmental challenge, disability, or disorder, general after-school activities might not work well for them. Luckily, NYC offers a number of options for children of every ability.
We've rounded up more than two dozen great classes for kids with a special need or disability. Don't forget to ask about summer camps and holiday mini camps. Many of these programs offer them, too.
Check out our NYC Special Needs Guide for more ideas, programs and services, including sensory gyms, support groups, and sensory activities.
Music Classes
Brooklyn Conservatory of Music — Park Slope, Brooklyn
58 Seventh Avenue
The Brooklyn Conservatory of Music caters to special needs children in a variety of ways, from early intervention music therapy to therapeutic music lessons. In addition to its on-site programs, the Brooklyn Conservatory of Music offers music therapy outreach at various schools and agencies throughout the city. Visit the website for more information.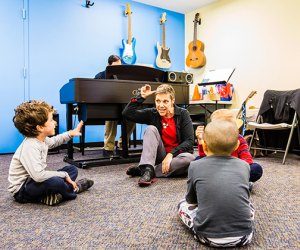 Daniel's Music offers FREE after-school and evening music classes.
OUR LATEST VIDEOS
Daniel's Music — East Harlem
1595 Lexington Avenue
Daniels Music offers FREE after-school and evening music classes for children ages 3 and older and adults of all abilities and challenges. When needed, children are assigned a helper to assist them. Classes are held in the DMF Music Center and the offerings are extensive. Each semester closes with a musical festival so students can show off all they've learned. Be warned: The waiting list for the program is up to a year long.
Hug Music — Forest Hills, Queens
112-01 75th Avenue
Hug Music caters its music classes to children of all abilities and focuses on building a love for music in each of its students. Its special needs music programs include a music therapy group skills class, as well as private musical therapy sessions. A group trial session is available for $40.
Nordoff-Robbins Center for Music Therapy at New York University — Greenwich Village
82 Washington Square East
Nordoff-Robbins has a wonderful reputation in the realm of music therapy. It offers early-intervention programs from infancy to preschool-age, as well as child, adolescent, and adult music therapy. Classes can be individual or group sessions with an emphasis on vocal and instrumental improvisation.
Piano Plus — Upper East Side
135 East 83rd Street
Piano Plus offers adaptive instrument instruction, guitar and piano lessons, and music therapy. Classes can be tailored to the needs of infants, children and adolescents—as well as adults. Piano Plus' innovative multifaceted, multisensory approach to musical instruction is intended for people of all abilities.
Swimming
Swim Jim — Various Locations
Five locations, see website for details.
Swim Jim offers private and semi-private lessons for children with special needs in heated pools.
Swim Works — Midtown
109 East 50th Street
The adaptive aquatics program specializes in helping children with a wide array of disabilities in a heated pool. Classes offer one-on-one instruction. All instructors have been personally trained by Swim Works owner and director Natalie Palmer, a certified Special Olympics coach.
Sports
Adaptive Climbing — Brooklyn and Queens
Brooklyn Boulders, 575 Degraw Street
Brooklyn Boulders, Queens, 23-10 41st Avenue
Adaptive Climbing gives those with disabilities the opportunity to try out the sport of rock climbing. The organization has partnered with Brooklyn Boulders to provide both all-ages sessions as well as kid-centric sessions, which invite disabled children ages 4-17 (and their siblings) to participate in inclusive rock-climbing clinics at a discounted price.
Bronx House Special Needs Program — Morris Park, the Bronx
Bronx House, 990 Pelham Parkway South
Bronx House offers several special-needs sports programs like yoga, soccer, and capoeira for children ages 4 to 17. In addition, there are FREE parenting workshops, socialization classes, and more.
Kicking the Spectrum — Flatiron
Location varies by program; visit the website for details.
Kicking the Spectrum offers martial arts classes to children of all abilities. Each class is co-taught by a black-belt martial artist and a behavioral therapist. Every student begins with a free trial lesson to help with class placement. Classes can be tailored to fit any needs, including private lessons, family classes, and small-group classes. The organization also offers in-school and after-school programs.
Play4Autism — Queens and the Bronx
Location varies by program; visit the website for details.
Play4Autism offers a variety of sports through its Kidz into Action program, primarily in Queens and the Bronx. Prices are affordable; after paying an annual membership fee, many are free of charge and come-when-you-wish, so no long-term commitment is required. Siblings are encouraged to participate, too, and need not pay an annual fee. Activities are wide-ranging and include sports like bowling, whiffle ball, soccer, football, and many more.
Prospect Park Tennis Center — Prospect Park, Brooklyn
50 Parkside Avenue
Children are grouped by age and ability and taught basic tennis skills by a staff of tennis pros, occupational, and physical therapists. Children with physical disabilities can use a sport wheelchair, but supplies are limited and early registration for each session is encouraged.
RELATED: Sensory Gyms in Manhattan for Therapy and Play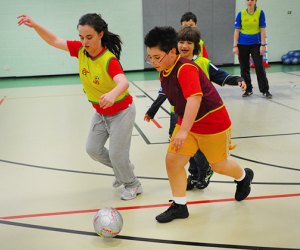 Super Soccer Stars is a favorite sports organization across the city.
Super Soccer Stars — Citywide
See website for details.
This popular local soccer organization provides soccer for children ages 4-12 with ADD, autism, and other forms of PDDNOS (Pervasive Developmental Disorder Not Otherwise Specified). These weekly 45-minute classes are grouped by age and have a low child-to-adult ratio.
Worksman Cycle Company — Ozone Park, Queens
94-15 100th Street
Technically this isn't a class or activity, but Worksman Cycles bike company brings affordable, specially modified kids' bicycles and tricycles to consumers from its local factory. If it doesn't have what you need in a pre-fabricated specialty bike, it will customize a bike or trike to meet your child's exact needs.
Dance, Yoga, and the Arts
Ballet for All Kids — Manhattan, Brooklyn, and Queens
Manhattan: 48 West 68th Street
Long Island City, Queens: 44-02 23rd Street
Gowanus, Brooklyn: 495 Third Avenue
Ballet for All Kids uses the Schlachte Method to teach dance skills to children of all ages and abilities. Ballet for All Kids bills itself as the original ballet therapy and caters to children on the autism spectrum, those with developmental and learning disabilities, as well as typical children who prefer a more relaxed dance environment. All instructors must complete training in the Schlachte Method to teach under the Ballet for All Kids umbrella.
RELATED: Find Special Needs Support Groups in NYC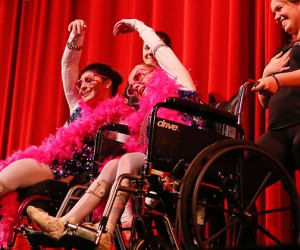 Kids with a physical or medical challenge can learn to dance with Dancing Dreams. Photo by Hiroko Photography
Dancing Dreams — Bayside, Queens
23-91 Bell Boulevard
This innovative program provides dance instruction for children ages 3-21 with physical and medical challenges. Teachers are trained pediatric physical therapists and each child is assigned a trained teenage assistant, who is part of the Dancing Dreams Volunteer Leadership Program, to help them succeed in class.
Literature at Play — Midtown East
340 East 46th Street
The well-known theater company partners special-needs kids with teaching artists to explore a chosen book and use it as inspiration for a wide-ranging arts exploration. Kids work together to dance and write songs and plays based on their chosen book. The curriculum helps build self-confidence, motor and sensory skills, and provides social engagement.
RELATED: Brooklyn Sensory Gyms for Kids with Special Needs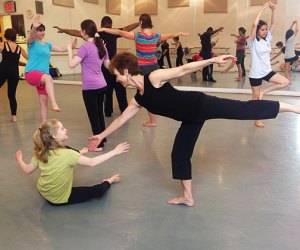 The Mark Morris Dance Group partners with Extreme Kids and Crew for a Special Kids Dance class. Photo by Maria Davis
Mark Morris Dance Group — Fort Greene, Brooklyn
3 Lafayette Avenue
Through a partnership with Extreme Kids and Crew, the Mark Morris Dance Group offers Special Kids Dance for special-needs students. Class sizes are kept small and parent participation is allowed. A trio of classes cater to children ages 6 and older.
Special Needs Yoga — Chelsea
25 West 23rd Street
Karma Kids Special Needs Yoga classes are designed to meet the physical and emotional needs of children of all abilities. Deep breathing exercises aim to help calm children's minds and bodies while honing their ability to focus. Relaxation and foot rubs round out the half-hour class, which is limited to eight children.
Animal-Assisted Therapy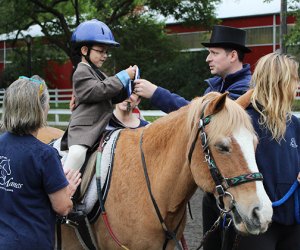 Therapeutic riding is on offer from Flying Manes in the Bronx.
Flying Manes Therapeutic Riding — Riverdale
Riverdale Stables
6351 Broadway
These equine-assisted lessons cater to children with physical, cognitive, and emotional challenges. All lessons are led by a Professional Association of Therapeutic Horsemanship International-certified instructor.
Gallop NYC — Various Locations
See website for list of locations.
This organization provides therapeutic horseback riding for children with disabilities. Lessons are conducted under the direction of a NARHA-certified riding instructor and with the guidance of an experienced physical therapist. Gallop NYC offers therapy to children with autism, cerebral palsy, multiple sclerosis, traumatic head injury, post-stroke, pervasive developmental disorders, mental retardation, and individuals who have suffered emotional trauma.
Puppies for Emotive Therapy — Upper West Side
145 West 96 Street, No. 1E
Psychologist Barbara Wolf-Dorlester, Ph.D., and her dog, Flint, a gentle Kerry Blue Terrier, offer therapy to children and adults with a range of social-emotional problems, language delays, sensory-processing disorders, attention, and impulse-control problems.
Group Classes for Socialization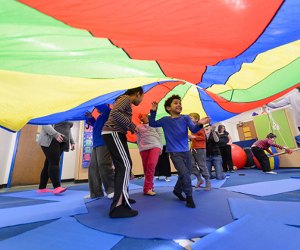 Kids play with others and siblings at Extreme Kids and Crew's classes and sensory gyms. Photo by Flip Wolak.
Extreme Kids and Crew — Multiple locations in Brooklyn & Queens
Visit the website for location information.
We've written about Extreme Kids and Crew in the past and the local chain has only grown. With locations in Brooklyn and Queens, this play space caters to special needs kids and their sibs and offers a wide variety of classes on a rotating basis, from art, to music, yoga, and dance.
Friendship Circle – Chelsea
121 West 19th Street
Friendship Circle, sponsored by Chabad, offers two types of programs for special-needs children of all faiths. Friends at Home pairs specially trained teenage volunteers with special-needs children. The teen "buddies" then pay weekly visits to the homes of these children. During these visits, volunteers play board games, read stories, enjoy music, and engage in age- and developmentally-appropriate activities. Friends at Home services are FREE. In addition, Friendship Circle offers a monthly Sunday Circle drop-off group.
JCC Special-Needs Programs — Upper West Side
334 Amsterdam Avenue
The JCC offers an extensive Sunday program for children with a "variety of needs," including children on the high-functioning end of the autism spectrum and with varied communication and learning differences. There are also separate after-school special-needs programs. And no, you don't have to be Jewish to have your child participate.
Ready Set Play — Tribeca
291 Broadway, Suite 203
This organization sponsors playgroups for special-needs children from ages 3-9. A focus is put on fun, while also helping kids with special needs learn to develop appropriate play skills.
SNACK: Special-Needs Activity Center for Kids — Midtown
316 East 53rd Street
SNACK offers a variety of after-school and weekend activities open to all children, though its focus is on children with Autism Spectrum Disorders and other similar developmental and behavioral disabilities. SNACK prides itself on a low student-to-staff ratio. Options include swimming, sports, soccer, and Snacktivities, a two-hour socialization class. If you want to try before you commit, SNACK offers a free trial class.
YAI — Various Locations
Primarily serving Manhattan residents (various locations)
The YAI Network provides various recreational services, after-school, and weekend programs for children of varying disabilities. The YAI Autism Center offers a variety of play and support groups for children with autism and their families. Call YAI at 212-273-6182 for more information.
Looking for more resources? Visit our Special Needs Guide for more ideas, programs and services.
Top photo: Teachers at Dancing Dreams are trained pediatric physical therapists. Photo by Hiroko Photography. All photos courtesy of the classes.
A version of this article first published in August 2010, but it has since been revised. Katie Nave Freeman contributed additional reporting.