SPONSORED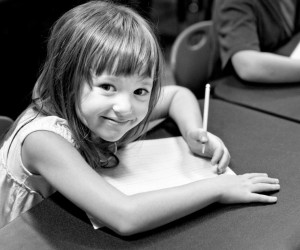 BASIS Independent School: STEM-Based Learning for NYC Kids
This post is sponsored by BASIS Independent School.
One thing all parents I know can agree on is that we want our kids to have the best education possible. While we might not always trust politicians with our education choices, when two parents—who also happen to be world-class academicians—decide to take matters into their own hands, that's worth knowing about. And that's the story behind our sponsor BASIS Independent Brooklyn, a BASIS.ed school that offers a world-acclaimed liberal arts STEM-focused curriculum.
Founded in 1998 with one school in Arizona and just a handful of students, today BASIS.ed manages BASIS Independent Brooklyn in Red Hook, along with two other private schools in Silicon Valley and McLean, VA, 16 charter schools across the United States and an international school in China. Its students consistently rank among the best in math, reading, and science—not just in the country, but the world over.
BASIS Independent focuses on one simple mindset for its students in grades pre-K through 12th grade: There is no substitute for hard work and persistence. And while the curriculum is challenging, students also develop a love of learning, due in large part to the school's teachers, who are all experts in their subjects and passionate about teaching them.
Even in younger grades, students at BASIS Independent become scientists, artists, writers, mathematicians, linguists, computer scientists and engineers. Every lesson is designed to help students establish a deep foundation of knowledge to fuel critical thinking, problem solving and creativity. And the results speak for themselves: Student performance has consistently topped rankings in educational achievement both at home and abroad, and graduates have consistently attended the world's most prestigious and respected higher learning institutions.
Some other factors that make BASIS Independent different from other schools include:
Classes are led by specialists in fields like Mandarin, Drama, Music, STEM Discovery and Movement as early as preschool.
Chemistry, physics and biology all start in middle school, providing for early exposure to all of the sciences.
BASIS Independent Schools do not use "bells" to indicate class transition. Teachers ensure that classes move in a timely manner, so that students and teachers don't feel rushed through their work.
A unique course, Connections, requires students to solve a creative challenge collaboratively with their classmates, using knowledge from all of their studies.
There is also a variety of sports and special interest clubs for students to enjoy. The state-of-the-art new schoolhouse is located at 556 Columbia Street in Red Hook, and transportation is available for NYC students. To learn about upcoming information sessions and open houses, be sure to visit the school's website. And for more on enrichment programs and classes in the area, take a look at our NYC Classes Guide.