Best Holiday Shows for Kids and Families in NYC 2019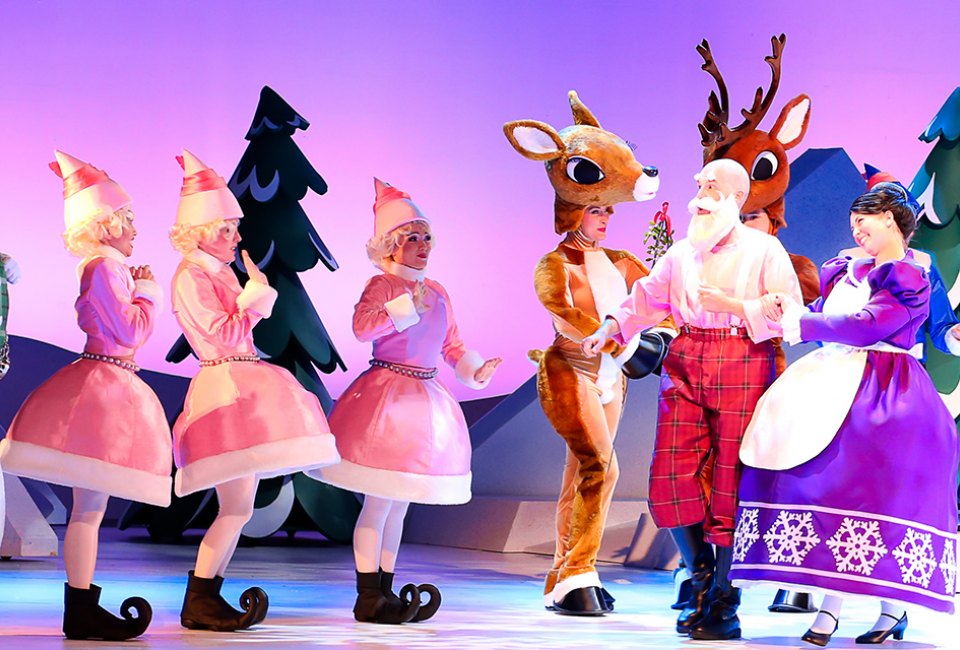 11/22/19
- By
Raven Snook
'Tis the season to get the gang all dressed up to see some holiday shows. While there are plenty of extravaganzas to splurge on, like the Radio City Christmas Spectacular and all those beautiful Nutcrackers, if you've got young children you may not want to blow all of your bucks on theater tickets.
That's why our roundup of Christmas-season family theater includes a range of productions, from inexpensive, low-key offerings perfect for fidgety preschoolers, to over-the-top spectacles that are worth the investment.
From live stage adaptations of classics such as Rudolph the Red-Nosed Reindeer and A Christmas Carol, to seasonal musicals based on popular picture books, to amazing circus feats and offbeat experiences, here are our top 18 holiday shows for NYC families for the 2019 holiday season.
Be sure to click through to the listing for all the details, including address, time, and pricing.
The Dangerous Christmas of Red Riding Hood — Chelsea
Saturday, November 23 through Sunday, December 15
Ages 3 and older
TADA! Youth Theater is celebrating its 35th anniversary by presenting the first three shows the all-kid troupe ever performed. First up is The Dangerous Christmas of Red Riding Hood, a stage adaptation of the 1965 TV special starring Liza Minnelli. In this twisted take on the old fairy tale, we see everything from the wolf's point of view as he complains about Little Red and her pals shunning him from their holiday party. This hour-long musical features songs by Broadway stalwarts Bob Merrill and Jule Styne, and stars members of TADA!'s Resident Youth Ensemble, talented local tykes ages 8 to 18. Tip: If your child is little, be sure to ask for a front-row bench seat for an unobstructed view.

My First Nutcracker at New York City Children's Theater. Photo by Nicole Hogsett/NYCCT
My First Nutcracker — Midtown West
Saturday, November 23 through Sunday, December 22
Ages 3 to 8
If your tot's too young to sit through the full-length ballet, New York City Children's Theater is presenting a 50-minute version that serves as an age-appropriate introduction to this seasonal staple. Watch as Clara and her Prince journey to a fantastical kingdom filled with scrumptious treats, dancing flowers and a meddling Mouse King. All the highlights of The Nutcracker, including Tchaikovsky's breathtaking music, are there, and Clara narrates the whole thing so young audiences won't lose their way.
RELATED: 12 Must-Do Holiday Events for NYC Kids

Angelina Ballerina stars in her own holiday show at Vital Children's Theatre. Photo by Steven Rosen
Angelina Ballerina: A Very Merry Holiday Musical — Soho
Sunday, November 24 through Saturday, December 28
Ages 2 to 7
Every preschooler's favorite pirouetting mouse returns to the stage in this seasonal musical by Vital Children's Theatre. Angelina and her pals are psyched to perform in the holiday pageant, but a mix-up means the show may not go on. What will the dancing divas do? This show's catnip for young fans of the TV show or the picture book series by Katharine Holabird.
The Illusionists: Magic of the Holidays — Midtown West
Friday, November 29 through Sunday, January 5
Ages 5 and up
Pump up the magic of the holidays with this seasonal spectacle, which returns to Broadway for its fifth edition. A lineup of top-notch conjurers and illusionists show off their tricks, including America's Got Talent semi-finalists Dom Chambers, an Australian comic-magician known for his viral videos, and sleight-of-hand master Eric Chien. My daughter and I have seen previous Illusionists productions, and while they have a cheesy Vegas vibe, the acts are often mind-blowing. We're particularly excited that Kevin James, aka The Inventor, is back: Last time, he seemingly brought a doll to life before our eyes. If your children are on the younger side, there are special intermission-less 90-minute family matinees at 11am on select dates. You can find discount ticket codes on BroadwayBox and Playbill.

Rudolph the Red-Nosed Reindeer: The Musical. Photo courtesy of Character Arts
Rudolph the Red-Nosed Reindeer: The Musical — Flatbush, Brooklyn
Sunday, December 1
Ages 3 and up
If you're looking for a holiday show to fill you with cheer, try this touring adaptation of the classic Rankin/Bass stop-motion TV special about Kris Kringle's most colorful reindeer. Playing at the historic Kings Theatre in Brooklyn, this live musical features all of the beloved characters, including Santa and Mrs. Claus, Hermey the Elf, Bumble the Abominable Snow Monster, and, of course, Rudolph himself. Like the source material, it has an anti-bullying message and celebrates individuality. The show runs an hour and a half but there's a 20-minute intermission, so come prepared to resist the merch and snack stands.
The Nutcracker by the Salzburg Marionette Theatre — Flushing, Queens
Wednesday, December 4
Ages 3 and up
Talk about old-school artistry: this Austrian marionette troupe was founded in 1913 and the members hand-carve, paint, costume, and manipulate their own puppets! Instead of dancers, these delicate wooden creations perform a truncated version of the holiday classic. As you can see from this extended clip, it's a quaint and creative take on The Nutcracker.
Ailey Revealed — Midtown West
Wednesday, December 4 through Sunday, January 5, 2020
Ages 5 and up
Every holiday season, New York's venerable Alvin Ailey American Dance Theater performs for a month at City Center. While grown-ups can go on any date, families with young children should choose carefully as some of the pieces explore mature subjects like gun violence and the 1921 Tulsa race massacre. You can't go wrong if you stick with the Saturday family matinees, which run two hours or less, feature a post-performance Q&A with the artists, and showcase uplifting Ailey works such as the masterpiece Revelations. The programs change every matinee so peruse the full schedule to figure out which lineup is best for your little dance lovers.
Seven In One Blow, or the Brave Little Kid — West Village
Friday, December 6 through Sunday, December 22
Ages 4-10
An offbeat stage riff on a Brothers Grimm fairy tale, this 18th annual Axis Theatre Company production follows the misadventures of Kid, a young boy who kills seven flies in one shot and gets caught in a tangle of lies surrounding his feat. In the end, he learns about love and kindness with help from the children in the audience and his mom, played by Debbie Harry (yes, from Blondie!) who appears on video. Expect audience interaction and candy at the climax.

42FT—A Menagerie of Mechanical Marvels at the New Victory Theater. Photo by Maike Schulz
42FT—A Menagerie of Mechanical Marvels — Midtown West
Friday, December 6 through Sunday, January 5, 2020
Ages 5 and up
As usual, the New Vic celebrates the holiday season with a circus spectacle, but Cirque Mechanics is no ordinary big top. The Las Vegas troupe put on one of the most visually stunning and ingenious circus shows I've ever seen, and my daughter and I have been following the company's work ever since. For its latest extravaganza, Cirque Mechanics celebrates the history of the one-ring art form with a production that fuses old-time aesthetics and animatronic wonders (a galloping mechanical horse!) with acrobats who push the limits of contemporary circus skills. Prepare to be astounded.
Twas the Night Before… — Midtown West
Thursday, December 12 through Sunday, December 29
Ages 5 and up
Billed as Cirque du Soleil's first-ever Christmas extravaganza (apparently the troupe no longer talks about the retired Wintuk), Twas the Night Before… follows a young seasonal cynic named Isabella who's transported to a magical land where she meets characters from Clement Clarke Moore's namesake poem. But that's all besides the point: families go to see Cirque for the performers and eye-popping design, not the plot. Considering the troupe's last show Luzia was one of its best in years, we have high holiday hopes for this production, which has its world premiere in Chicago over Thanksgiving before coming to Madison Square Garden.
RELATED: Best Holiday Train Shows in NYC for Kids

Paddington Gets in a Jam at DR2 Theatre. Photo courtesy of Rockefeller Productions
Paddington Gets in a Jam — Union Square
Friday, December 13 through Sunday, March 8, 2020
Ages 3 to 8
Families' favorite chaos-causing bear comes to the stage for the first time in this hour-long puppet production. Devised by the man behind the long-running The Very Hungry Caterpillar show, Paddington Gets in a Jam finds the title character trying to help his curmudgeonly neighbor, Mr. Curry, ready his house for a very special visitor. Unfortunately, Paddington's clumsiness causes hilarious disasters that should have young slapstick lovers giggling with glee.

The Magic Flute at the Metropolitan Opera. Photo courtesy of The Metropolitan Opera
The Magic Flute — Lincoln Center
Sunday, December 15 through Saturday, January 4, 2020
Ages 6 and up
For the holidays, the Metropolitan Opera revives its family-friendly version of Mozart's masterpiece. Director Julie Taymor (of Broadway's The Lion King fame) incorporates fantastical costumes and puppets into the production, which is whittled down to just 105 minutes with no intermission, and sung in English. It's played the Met before and always receives rave reviews from critics and, more importantly, kids.

Carnival of the Animals at the Miller Theatre. Photo by Rob Davidson
Carnival of the Animals — Morningside Heights
Saturday, December 21
Ages 6 and up
Sergei Prokofiev's Peter and the Wolf may have emerged as a holiday-season theater staple, with the Isaac Mizrahi-narrated production at the Guggenheim leading the pack. But Camille Saint-Saëns' whimsical composition for children is a fabulous alternative. The piece comes to life at the Miller Theatre thanks to an innovative staging that combines puppetry, live performers, and verses of Ogden Nash. A colorful introduction to classical music for tots.
La MaMa Kids: The Winter Wonderland Performance and Celebration — East Village
Sunday, December 22
Ages 4 and up
The legendary avant-garde arts center celebrates the season with an offbeat immersive show created by some of its most playful resident artists. Leave your expectations at the door: This genre-busting performance includes puppetry, storytelling, dance, and music, and includes a post-show gingerbread house making activity.
UP CLOSE Festival — West Village
Friday, December 27-Saturday, January 4
Ages 5 and up
While this immersive theater festival for young audiences isn't holiday-themed, it's a heartwarming exploration of the history of Greenwich Village. Audiences are greeted by a host and then enter an interactive play space, where forgotten stories of the neighborhood come alive. After exploring a preshow installation, families experience a series of 10-minute pieces that cast them as a central character. These playlets are set at specific sites and times: the chess shops on Thompson Street in 1995; the public gardens at St. Luke's in the Fields in 1609, 1842, and 1987; and Bell Laboratories (now Westbeth Artists Housing) in 1920. A great way to jump-start a conversation about our ever-changing city.
A Christmas Carol — Midtown West
Through Sunday, January 5
Ages 8 and up
There are a slew of Christmas Carols playing over the holidays, including a musicalization for little kids, a solo show performed in a historic house, and one reset in modern-day Harlem. But it's been decades since Charles Dickens' inspirational tale of transformation has been done on Broadway, and this London import is joyful, charming, and incredibly moving. Even before the show officially starts, the performers fill you with holiday cheer as an on-stage band plays Christmas carols, and cast members hand out clementines and bags of cookies. Ebenezer Scrooge's redemption journey is beautifully acted by Campbell Scott (son of George C. Scott, star of the beloved 1984 TV adaptation of the story), and the bits of audience interaction are absolutely magical. Heed the age minimum, as the show is two acts and narration-heavy. But it's a wonderful choice for families with tweens and teens—even my angsty adolescent cried twice! Check Playbill for discount codes.
RELATED: 21 Magical Holiday Events Every NYC Kid Should Experience At Least Once

Slava's Snowshow on Broadway. Photo by Veronique Vial
Slava's Snowshow — Midtown West
Through Sunday, January 5
Ages 8 and up
A beloved clown show that's been touring the world for more than a quarter century, Slava's Snowshow is the brainchild of Russian performance artist Slava Polunin. There's no plot, just a series of wordless, winter-themed vignettes set to prerecorded music as mimes engage in a variety of physical shtick. This is one of those love-or-hate experiences, as it's nonsensical and at times aggressive (you may get sprayed with water or climbed on). But judging from the belly laughs coming from the elementary schoolers, it's right on their wavelength. The climactic confetti blizzard is unforgettable. Discounts abound so check for codes on BroadwayBox and Playbill.

Yeti, Set, Snow! at the Swedish Cottage Marionette Theatre. Photo by Justina Wong for City Parks Foundation
Yeti, Set, Snow! — Central Park
Through Sunday, February 23, 2020
Ages 2 to 8
The puppet masters at Central Park's Swedish Cottage Marionette Theatre revive their holiday tale about a Scrooge-like yeti named Pascetti who despises snow. But the mythical misanthrope changes his attitude when he befriends a young girl named Widget and her pal Twig, who really love a snow day! A wonderful first-time theatergoing experience for younger kids.
t Click Here to Sign Up!