SPONSORED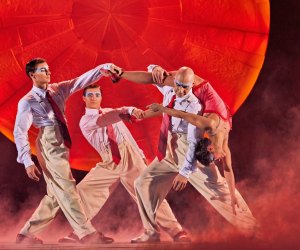 Cirque du Soleil's Jaw-Dropping LUZIA Opens Under the Big Top
One of the reasons my family and I love going to Cirque du Soleil spectacles is we never know what to expect. Sure, there will always be world-class circus artists performing jaw-dropping feats, but what sets the company apart from other troupes are the eye-popping environments it creates through sumptuous design. We know we're going to be transported, but to where? For Cirque's latest extravaganza, LUZIA, currently running at Citi Field in Queens, the destination is a fantastical imagining of Mexico filled with oversize puppet animals; cascading walls of water; mariachi-tinged music; colorful projections; and, of course, gorgeously outfitted acrobats, aerialists, and other athletic performers who seem to defy the laws of physics.
With two jaded teens in tow who've seen many a circus, I worried they might pull a been there, seen that 'tude. Heck, I figured I might feel that way, too, because I've been attending Cirque shows since before I became a mom. But at 13, 16, and even my advanced age, we were all as wide-eyed with wonder as the youngsters sitting behind us, because LUZIA is one of the most breathtaking Cirque creations in years.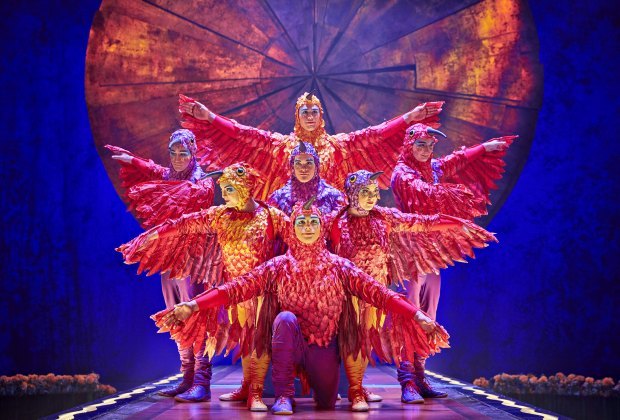 Unlike Cirque's many stadium events, LUZIA is performed in a relatively intimate big top, so audiences are close to the action, and rotating turntables mean everyone gets multiple great views. There's no real plot, just a premise: A goofy traveler (Eric Koller) parachutes into this surreal scene and becomes our passport to another culture. Throughout, all the design elements evoke Mexico. A vocalist in frilly, flower-adorned gowns croons in Spanish; acrobats soar across the stage costumed like tropical birds, and giant puppet bugs buzz and dance to the music.
But the most magical and innovative visuals involve water. The title, LUZIA, is a combination of the Spanish words for light (luz) and rain (lluvia), and the two blend beautifully to enhance many of the routines. During a dual trapeze/cyr wheel act, H2O suddenly pours down on the performers, giving the familiar tricks a stunning twist. Too amazing to use just once, this illuminated wall of water seems to become a character in the show, teasing the perpetually thirsty traveler, transforming into a pool for a sexy straps act, and even conjuring illusions as droplets somehow coalesce into recognizable shapes such as stars, hearts, and animals in midair.
These high-tech effects provide a rich backdrop as the cavalcade of acts unfolds, and while there are no slouches in Cirque, my family and I certainly had our favorites. The acrobats diving through a series of hoops on a pair of treadmills bring multitasking to a new level. The contortionist is so flexible we winced in sympathetic pain. A duo does soccer ball stunts that would make World Cup champions gawk. And the climactic Russian swing act is as thrilling as it is terrifying—there's no net and they fly insanely high.
While there's nothing risqué or scary about LUZIA, it's full of sensory overload. At two-and-a-quarter hours and with no stroller parking and Porta Potty-style bathrooms, it's probably too much for preschoolers. I think it's best for ages 5 and up, and since there's no dialogue and frequent loud music, you don't have to worry if your kid gets a bit chatty. Be warned: The intermission lasts 25 minutes, and even if you stay in your seats, temptation to buy pricey snacks and trinkets comes cruising up and down the aisles; $10 cotton candy may be inevitable (it was for us).
But the cost was worth the memories we made. Three days later my daughter is still raving about the contortionist (he made quite the impression) and arguing with me about how the water shapes worked (we have different theories). We've seen several Cirque shows, but the troupe has not lost its mojo; LUZIA showed us the company still captivates.
Cirque Du Soleil's LUZIA performs under the big top in the parking lot at Citi Field through Sunday, June 9. Tickets start at $54.
Photos by Matt Beard courtesy of Cirque Du Soleil