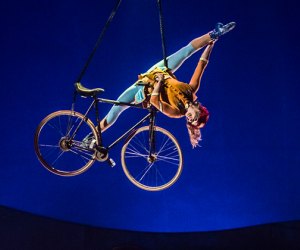 Cirque du Soleil's New Circus Act Flies Into NYC with Kurios
Cirque du Soleil returned to Randall's Island for the first time in six years this fall, bringing with it a brand-new steampunk-themed show, Kurios, that's brimming with the physics-defying performances that first catapulted the troupe to fame.
While the Canadian troupe's last show on the isle, Ovo, was fantastic, Cirque has certainly had plenty of misses over the years, especially with its attempts to branch into new terrain (see Broadway's Paramour), but also because after 35 shows–and plenty of imitators—it all started to feel a bit redundant for avid fans.
I couldn't help wondering as I made the trek over to Randall's with my tween-age daughter, would this new spectacle recapture some of that old magic? Read on for the scoop on this new kooky show in town, and how to save money on tickets.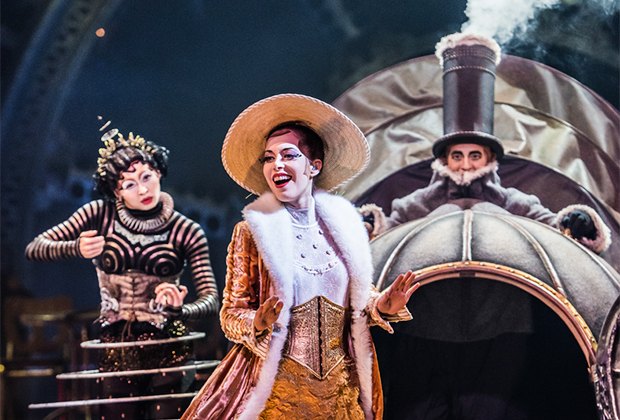 The stylish live band provides a retro musical backdrop, with fiddles, accordions and a French chanteuse.
I'm thrilled to say that Kurios is one of the best shows Cirque has done in years. Part of that is due to the venue: circus acts, even common ones, seem much more amazing up close in the intimate Grand Chapiteau tent set up on Randall's Island for this specific show, rather than the cavernous Barclays Center or Citi Field, where the troupe's shows often play. But also Cirque seems to have shed some of its pretensions and gone back to basics with acrobatic feats.
Subtitled Cabinet of Curiosities, Kurios has an immersive steampunk aesthetic, all gears, glass specimen jars, and gramophones. When you walk in you immediately feel transported to the Victorian era, when freak shows packed 'em in and inventors helped usher in the industrial revolution. There's a vague story line—a mad scientist called the Seeker and his minions, experiment with steam and electricity in order to push the boundaries of what's possible. But the wisp of a plot is incidental. You're there for the acts, and boy do they deliver, right from the grand opening number, when a 60-plus-foot steam train arrives onstage and the cast emerges. As the performers saunter around showing off their various skills, a juggler, Gabriel Beaudoin, takes the spotlight, adding unique touches that turn a familiar routine into an unforgettable variation. First, he trades his pins for what look like severed hands, a macabre switch which complements the show's atmosphere. Then at the end, he's suddenly lifted off the ground on a wire as he juggles in midair and it's amazing.
RELATED: Best Fall Theater for Children in NYC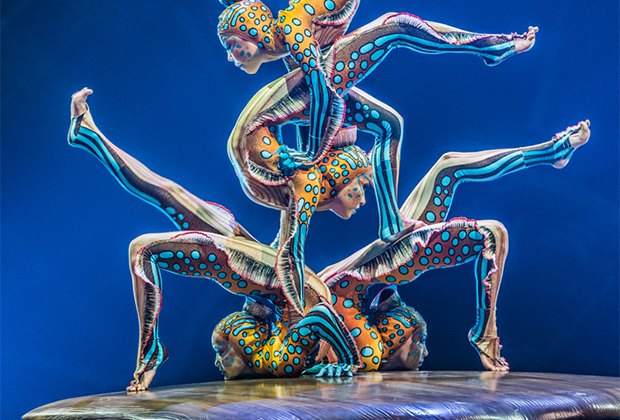 The contortions and other acrobatic feats live up to the hype.
Although Cirque doesn't give specific age recommendations for its shows, I think a child 5 years old is probably the minimum, with 7 years old and up the ideal range. Kurios is also long (two hours plus a 20-minute intermission), and some of the imagery could be creepy or confusing to kids. For example: one of the smallest women in the world, Antanina Satsura, barely three feet and 40 pounds, pops out of another character's Bathysphere stomach.
The show is filled with all kinds of surprises which elevate acts so they no longer feel been there, seen that. I hate to give all the twists away, since not knowing is key. Let's just say a few of my family's other favorites include an aerial bike act (performed by the lithe Anne Weissbecker); a quartet of impossibly flexible contortionists who bend into insane shapes on the palm of a large, mechanical hand; and a breathtaking hand-balancing bit in which the gravity defying Andrii Bondarenko literally meets his match as he climbs to the top of the tent.
Although the second act opener, a group acrobatic number in which the performers seem to swim through the air in fish costumes, is a hoot, overall part two is less captivating. The acts are less integrated into the concept although there are some fun bits, including the inevitable audience participation piece in which clown Facundo Gimenez invites a young woman onstage for the worst date ever. I definitely noticed younger children getting restless during Act II.
It's a lot to take in, but for families with children the right age, it's a must-see, especially now that the Big Apple Circus is no longer performing.
RELATED: Best Things to Do in October for NYC Kids
​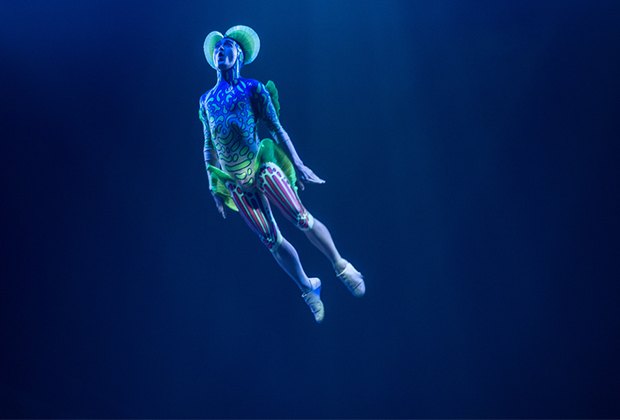 Filled with surprises, Kurios finds ways to delight even theater veterans.
Getting There
Aside from trying to steer clear of the overpriced junk food ($9 for a modestly sized popcorn!!), the biggest hassle with Kurios is figuring out how to get there. If you have a car, it's a quick drive over the Triborough Bridge, but you'll need to shell out $25 for parking in the adjacent lot. (You may find a free lot elsewhere on the isle, but there's always the risk of tickets and towing.) Another option: Cirque du Soleil runs a shuttle bus to and from 124th Street and Third Avenue that's $15 per person, and advance tickets are required. There are no taxis on isle, but we saw plenty of Ubers picking people up. Less expensive options: You could bike or walk, but it's a schlep, or take the M35 bus, which is what my daughter and I did. Be warned, it can be an unusual and crowded ride since it's the sole mode of transportation for people using the social service centers there. That said, I've taken this bus a handful of times and never had a problem, but it's good to know before you go.
Kurios: Cabinet of Curiosities by Cirque du Soleil runs through Sunday, November 27 under the Grand Chapiteau on Randall's Island. Tickets are $44-$255 but save money on select performances via Goldstar.
Top photo: A whimsical twist on a familiar aerial act, Anne Weissbecker dangles off a bicycle. All photos by Martin Girard. Costumes by Philippe Guillotel/courtesy Cirque du Soleil.
Grand Chapiteau
1 Randall's Island Cirque du Soleil
New York, NY 10035