Top 35 Things to Do in Flushing, Queens with Kids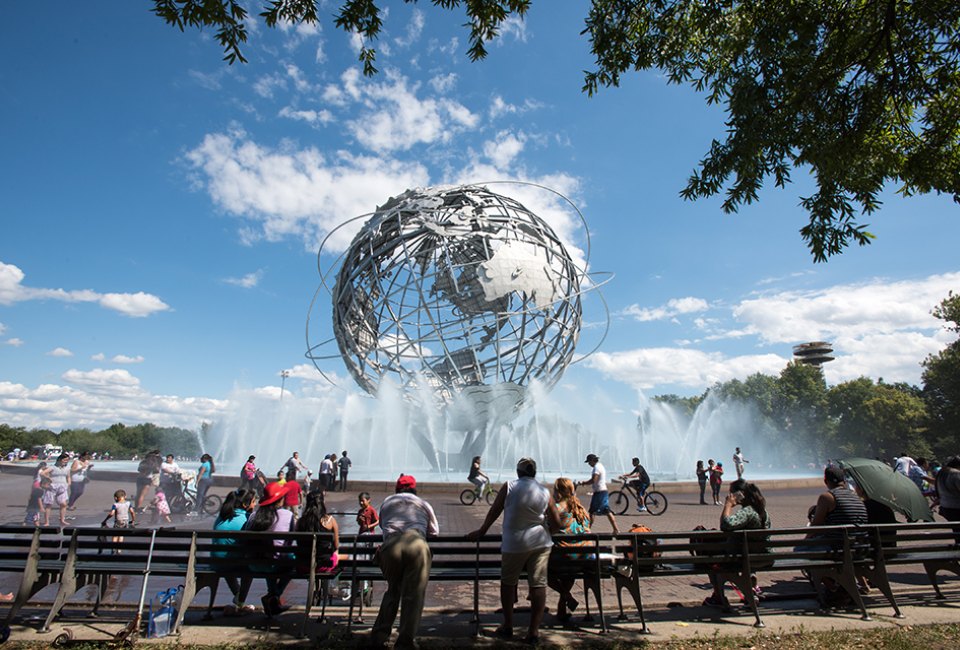 5/14/18
- By
Sydney Ng
The Flushing neighborhood of Queens has a bustling commercial center along Main Street filled with a wide variety of restaurants, chain stores, and culture spots like Flushing Town Hall. The north-central nabe is particularly well-known for its Chinatown section around Main Street and Roosevelt Avenue, where you'll find lots of dim sum eateries, specialty shops, and the borough's annual Lunar New Year Parade.

But Flushing, like all of Queens, is a true melting pot with residents and businesses from a multitude of diverse backgrounds. It's also home to many lovely landmarked buildings built in different eras and architectural styles. You can walk through history at the 17th-century John Bowne House, the Victorian Voelker Orth Museum, and iconic relics from two 20th-century World's Fairs held in Flushing Meadows Corona Park.
We've rounded up our top 35 family-friendly things to do in Flushing, Queens, including our favorites spots to play, eat, explore, and experience with kids. We're also highlighting the major family attractions in Flushing Meadows Corona Park, such as the New York Hall of Science, Queens Museum, and Citi Field.
For the purposes of our posts, our geographical boundaries are 20th Avenue to the north and the Long Island Expressway to the south, Grand Central Parkway to the west and Utopia Parkway to the east. We have made some allowances to include top spots on the border with Corona, particularly in the park.

Fay Da Bakery is a fabulous place to pick up a quick breakfast. Photo courtesy of the bakery
1. Pick up a freshly baked bun and creamy coffee for breakfast at Tai Pan Bakery or Fay Da Bakery.
2. Meet the animals at the Queens Zoo.
3. Take a gardening class or workshop at the Queens Botanical Garden, or visit for FREE November through March.

The interactive screen at Peek-a-BooO. is mesmerizing for little ones. Photo courtesy fo the play space
4. Jump into a ball pit and stick your feet in the sand at indoor play space Peek-a-BooO.
5. Introduce your kids to dim sum at one of many Asian restaurants in Flushing Chinatown like New Lake Pavilion, Joe's Shanghai, Asian Jewels Seafood Restaurant, and Nan Xiang Long Bao.
6. Go bowling at kid-friendly neighborhood alleys Jib Lanes and Whitestone Lanes.

The iconic Lunar New Year parade marches through Flushing. Photo by Julienne Schaer for NYCgo
7. Ring in the Lunar New Year at Flushing's annual parade, one of the biggest celebrations in NYC.
8. See what's happening at neighborhood hot spot Flushing Town Hall, which hosts frequent performances and art workshops for kids.
9. Eat your way through the seasonal, open-air Queens International Night Market.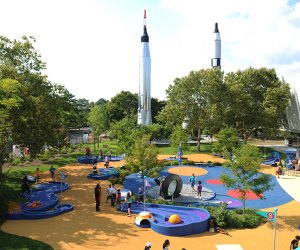 The New York Hall of Science has amazing indoor and outdoor attractions. Photo courtesy of the museum
10. Explore the Flushing section of the 897-acre Flushing Meadows Corona Park, where you'll find many attractions like the Unisphere and others relics of two World's Fairs, the Hong Kong Dragon Boat Festival, and the New York Hall of Science.
11. Pose for a pic in front of the colorful "Flushing's World Fair" mural at the 40th Road entrance to the Flushing-Main Street LIRR station.
12. Ride the historic Flushing Meadows Carousel for a mild summer thrill.
13. Or twirl together on the teacups at the mini Fantasy Forest amusement park.

This NYC Panorama is on long-term view at the Queens Museum. Photo courtesy of the museum

14. Visit the recently overhauled Queens Museum, which is home to the iconic Panorama and offers free-with-admission drop-in family art workshops on Sunday afternoons.
15. Stop for high tea and scrumptious desserts with a special someone at the Rose House.
16. See world-class tennis matches at the USTA Billie Jean King National Tennis Center, which kicks off the U.S. Open every August.

Root for the home team at Citi Field in Queens. Photo by Jen David for NYCgo
17. Try to catch foul balls at a Mets game at Citi Field.
18. See a kid-friendly show at the Queens Theatre, which has a wonderful family series.
19. Hit the ice year-round at indoor skating rink World Ice Arena.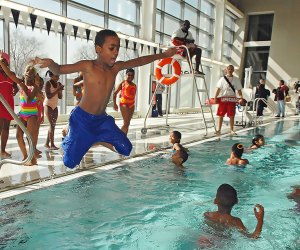 This beautiful Flushing pool should be on your to-do list. Photo courtesy of NYC Parks
20. Take a dip in one of our favorite indoor pools: the Olympic-size Flushing Meadows Corona Park Pool.
21. Cool off with some frozen treats like rolled ice cream at 10Below and shaved ice at 520 Desserts.
22. Try to hit a hole in one at the Flushing Meadows mini-golf course.
23. Make like Katniss Everdeen at Queens Archery.
24. Older kids who are fans of RPGs (role playing games) and Pop!s will love a stop at comic book and game shop Anime Castle.



Listen to storytime at the Voelker Orth Museum. Photo courtesy of the museum
25. Marvel at the historic 19th-century Voelker Orth Museum, a bird sanctuary and Victorian garden that has monthly family programs.
26. Hit the playground in Weeping Beech Park and then check out the green space's two historic houses: the 18th-century Kingsland Homestead, home to the Queens Historical Society, and the 17th-century Bowne House, which hosts special family events and can be visited by appointment.
27. Learn about African-American inventor and electrical pioneer Lewis H. Latimer at his historic house.
28. Or go on a DIY architectural tour of the past: Flushing is home to many historic houses from the Dutch Colonial era to the early 20th century, including landmarked buildings still in use today like the Neo-Gothic Flushing High School and the castle-like Flushing Armory, currently used by the NYC Police Department.

Try out the popular Kung Fu Tea and the huge bubble tea menu. Photo courtesy of Kung Fu Tea
29. Sip assorted flavors of homemade bubble tea at Ten Ren Ginseng & Tea or Kung Fu Tea.
30. Check out everything the 237-acre Kissena Park has to offer, including three playgrounds, a golf course, basketball and tennis courts, fishing, and lots of nature.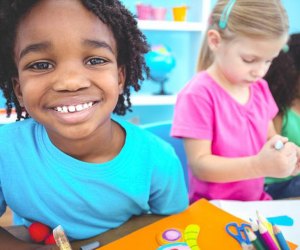 It's always nice to duck into a new library to check out books and children's programs. Photo courtesy of the Flushing library

31. Head to the Flushing Library for storytimes and other FREE lit-themed fun.
32. Hit one of the neighborhood's unique shopping centers like Queens Crossing or New World Mall, one of the largest indoor Asian malls in all of the Northeast, for foods, wares and home decor from all over the continent.
33. Watch a kid-friendly performance at the Kupferberg Center for the Performing Arts.
34. Enroll in a wide variety of classes for the whole family at the Flushing YMCA.
35. Take a FREE workshop just for kids at the local Home Depot, including an upcoming wooden car building session.

Additional reporting by Kelly O.