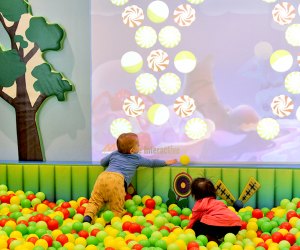 Flushing's Peek-a-BooO Play Area Brings Super-Sized Kid Fun
Kids in New York City are used to making the most out of small spaces, so when you find a wide open place where they can roam free, it's a real treat. At over 6,000 square feet, Flushing's new play space, Peek-a-booO, is a super-sized delight. And it's not just huge, it's filled with modern, bright, fun climbing equipment, ball pits, interactive games, toys, and so much more!
Read on to find out all the details about this massive new Queens indoor play area.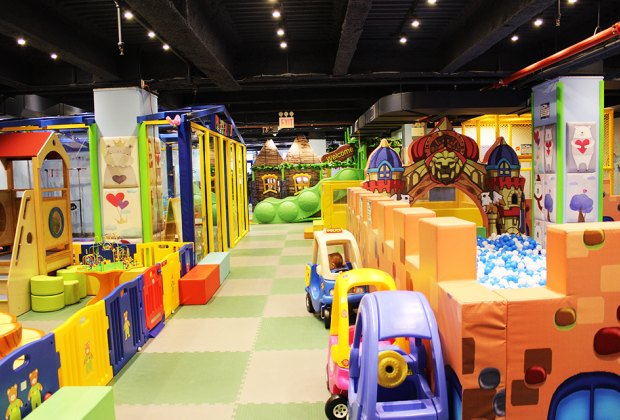 Every kid will find something to love about Peek-a-booO.
Located right off Main Street in the heart of Flushing, Peek-a-booO opened in February and is already attracting a lot of attention in the neighborhood and beyond. Owner and Queens parent EJ Wang designed the space to be safe, fun, and interactive, and she definitely hit the mark on all accounts.
My 2-year-old is an early-riser, so I was excited to see that Peek-a-booO's hours are 9am–8pm. We arrived on a Wednesday morning just as the doors opened, and my little guy's eyes grew wide as he took in the gigantic playground that he had all to himself (at least for a few minutes until other kids starting trickling in). The entrance is right on Northern Boulevard, and inside the door is an area to store strollers and shoes, and a desk where you check in. There was a quick waiver to sign, and then it was through the gate and off to explore.
And there is so much to explore! At the front of the space is a tree-house-themed play structure, with a big ball pit, slides, and two interactive video features. My son and I had a blast scrambling up the stairs, sliding down the slide into the ball pit, and tossing balls at a big video screen, where we got points for hitting objects floating across the screen.
RELATED: 30 Best Things to Do in Queens with Preschoolers and Toddlers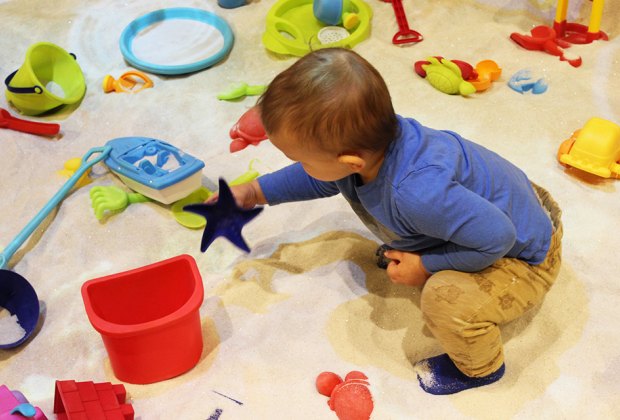 The magic sandbox is a toddler favorite.
Beyond the tree house is a glass-walled party room, where private events are held, and to the left is a small, enclosed trampoline area, and a sandbox. The sandbox is filled with lots of toys to dig and sift and bury, as well as interactive video projections of sea life that kids can "fish." My 2-year-old kept referring to it as "the desert," and returned to the sandbox over and over. I referred to it as "the magic sandbox," because no matter how much he rolled around in it, the sand didn't stick to him.
Past the "desert" on the left is a second massive ball pit that has two playhouses connected by a winding tunnel. My son loved peeking his head out of the multiple windows at me and then crawling through the tunnel and zooming down the slide.
RELATED: Best Destination Sandboxes in NYC for Tots and Preschoolers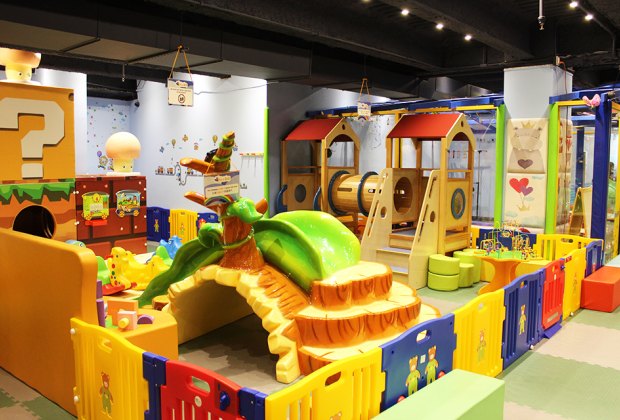 The dedicated toddler area is chock-full of fun for the littlest visitors.
Across from the ball pit is a dedicated, enclosed toddler area. The toddler area has three of its own smaller climbing structures, as well as lots of toddler-focused toys, like soft blocks and ride-on rocking animals. We visited Peek-a-booO on a weekday morning, so there weren't a ton of other kids there, but I can imagine the baby and toddler space being especially helpful for parents of younger ones on a crowded weekend afternoon when there are lots of older kids zooming around. There was certainly enough in this area alone to occupy a toddler.
Finally (I know – there's still more!), at the back of the space is a taller, well-padded climbing structure with a twisty tunnel maze. This was the only attraction that my 2-year-old needed help to get through (although it still felt completely safe for him to try out on his own). In addition to the big fixtures, there are lots of smaller touches everywhere I looked, like a fleet of ride-in cars, a play diner, and dress-up clothes hidden under the stairs of the tree house.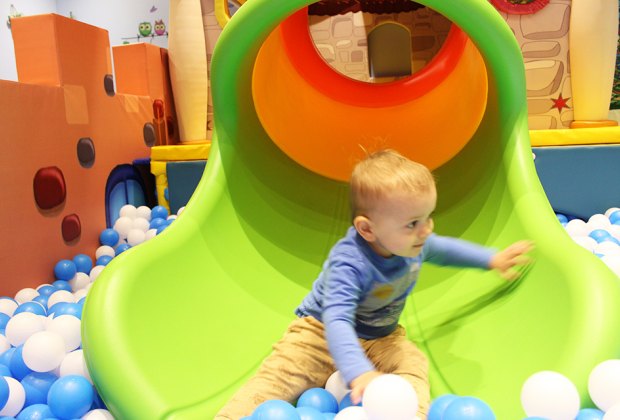 Kids don't have to choose between a slide or a ball pit at Peek-a-booO. They can slide right into the ball pit!
As a parent, I especially appreciated the obvious care everyone who works there puts into the space and the customers. During our visit, a child with a nut allergy arrived, and a staff member made sure that everyone was aware and didn't possess peanut-based snacks. There is no food or drink allowed in the play area, but there is a table and chairs set aside for snacktime. There are a variety of basic snacks and cold drinks available for purchase at the check-in desk. There are also two restrooms, one with a baby changing table.
The party room means that Peek-a-booO is perfect for gatherings. Party packages range from $380 to $799. The basic setup includes playtime for 15 kids and accompanying adults and exclusive use of the party room (although not exclusive use of the play area). Call Peek-a-BooO at (718) 888-8866 or visit its Facebook page to book a party and inquire about event packages.
Things to Know Before You Go
Socks are required (and available for purchase for $2).
Public transportation: the Main Street-Flushing 7 train stop is two blocks away.
There is 2-hour metered street parking available and several pay parking garages within a block.
Kids ages 0-7 are welcome.
The space can get crowded on the weekends, so it is recommended to you call before you go to ensure there's space.
Peek-a-booO is open every day from 9am–8pm. The entrance fee is $15 for one hour, $20 for two hours, and $25 for one child and one adult for an unlimited time. Each additional adult is $10. You can purchase a monthly pass for $99, a quarterly pass for $199, and a yearly pass for $399.
All photos by the author.