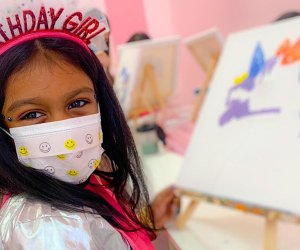 Where to Throw Birthday Parties in New Jersey in 2021
Looking for a unique spot to host your child's next birthday party? Venues with both hands-on fun and enough space to blow out the candles with your bunch safely? We've rounded up 15 exciting options throughout NJ that your birthday kid will love, from private movie theater rentals to heart-pumping go-kart racing.
If you're more comfortable staying in, see our list of virtual and social distancing party ideas for kids, and be sure to visit our Birthday Party Guide for even more ways to celebrate.
Editor's note: All these venues require guests to wear masks and have implemented COVID health and safety regulations. Make sure to check their websites for the most up-to-date information about pricing, availability, and protocols when you're planning.
1. Throw a Private Watch Party
Round up your child's besties, kick back with some movie snacks, and enjoy your own private screening of a movie at AMC Theatres or Cinemark. These parties are a steal if you choose an older movie at $99 for groups of 20 people; newly released movies are priced higher. You can even preorder snacks for your group in advance.
2. Bowl with Buddies in Madison
Stryxe in Madison is a modern bowling lounge with an upscale vibe and great food. Packages for kids and teens include 2 hours of unlimited bowling, pizza, and soft drinks. In addition to the lanes, your group enjoys unlimited play on 20+ arcade games during your party slot. Note that parties are maxed out at 10 guests at this time.
RELATED: Beyond the Goody Bag: 10 Great Birthday Party Favor Ideas For Kids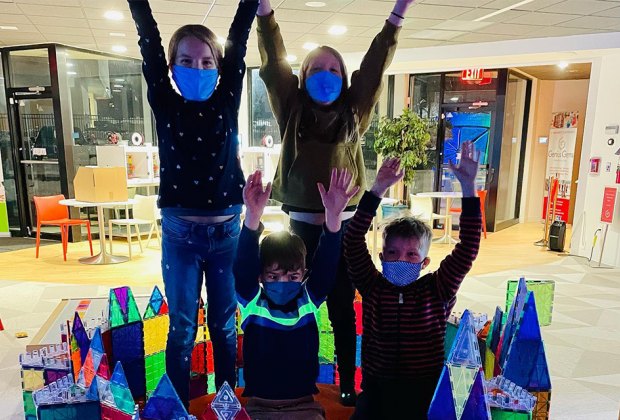 Genius Gems parties can be held indoors, out, or virtually.
3. Challenge Your Inner Genius in Millburn
Choose a slime, candy engineering, or car engineering theme, and let Genius Gems entertain your party of 12 for 1 1/2 hours of activities, plus pizza. You can also upgrade your party to include 3D printing projects, dessert, and more. Pick a party location you're comfortable with: outdoor terrace, indoors, hybrid indoor/outdoor, or virtual! Note that in-person parties are drop-off affairs; only the birthday child's parents can stay.
4. Ace Your Game at Top Golf
Treat your child and their gang to an afternoon at Top Golf in Edison or Mount Laurel. At Mount Laurel, ask about the Angry Birds option, a virtual reality-golf range mashup where you can use golf balls to smash structures, defeat pigs, and earn points. As many as 12 players can party, though the group is divided into two driving range bays for food and play. Top Golf parties are great for kids 7-12, but we love this venue for teen parties that don't feel "young."
5. Throw a Sweet Soiree in Cherry Hill (or at home!)
Edible art is the name of the game at Sugarplum Studio. For parties of eight or fewer (spectators included), you can have the place to yourself for decorating themed cupcakes (six per guest), a themed cake (each guest gets their own mini two-layer cake), cookies (six per person), or mini-donuts (one dozen per guest). Two-hour parties include the step-by-step instructional activity plus a 30-minute celebration. BYO food and drinks. Not ready for an in-person event? Sugar Plum also has amazing party-to-go kits. Choose a theme, and get all the fixings for decorating two-layer mini-cakes, cupcakes, and cookies at home. Must be ordered in advance.
6. Challenge Friends to Archery Tag at BSC
Gather a group of up to 12 buddies for an exciting game of archery tag at Branchburg Sports Complex. If you've never tried this hot, new game, it's a combination of dodgeball and archery, where players shoot foam arrows at the other team to knock-out opponents or targets. BSC birthday parties include dedicated time with a coach, pizza, cupcakes, and arcade time. This venue also offers sports-themed parties as well as laser tag parties in its two-story, 9,000-square-foot arena.
RELATED: 10 Outdoor Party Games for Kids' Birthdays at Home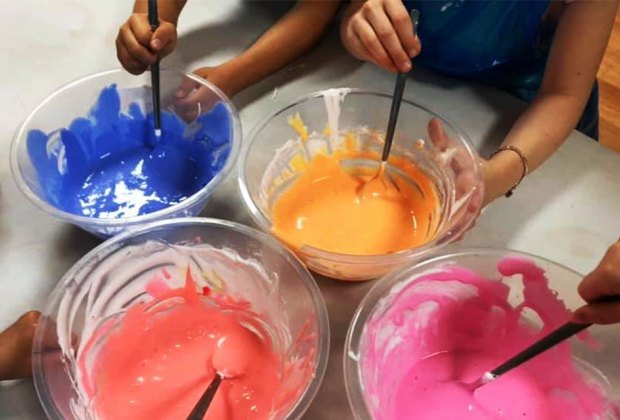 The Slime Factory offers 90-minute birthday parties, and take-home slime eliminates the need for goody bags.
7. Have Ooey Gooey Fun at The Slime Factory
It's part art, part science, and 100% messy fun. Don your lab coat and enter The Slime Factory, where your group spends 90 minutes celebrating and making their own slime to take home.
8. Get Locked in at The Escape Room Center
Looking for a party for tweens or teens? The Escape Room Center in Bridgewater lets you have a themed escape room to yourself and use of its kitchen area ($25-$100 extra) for food and drink. There are many great themes to pick from: Find the Lost Jewel of Zanzibar, identify the mob boss in the Lucky Duck Speakeasy, or figure out which elf stole Santa's naughty and nice lists.
9. Have the Perfect Tea Party
Parties at Mulberry House in Westfield are perfect for older children through teens. For groups of 10-25, you'll have three courses of delectable scones, tea sandwiches, and mini-sweets to eat your way through, plus lemonade, juice, and, of course, tea! The venue also allows for a parent-led game or craft during the party.
Harmony Tea Room in Westwood has some great options for younger children. Choose a Princess Party or a Paint Your Own Teapot Party, which features finger sandwiches, scones, mini cupcakes, brownies, and a sugar cookie. There's limited availability on the weekends, so these parties might be easier to schedule on weekday afternoons.
RELATED: 30+ Free Ways to Celebrate Your Kid's Birthday at Home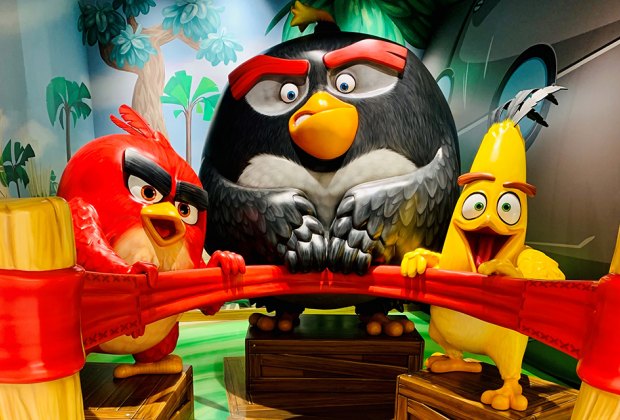 Mini-golf takes on a zany twist once the Angry Birds get involved.
10. Go for a Birdie at American Dream
Hang out at Bird Island with your group while playing an unforgettable round of Angry Birds Not So Mini-Golf at American Dream. From the moment you slingshot your ball into the course (with your feet!), you'll feel like you stepped into the animated movie. Huge 3D figures of Red, Chuck, the Pigs, and the rest of the gang follow you throughout the course. Party packages include 2 hours of play and party room time for 35 guests.
11. Have a Wild Adventure at Turtle Back Zoo
Get ready for a roarin' good time! The beloved Turtle Back Zoo offers a variety of options for group visits and birthday parties. You can rent a classroom for a 2-hour celebration and BYO food or purchase catering from the on-premises kitchen.
12. Glam it Up in Paramus and Jersey City
Calling all princesses, rock stars, and anyone who needs a little pampering. Glitter & Glam (in Paramus Park Mall and Newport Centre Mall) has adorable, themed party packages for kids that include options like mani/pedis, facials, dress-up, and more. Pick from hour-long parties for four children or longer parties for eight or more kids.
RELATED: Birthday Freebies in NYC: Where Kids Eat Free & Nab Gifts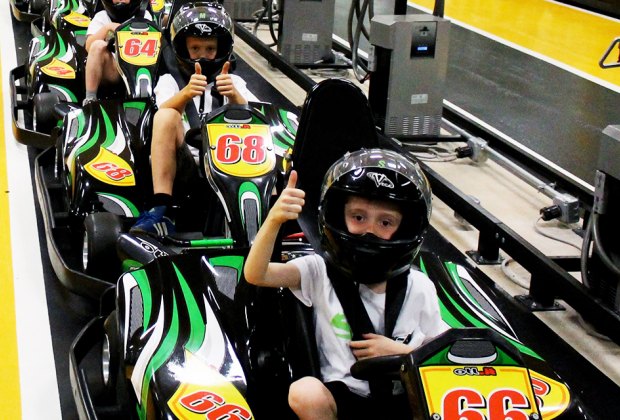 Strap in for a go-kart party at Speed Raceway.
13. 3-2-1...Go Racing!
If you're looking for an adrenaline-pumping activity, Speed Raceway's indoor go-kart track is definitely the place to go. Parties of 10+ have a blast zooming around the track and trying to edge out the competition. Parties at the Cinnaminson venue include a reserved start time, themed party room rental for 2 hours, arcade time, and medals for the top three finishers. Note that junior kart drivers must be 48 inches tall and at least 6 years old.
14. Cook Up Some Fun in Ridgewood
Let the kids create and serve some tasty eats at Ridgewood Culinary Studio, which dedicates its space to one party at a time. Ten to 15 chefs-in-training will have plenty of room to measure, mix, and serve their very own creations. There are loads of themes to choose from, like cupcake wars, iron chef, pizza making, breakfast lovers, and more.
And at Bambino Chef in Jersey City, choose from an in-person or virtual party, each with cooking activities, games, and fun.
15. Play Laser Tag in Springfield
Excitement is always in the air at Lively Laser Tag. Depending on which package you choose, party hosts can pick 1-3 fun activities like laser tag, dance party, video games, or arcade games. Lively Laser Tag also offers fun online parties that combine a virtual laser tag game and interactive activities. Let the games begin!