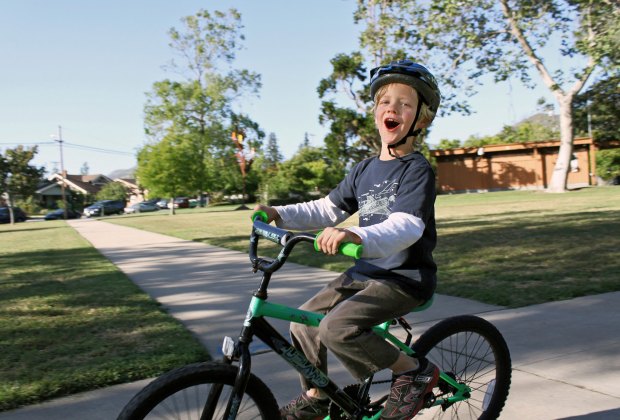 What's Open in Coronavirus Shutdown: Parks, Beaches, Hikes You Can Do While Social Distancing
School is closed (along with everything else!), but this sure doesn't feel like spring break. Last night the governor, the mayor, and a series of LA County officials all issued statements in rapid succession saying to stay home. Any dream we may have had of escaping this COVID-19 madness ended abruptly.
But what exactly does a Stay-at-Home order mean?
Here's what it doesn't mean: It's not an order to stare at screens blaring scary news stories until you feel drained of all hope. It also doesn't mean your kids can't go outside! Sunshine and fresh air are healthy for body and mind—especially young ones—and there are several approved ways to enjoy that during this crisis. In fact, Mayor Garcetti's order specifically makes exceptions to the Stay-at-Home order for "walking, hiking, running, cycling, using scooters, roller skates, skateboards, or travel in a vehicle with household members to go to a place to walk, hike, run, or ride a bike."
We heard the man. Our kids need to run! So we've got a list for you of places you can stretch your limbs and feel normal for a spell—all while keeping six feet away from other folks.
Related: Virtual Concerts, Storytimes, Events, and Classes To Stream from Home this Week
1. Walk around the Block
When you have little kids, a walk around the block is its own adventure; but at the moment people of all ages are finding comfort in this simple community-based activity. Strangers are waving hello and neighbors are catching up (all from 6 feet away or more, of course) on afternoon constitutionals. The mayor, the governor, and health experts all agree: walking around the block without touching anyone is a good idea right now.
If you want more space to romp, go to the beach! You won't be the only one down there—word is that traffic on PCH has been pretty bad as everyone pursues open space—but with so much room and nothing to touch but nature, it's a satisfying place to get some major wiggles out. Pick one close by, so you don't have to use too much gas to get there. An obvious option is Santa Monica Beach, where the bike path was recently widened to allow cyclists and pedestrians to keep plenty of distance between them, but be warned that the beach parking lots are now closed, and local law enforcement is insisting on the 6-foot rule. Zuma Beach in Malibu is a better option for more space. Alamitos Beach and Long Beach City Beach also offer a long, wide bike bath and plenty of sand for social distancing, but the traffic has been rough there as well.
This may sound obvious, but it bears repeating that there are SO MANY fabulous hikes right here in LA County. County controlled parks like Whittier Narrows in Whittier, Kenneth Hahn in Culver City, and Santa Fe Dam in Irwindale remain open for hiking in wide open spaces. Parks covered by the Mountains Recreation & Conservancy Authority, like Franklin Canyon and Temescal Gateway, are now closed as of March 22. You can also check out these hikes with strollers, if you need to keep little hands off germy handrails.
These special spring hikes deserve a separate mention. In spring we get our legendary blooms—particularly of our gorgeous state flower, the California poppy—which make us feel better about the fire and rain of previous seasons. And of course there is no better reward for hours on the trail than arriving at a gushing waterfall. These hikes are perfect for a reboot; my personal favorite is Escondido Falls, but the links above have plenty more ideas.
5. Shop at a Farmers Market
One of the approved activities during this Stay-at-Home time is food shopping, and one of the approved places to do it is at a farmers market—whether that's your local or the Original Farmers Market on Fairfax. Most of the ones we've looked up are still operating, and shopping in the fresh air for local produce is one of the healthiest outings you can take this week. If you're in the Valley, you can even swing by Underwood Farms for produce; the picking and petting activities are closed, but it's still a breath of fresh air with your fruit and veg.
This may not be the time to rent a bike, but if you've got one gathering dust in the garage it is definitely time to take it out for a spin. Obviously you can pedal around the neighborhood, but a dedicated bike path—like the beach paths, Ballona Creek, or the Chandler Bikeway, where you don't need to worry about dodging traffic—is far more relaxing. And if your kids are ready to kick the training wheels, what better time to learn?
Related: Coronavirus Guide for Parents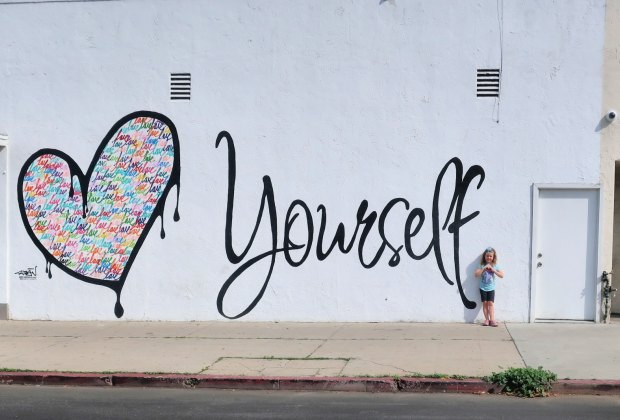 Ruben Rojas' "Love Yourself" mural at the corner of Ventura and Hazeltine, photo by Jackie Jones
8. Take a Street Mural Photo
LA has so many iconic street murals, chances are there is one near you. Maybe bring along a bandana to wrap around your face (since we don't want to take much needed surgical masks from health professionals) so no one fears you're spreading disease, and take a family photo to show distant family and friends that you're OK and keeping spirits up. Some of our faves are the Love Yourself mural at 14060 Ventura Blvd., the Rainbow Wall at 8050 Melrose, and Kiss in the Arts District.
9. Run for the desert
This may not be the time to stay in a hotel, but many spots to enjoy the desert can be done in a day trip—even Anza-Borrego. As of March 22, Joshua Tree has been closed to auto traffic (due to too many visits from city-dwellers), but there are plenty of places between here and there to pull off the road and enjoy open space and fresh, dry air to recharge the body.
Feeling really stir crazy? It may be a good time to go sleep in a tent, far from the maddening crowds. Sleeping and eating in the fresh air, far from other people, and sitting around a campfire looking at the stars is a great way to switch off after too much screen time and keep way more than 6 feet away from everyone else. Although the state parks are closed, many national forest sites remain open, as do several private campgrounds. Kampgrounds of America (KOA) says most of its campgrounds are open, with a list of the few campground closures being updated regularly. Many campgrounds on our Last Minute Campgrounds list are currently open, though Joshua Tree is now closed to all but back country.
There are still plenty of local parks you can go to, and if there is a spacious one close enough to enjoy without getting in the car, that's the best choice. But local playground equipment can be too tempting for germy little hands, which might make enormous Griffith Park a safer destination. Although the zoo, observatory, and Travel Town are of course closed, there are many play areas and trails to explore without rubbing elbows with anyone else.
This destination merits a mention separate from other parks for various reasons: for starters, it isn't free, and tickets must be purchased in advance online. Plus, loads of people don't even realize it's open! These two points alone make it a great place to not run into other people. Add to that what do you do run into there: peacocks. Lots and lots of peacocks to delight stir crazy kiddos. Between the gorgeous residents and 127 acres of blooming trails, the Arboretum sounds like a welcome reprieve.
Like the LA Arboretum, the South Coast Botanic Garden offers a beautiful outdoor environment that is guaranteed not to overcrowd, since tickets much be purchased in advance online. ALthough SOuth Coast isn't quite as large and doesn't have the peacocks, it does have cherry blossoms at this time of year, and it's a lot closer for folks living near the coast.
Find more ways to keep kids happy and busy in challenging times on our new site for at-home classes, concerts, and other programs: Poppins@Home!
Top photo: Photo by Bike SLO County / CC-BY-2.0