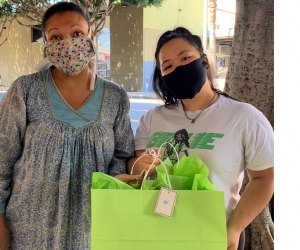 Support LA! Toy and Book Stores Offering Curbside Pick-up & Delivery in Lockdown
Like so many things we took for granted before the COVID-19 pandemic, toy stores and book stores have had to close their doors to visitors for now. We may understand the logic, and yet there are moments when a new toy or book really does feel essential. In those moments, we'd like to encourage you to support your local businesses—the toy stores we want to find when doors open again, and the book shops that host all of those wonderful storytimes and author visits. While you're getting creative about connecting with your community, don't forget to include your friendly neighborhood toy and book vendors.
We've rounded up a list of wonderful local book stores and toy shops that are offering curbside pick-up or delivery options during the #StayatHome days. These small businesses offer a combination of contactless pick-up, free local delivery, and online shipping. Several can text you photos of options, or hop on a call and make suggestions. Every one of them would be VERY happy to hear from you.
Let's make sure The Last Bookstore doesn't live up to its name.
And while you're showing your support for the businesses you love, we hope you'll count Mommy Poppins and our small business partners among them. You can support Mommy Poppins by sharing articles you find useful with friends or on your social media channels, checking out our directory of virtual classes, camps and birthday parties and telling businesses you found them through Mommy Poppins. Also, as part of our effort to keep our local parent writers and this website afloat and support some of our favorite family businesses, we've created Poppins@Home, a platform for small businesses to share free and low-cost online classes and birthday parties with kids all over the country. Please consider trying a few of these fun, affordable, and creative classes—and spreading the word among your friends—as yet another way to support, uplift, and get through these challenging times together!