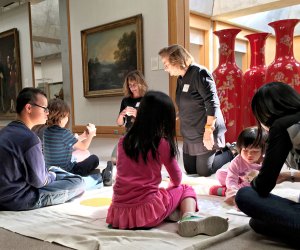 Sensory-Friendly Hours at Connecticut Museums, Aquariums, and Zoos for Special Needs Kids
Crowds and noises at busy attractions can sometimes overwhelm children with autism and sensory sensitivities. Luckily, many Connecticut museums, zoos, and aquariums have developed sensory-friendly hours, exhibit adaptations, and programs for these children, making enrichment more inclusive across the state. Here are places in Connecticut where highly sensitive or special-needs kids can better enjoy nature, science, and animal exhibits. For more inclusive fun, check out a list of our favorite adaptive playgrounds.
Connecticut Science Center—Hartford
The volume of demonstrations is turned down and lights are dimmed at sensory-friendly days once or twice a month. Kids can enjoy activities, arts and crafts, and live science performances with a quieter, calmer touch.
Children's Museum of Southeastern Connecticut—Niantic
During sensory-friendly evenings about once a month. guests enjoy quiet corners and sensory bins set-up throughout the facility. Children will be able to choose what activities they would like to participate in and do them at whatever time they feel most comfortable within the two-hour time frame. Animal-loving kiddos will enjoy "Meet the Animals" day on November 22, 2019.
Stepping Stones Museum—Norwalk
With its My Ability program, museum professionals help facilitate sensory-friendly discoveries for kids every Thursday (the program is free with museum admission). On the third Monday afternoons of each month, Stepping Stones makes light and sound adjustments across the museum to provide a lower key atmosphere for special needs visitors.
Imagine Nation—Bristol
On Sensory Saturdays, held on the second Saturday of each month, Imagine Nation opens early at 9am for children with special or sensory processing needs. Kids can touch, discover and create in a modified, sensory-friendly space with lowered lighting and sound.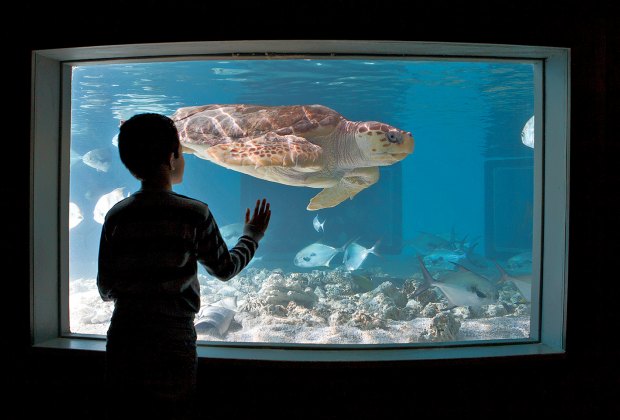 The Maritime Aquarium adjusts its lights and sounds on select days and evenings throughout the year. Photo courtesy of the aquarium
Yale Center of British Art—New Haven
On select Saturdays monthly, this accessible art museum hosts a free program in which children with autism and their family members look at artwork in the museum's galleries and create a follow-up project in a museum classroom. A quiet room is available throughout the session with blankets and sensory toys.
Mystic Aquarium - Mystic
Connecticut's premiere aquarium and world renowned for it's Beluga whales. Every August, Mystic hosts a very popular (and free) sensory friendly evening for children on the autism spectrum. Kids can explore all the usual aquatic exhibits, with sound and motion effects turned down or off. There are also quiet corners and supportive staff on hand.
Beardsley Zoo - Bridgeport
Connecticut's ultimate destination for zoo-life. Come and see over 300 animals including Siberian tiger, the Andean Condor, anteater, Tamarin, and many more reptiles, mammals, and more! The Zoo offers an Autism Friendly Family Day every April, when specially trained staff guide families to sensory friendly exhibits and quiet corners throughout the afternoon.
Maritime Aquarium - Norwalk
The Maritime Aquarium is a place to see sea animals and amazing creatures from the deep, and experience a live animal encounter. The aquarium offers periodic sensory-friendly mornings and evenings when it adjusts the lights and turn the sounds down (including for IMAX films) for a more peaceful, less stimulating experience.
Greenwich Audubon - Greenwich
Every month, the Audubon in Greenwich reserves space for children who are sensory-sensitive. The Audubon has an Initiative called Audubon for All, where they reach out to those in the community who may find themselves cut off from nature due to fears of being over-stimulated or lost in the space. There will be relaxing nature films, books, pictures, and staff on hand to enhance the learning experience. It is encouraged that you RSVP in advance.