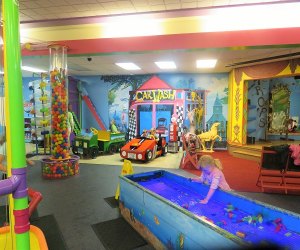 Learning and Playing at KidsPlay Children's Museum in Torrington
When my kids wanted a fun place to visit, they rarely (okay, never) asked: "Can we go to Torrington?" But that has changed since our first visit to KidsPlay, a children's museum located downtown in Litchfield County's largest city. After just one visit, KidsPlay became a favorite destination, and these days, the museum is better than ever after a recently completed expansion that doubled the square footage and play space. From the moment you enter through its doors (monitored by security cameras), the amount of creativity and fun details will leave you impressed and little adventurers giddy. The museum is designed for ages 2-8, and without a doubt, the persons behind its establishment know what makes children happy and how they learn best through play.
The expanded museum (think 10,000 square feet of fun) features about 20 creative areas, one of the most beloved being the AWESOME grocery store. Smaller than the pretend supermarket at the Please Touch Museum in Philadelphia, but larger and more versatile than the food store at the Boston Children's Museum, it is a hit! From mini shopping carts, to shopping bags and a variety of familiar snacks and foods (all priced to sell), children will spend more than an hour here, scanning and paying for their purchases, and taking turns working as cashiers or grocers restocking shelves.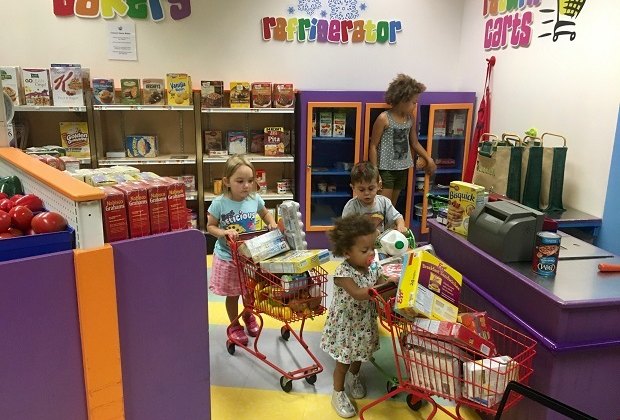 They will shop 'til they drop...
Adjacent to the supermarket is an equally awesome diner serviced by a full-sized kitchen where little chefs can whip up their favorite recipes in colorful pots and pans. Your children will likely spend a while here, so take a seat at the counter and enjoy being served (and relish in watching kids argue over who gets to wipe counters and wash dishes).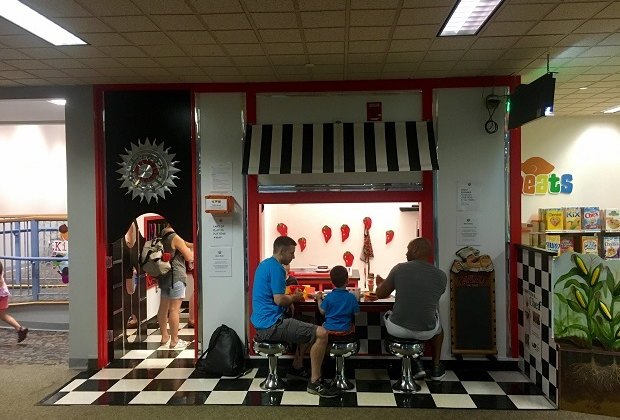 Take a seat and let the children suprise you with their delicious creativity.
The diner is a nod to the historic Skee's Diner in Torrington, and supports the museum's theme – Our Town – evident in the various exhibits, including the Torrington Fire Department truck where kids can proudly wear helmets and vests, ring the emergency bell, and rush to the scenes of imaginary fires.
Other museum highlights include a car servicing station where little mechanics can change tires and pump gas; a Lego water table; feeding balls or scarves into air-activated tubes; and picking apples or planting/reaping a vegetable garden. Other favorites are stepping inside a gigantic bubble; putting on a show on the performance stage equipped with fancy costumes and fun props; and the infinity mirror.The recent renovation has allocated space for more independent and creative play, including blocks, a Lego wall, an arts & crafts area, and a life-size Operation Game table that even adults will enjoy playing with.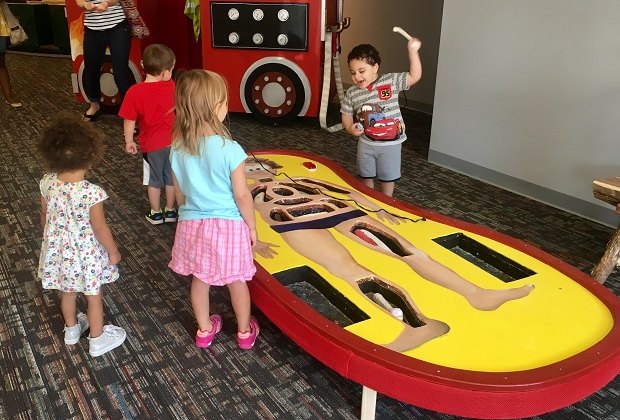 The new play area include this fun version of Operation.
The Literacy Tree House is an especially neat part of the museum, where children can cuddle up for story time with their parents or with museum staff during scheduled events, climb and slide down a net, or explore a cave and animal dens.
Plan on spending a good amount of time here, and delight in knowing that through giggles and sensory experiences, children are learning a lot about numbers, colors, sharing, role play, literacy, and much more. After three hours, my daughters were still not ready to leave, but hungry tummies are always a good incentive. Guests are welcome to bring snacks or lunch and eat in the party room (unless, of course, it is reserved for an event), but we opted to eat in town.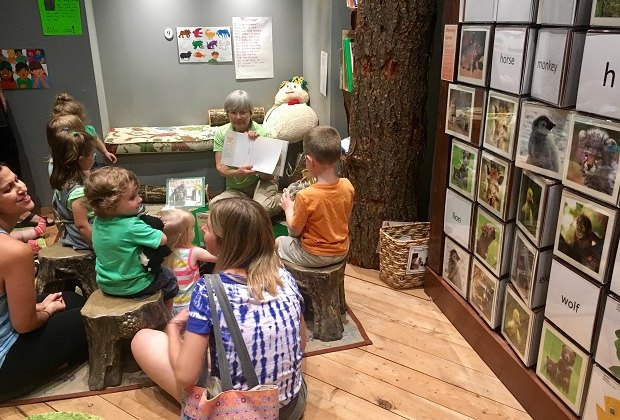 KidsPlay hosts various events throughout the month and the staff is attentive and engaging.
Other amenities include a clean bathroom equipped with a changing table (located outside the toilet area), sanitizer stations, seating for adults, a play area designed for infants and toddlers, and an open floor plan that allows for easy monitoring of children. In addition to hosting open play and private parties, it features weekly events, such as cookie decorating classes, messy art studio, music classes, and the annual Touch a Truck.
If you forget to bring a snack, child-friendly eating establishments in town include Applebee's and Panera Bread. Our favorite is the Torrington Super Buffet (located across the street from the Target shopping plaza) because it features a plethora of options for even the pickiest eaters and self-service is as quick as you want it to be. Whether your children love sushi, hibachi, noodles, or French fries, they will have plenty to choose from and can top off their meal with a variety of desserts and fresh fruit.
We thoroughly enjoyed our visit to KidsPlay and will no doubt continue to return here for play dates. Admission is $8 per person (free under 1), and the museum is open Wednesday through Sunday, from 10 a.m. to 4 p.m. (as of August 2017). Some libraries now offer free admission passes. Free parking is available in the lot behind the museum or you can find metered parking on Main Street.
Originally published 5/17/16.
Photos courtesy of author.