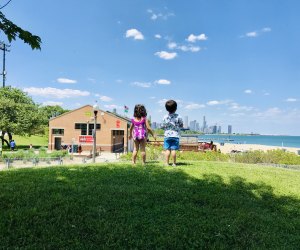 25 Things to Do With Chicago Kids Before School Starts
Summer days, driftin' away...If seeing school supply lists is sending you and your kids into a panic over the impending end of summer, stay calm, and summer on! We've done the research (not a bad gig, honestly), and rounded up the ultimate Chicago Summer Bucket List, complete with all the outdoor movies, festivals, and FREE summer activities for families in Chicago that you'll want to fit in before school starts up again on Tuesday, September 3.
1. Support your local farmers. Chicago is host to some amazing farmers' markets, where the whole family can snack, shop, and enjoy cooking demonstrations and live entertainment. Check out our calendar for at least one market featured almost every day of the week. Our favorite is Green City Market in Lincoln Park.
2. Get thee to the theatre. The summer theatre season offers some great family-friendly shows. Have you seen Shakespeare in the Park yet, for FREE? If deciphering 16th century Brits isn't your thing, try The Wizard of Oz or The Music Man.
3. I'm on a boat! If you haven't experienced Chicago by boat yet, prepare yourself to fall in love with this city all over again, as you take in its stunningly beautiful skyline from the water. Head over to Navy Pier and check out one of the family friendly cruises, or take the water taxi to the museum campus. Or embark on the Chicago Architecture Tour along the Chicago River.
4. See fireworks over the lake. Navy Pier hosts a FREE spectacular fireworks display every Wednesday and Saturday evening through the end of August. You can see the fireworks from the pier itself, or any nearby establishments, parks, or beaches. Or, cross off two items on this list in one fell swoop by watching the fireworks from a boat on a fireworks cruise!
RELATED: 100 Things to Do With Chicago Kids Before They Grow Up

Head to Navy Pier to soar on the Centennial Wheel, then hit the other thrilling rides. Photo courtesy of Navy Pier
5. Speaking of Navy Pier… have you ridden the Centennial Wheel? Or the other rides on the pier? While you're there, check out the events calendar or stop by the Chicago Children's Museum.

Spend the day soaking up the sun at Gillson Park and Wilmette Beach. Photo courtesy of the beaches
6. Hit the "third coast" beach. Chicago has a ton of beaches along its Lake Michigan shoreline. A personal favorite is 31st Street Beach, with its snacks, new playground, splash pad, and beautiful harbor.
7. Take a dip. The Chicago Park District maintains fifty FREE outdoor pools, most of which are accessible. Many also have water playgrounds, and a few even have twisty turny water slides!
8. Splash around. If you can't commit to a swim, but still want to cool off, check out some of Chicago's best splash pads and water playgrounds.
9. It's a bird... it's a plane! Chicago's Air and Water Show turns everyone into a plane enthusiast for a couple of days, and is the perfect excuse for a late summer get-together. It's time to call in favors with those friends who live along the lake shore and have rooftops or balconies. Or, just brave the crowds, bring your lawn chairs, and watch from a nearby beach.
10. Catch an outdoor concert. Check out the Grant Park Music Festival for world class concerts at the Jay Pritzker Pavilion. Or, for a more intimate (and free) experience, see a concert on a neighborhood porch, courtesy of Chicago's Front Porch Concert series.
11. Pretend you're a bug. Experience the world from a bug's perspective by visiting the Fantastic Bug Encounters exhibit at the Field Museum.
RELATED: 50+ Free Things to Do With Chicago Kids This Summer

See the newest baby Beluga at the Shedd Aquarium. Photo courtesy of the aquarium
12. Two words: Baby Beluga. Did you know that the Shedd Aquarium has an actual baby Beluga whale? It also has an outdoor stingray petting station during the summer, and several live shows throughout the day. A personal favorite is the Land and Water Show at 10:30am every day.
13. Do not throw away your shot... to see the Hamilton exhibit. Whether you're history buff or a fan of the musical or both, you are in luck. Chicago is hosting the premiere of the Hamilton Exhibition on Northerly Island through August 25th.
14. Stay up past your bedtime and gaze at the moon. Get a glimpse of the moon through the Adler Planetarium's powerful telescope at Doane at Dusk, for FREE.
15. Hunt for trolls. Families can hike through the Morton Aboretum, using clues and signs to find six giant wooden trolls built by Danish artist Thomas Dambo.
16. See art and architecture at night. Need more excuses to stay up past your bedtime? Go see Art on the Mart after dark, a massive public art installation, featuring images from Chicago artists projected onto the 2.5-acre river facade of the Merchandise Mart.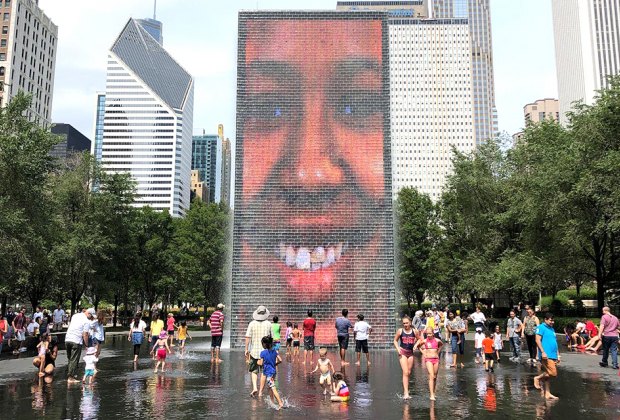 Splash around in the interactive Crown Fountain. Photo courtesy of Millennium Park
17. Play at an iconic Chicago park. Millennium and Maggie Daley parks are must-see summer destinations. Play tourist as you spash in Crown Fountain, take a selfie with Cloud Gate (affectionately known as "The Bean"), or climb a wall (or a whale) at Maggie Daley Park.
18. See a baseball game. Now, the tough question: Cubs or Sox? Why not both? The Chicago White Sox host Family Sundays, and the Cubs host Kids Sundays, each featuring family friendly themes, activities, and ticket packages.
19. Fish in the city. Northerly Island hosts Family Fishing, a two-and-a-half-hour class, with instruction by Chicago's Fish 'N' Kids Program Fishing Instructors, and on-the-water fishing.
20. Watch a movie under the stars. There's something about watching movies outside that feels quintessentially summer. The Chicago Park District hosts free movies throughout Chicago, and our calendar is chock full of even more, including the Field Museum's Fossils & Flicks, Oaklawn Movies on the Green, Glen Ellyn Movies in the Park, Naperville's Night at the Movies, and more.
21. Hit a neighborhood festival. Chicago loves its neighborhood festivals, and it's not too late to enjoy two of the biggest ones of the season. South Shore Summer Festival celebrates the south side with live musical entertainment, local vendors, and family friendly activities. Pilsen Fest is a great introduction to the art, music, delicious food, and community spirit of the vibrant Pilsen neighborhood.
22. Eat up at a food festival. Chicago is famous for its world class cuisine, and there is no shortage of different types of cuisine to try. Taste of Greektown celebrates delicious Greek food, as well as Greek culture, music, and dancing. Taste of Polonia is the country's largest Polish festival, featuring mouth-watering pierogis, sausages, and potato pancakes, as well as plenty of activities for the kids. Also not to be missed is the Great American Lobster Fest, with lobsters flown in from the east coast, live music, dancing, and family friendly activities.
23. Visit a zoo. Lincoln Park has a FREE zoo and farm in the zoo, both with calendars full of exciting, family-friendly fun, including hands-on activities, music, and even sleepovers! Or, go on a brick safari or catch a concert at Brookfield Zoo.
24. Try wearable tech. The Museum of Science and Industry hosts a new exhibit, Wired to Wear, where guests can learn how digital technology is transforming our clothes to enhance our lives, including jackets that help you see in the dark, wearables that express your emotions, and a Jet Suit that can transport you 32 mph at heights of 12,000 feet!
25. Celebrate the Chicago Park District's 85th birthday. There are still a couple of birthday celebrations left at Palmer and Hermosa parks. Come celebrate Chicago parks with a performance by CircEsteem, snacks, games, music, and outdoor movies, all for FREE!