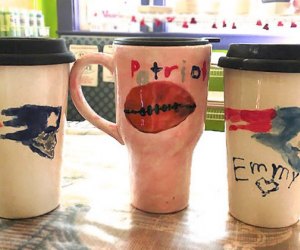 12 Boston Spots Where Kids Can Make Father's Day Gifts for Dad
Father's Day is just around the corner, and there's a vast array of crafty places where kids can make a special gift for their favorite guy. Whether it's making a masterpiece before the holiday or going as a family to make something together, Boston kids have plenty of opportunities over the next couple weeks to create gifts above and beyond a construction paper card or bottle of aftershave. From sand art knick-knacks to handmade wooden games, there's a gift-making opportunity to suit every child—and every kind of Dad.
Crafting: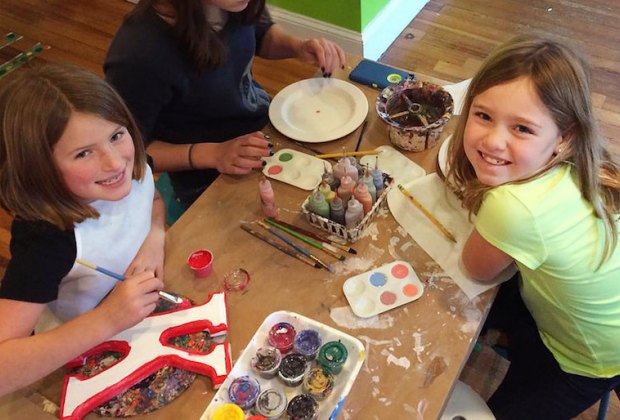 Local crafting places have materials at the ready for making creative gifts. Photo courtesy of The Kids Place
Lakeshore Learning, Newton: At Lakeshore Learning, kids three and older can make free crafts every Saturday from 11 am to 3 pm. Upcoming crafts include a Father's Day craft-stick card on June 17, or various other cute creations that Dad might enjoy.
Michaels, various locations: The six local Michaels stores offer a Saturday morning Kids Club that allows kids older than three to craft while their parents shop. For as little as $2, kids can make different designs, including a Kids Club Father's Day frame on June 17 or a Father's Day card on June 5. Times can vary by store, so check the website and consider making a reservation before heading over.
Muckykids Art Studio, Cambridge: Young artists at Muckykids can choose from a variety of projects during drop-in hours. There's no prior registration and projects change weekly. Drop-in hours are on Thursday, Friday, and Saturday from 9 am to 5 pm; $15 per child per hour, including all materials.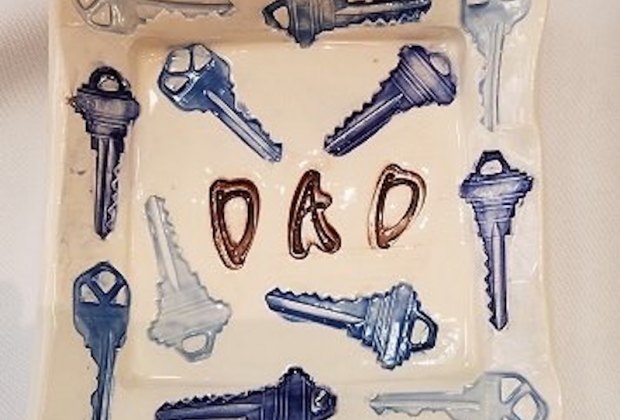 Kids: Remember this one for Mother's Day, too. We love the key dish! Photo courtesy of The Kids Place
The Kids Place, Needham: The Kids Place offers a full array of artistic endeavors for kids, including painting your own pottery or plaster, candle building, mining for gems, painting canvas or clay imprints. Prices range from $6.99 to $34.99. Drop-ins are welcome and visitors are welcome from 10 am­ to 5:30 pm daily.
Artbeat, Arlington: This little shop is filled to the rafters with materials to make masterpieces: paints, decoupage, sand art, tiles, and more. Staff instruction is free, but material prices range from $10 to $25. The walk-in studio is open every day, but reservations are recommended for groups of more than three and on weekends and vacations.
Pottery painting:
Indigo Fire, Belmont: Kids are welcome to drop in at Indigo Fire to paint handmade pottery whenever the studio is open. All ages are welcome but children under 14 must be supervised—it's a drop-in, not a drop-off. Prices for pottery start at $8 with no sitting fee, and projects are ready in about two weeks and must be collected within two months. Large groups are encouraged to call before arriving to ensure there is available space.
Made by Me, Cambridge: Made by Me welcomes kids to come in and paint anytime. Painters can choose from a huge range of products to paint: mugs, lamps, sushi plates, piggy banks, and more. Costs range from $3 to $40, plus $4 for every half hour of painting. Products are available for pickup in six days.
Clay Dreams, Arlington: Kids have been going to Clay Dreams to make their masterpieces for more than 30 years. Drop-ins are welcome and products can be collected after a week.
The Clayroom, Brookline: The Clayroom is such a popular option for kids that a reservation is recommended because walk-in seating is not guaranteed. Products can be picked up after five days and will be held for 30 days. Prices average about $12, and each painter also pays an additional $8 studio fee (reduced to $6 for groups of four or more).
Plaster Fun Time, various locations: With nine locations near Boston, Plaster Fun Time is true to its name. Walk-ins are welcome any time, with no reservations needed. Studios are open seven days a week with at least half the space devoted to walk-in painters. Prices start at $11.99, and because the items are made of plaster, they can be taken home immediately.
Construction and Invention:
Home Depot, various locations: If your kid is more into construction than crafts, you're in luck! Home Depot's 20 local stores offer weekly workshops for kids wanting to try their hand at DIY. Upcoming projects include making a tic tac toe game or a bottle opener game—both of which would be great gifts for Dad. Workshop times vary, so check the website and make sure to register.
Parts and Crafts, Somerville: Every Saturday from 10 am to 2 pm, Parts and Crafts opens their makerspace to families who want to make something amazing. Makers are encouraged to have an idea in mind when they come to the Open Shop, but if they can't think of anything, the staff will help them brainstorm. Open Shop is free or by donation and geared to kids ages 7 to 13.
Top photo courtesy of The Kids Place