SPONSORED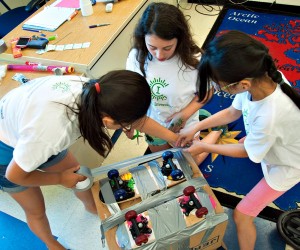 Kids Can Design, Build, Experiment & More This Summer at Camp Invention
I'm in the process of researching summer camps for my six year-old, and I'll admit the process can be overwhelming. I want him to have fun—but it would be nice if he could grow up to change the world, too. Swimming, running and playing make for wonderful summer memories, but eight weeks of nothing else could result in some serious summer brain drain.
Enter our sponsor, Camp Invention, and its week of inspiring little beach bums to blossom as inventors. The camp teaches essential STEM concepts to kids entering grades one through six, via creative, hands-on activities—then shows those future Gateses and Jobses how to follow through by partnering with the US Patent & Trademark Office. The curriculum, inspired by ground-breaking inventors, is designed to empower children to be creative thinkers, problem solvers and innovators. And since it's only a week, there's still plenty of summer left for kids to get in all the non-academic stuff they want (and need) to recharge for the upcoming school year.
Celebrating its 25th year, Camp Invention focuses on lessons exploring connections between science, technology, engineering and innovation. And like every great inventor, the camp is always looking for new and exciting ways to inspire and challenge. This season introduces the Illuminate Program, which features four modules that allow kids to design, play, construct and deconstruct in teams, giving them a chance to bond and learn from one another.
In the KartWheel™ module, children test their engineering skills as they build, enhance and upgrade their very own freestyle racing cart (my race car obsessed boy will love this!). Campers then get a chance to build a prototype from scratch as they become entrepreneurs during the Design Studio: Illuminate™ module. And in the I Can Invent: Next Level Gamers™ module, participants take apart broken or unused appliances to create real-life video game models.
Finally, the Inducted™ module includes personalized video challenges from National Inventors Hall of Fame inductees, along with hands-on activities like constructing super-structure mega-towers, assembling out-of-this-world space rockets and more. Of course, one of the highlights of the week is the Inventor's Showcase at the end of the day on Friday, when parents are invited to see what their kids have been working on all week.
Although the camp runs for just one week, the staff makes the most of their time with the kids. The entire day is structured from beginning to end. At drop-off, the Leadership Interns do Camp Invention-assigned activities with the kids while waiting for everyone to arrive. Lunch is provided, and the kids do get time to be outside during recess, engaging in specific science-related challenges each day.
For older kids, the Counselor-in-Training (CIT) program offers 7th, 8th and 9th graders a chance to gain leadership skills; this is a great program for kids that have "aged-out" of Camp Invention, but still want to experience all of the fun activities the program has to offer. Specific dates and times for the camp depend upon location; with more than 1,200 sites in 49 states, it should be easy to find a location near you. Tuition also varies depending on location, with discounts available for Early Bird registration and siblings. For more information, click on the website or call 800-968-4332.
And for more info on summer day camps, check out our guides in New Jersey, Long Island, Boston, and Connecticut.
This post is sponsored by Camp Invention, but the opinions are those solely of the author.