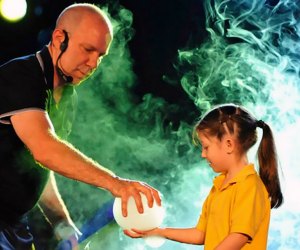 Bundle Up or Hunker Down: 30 Winter Activities for Westchester Preschoolers
Cold temperatures and snow on the ground doesn't mean you have to spend the next few months stuck at home (and, let's face it, who would want to?). We've rounded up some of our favorite events and things to do with preschoolers in Westchester and the Hudson Valley this winter. From stage performances to nature programs, holiday celebrations to play places, we've got you covered.
Want more? For all ages, check out our mammoth list of 50 things to do this winter in Westchester, as well as our Event Calendar. Be sure to sign up for our newsletters to stay in the know!
Drop in for Mommy & Me or Daddy & Me animal adventures (multiple dates).

Check out The Paper Bag Players as they celebrate their 60th anniversary! Photo courtesy of the company
1. The ultimate in upcycling: The Paper Bag Players: Stand Up & Cheer, We're 60 This Year! takes the stage with the troupe's signature reliance on cardboard and paper on Sunday, January 13.
2. Dive in to the new swim school at its grand opening party on Sunday, January 13.
3. Wear your PJs and bring your snuggle friend to Teddy Bear Storytime on Wednesday, January 17.
4. Drop in for a painting project.
5. Make "clean mud" on Friday, January 18.
6. Attend a Magic Show featuring magician Georgie Peorgie on Saturday, January 19.
RELATED: 50 Fun Things To Do with Westchester Kids this Winter

Building a bridge is a STEM activity that's perfect for preschoolers. Photo by Ally Noel
7. Stuck indoors? Try one of these STEM activities that are doable for preschoolers.
8. Watch a performance of "Lollipops for Breakfast" and other tales by the Tanglewood Marionettes on Sunday, January 20.
9. Spend MLK Day watching The Best of the New York International Children's Film Festival, featuring curated shorts from around the world, on Monday, January 21.
10. Get hip to some groovy fun at the Pete the Cat party on Saturday, January 26.
11. When the temperatures drop, bundle up and make frozen bubbles.
12. The Very Hungry Caterpillar and Other Eric Carle Favorites brings beloved kid lit to the stage with puppets and black lighting on Saturday, January 26. Another performance is scheduled for Saturday, March 16.
13. Share a freak shake.
14. Catch assorted acts for young audiences--from puppet shows to magic acts and more--at the Saturday Morning Family Series every Saturday starting in February.
15. Bundle up for an Old-Fashioned Winter's Afternoon on Saturday, February 2.
16. Visit a planetarium with shows for younger gazers.
17. Pop over to Bubble Trouble on Saturday, February 2.
RELATED: 60 Free Places To Play and Explore with Westchester Kids

Head to the Voracious Reader in Larchmont for storytime and snacks. Photo courtesy of the bookstore
18. Cozy up with a good book and a cookie.
19. At the annual Take Your Child to the Library Day on Saturday, February 2, also celebrate the concurrent National Eat Ice Cream for Breakfast Day!
20. Honor the Year of the Pig at the multifaceted Celebrate Lunar New Year, specifically for preschoolers, on Monday, February 4.
21. Bring your little sweetheart to enjoy a Valentine's Day Story and Craft on Tuesday, February 5.
22. Sign up: Valentine's Day meets STEM at Fun with Candy Hearts on Friday, February 15.
23. Learn a new language while their young brains absorb easily.
24. Catch the three-day stint of the Royal Hanneford Circus, Saturday February 16-Monday, February 18.
25. Whiz down some of those snow-covered hills.
26. Enjoy a sensory-friendly family show by kiddie-bopper Dan Zanes on Sunday, February 17.
27. Get up close and personal at Outragehisss Pets, a live animal show, on Tuesday, February 19.
28. Watch how maple syrup is made and enjoy assorted other activities on Sunday, March 3.
29. Save on admissions, tickets, and registrations: Check out our roundup of 60 FREE places to play.
30. Don't forget to consult our list of 50 things to do this winter for all ages, including many more additional activities for preschoolers!
This originally posted in 2018 and has been updated for 2019.