20+ Free Activities Near Philly this Winter for Kids and Families
1/2/22
- By
Corrie Stango
As the holidays give way to the new year, take the burden off your wallet after all that gift-giving, and check out these free activities near Philadelphia for kids. Bundle up for ice sculpture festivals, or take the family exploring at one of the region's nature centers. Alternatively, stay warm indoors at free museum days and indoor play spaces, or simply cozy up at home with virtual offerings. And if the snow gods make their mark on the Philadelphia region, we've got cost-free ways to enjoy the white stuff in our Winter Activities Guide.
Note: Many venues have COVID protocols requiring masking or proof of vaccination. Event cancellations are also possible, so please check with individual venues before arrival to ensure compliance with necessary guidelines.
Free Activities for Kids Near Philly this Winter
1. Visit the Library
Not only are many area libraries great places to find free indoor play, but your local branch likely has a variety of free kids programming and passes to Philly-area venues that are just waiting to be checked out.
The Electrical Spectacle lives on after the holiday season, switching over to a Winter Wonderland theme for families to enjoy. Special programming like Ice Princess Weekend is planned throughout the season, which runs through February 27, 2022.
Group X—a group of anonymous Philadelphia-based artists, curators, and organizers—and the Navy Yard collaborate again for the latest public art exhibit, Magical Fantasy. Visit this wonderland of art by London artist Morag Myerscough for a magically fantastical experience.
We've already written about how much we love the newly renovated Smith Playhouse, but don't forget to check out the rest of these great free indoor play places around Philly.
JCPenney department stores offer free crafts on the second Saturday of each month.
Many of these spots, like the Fireman's Hall Museum, Science History Institute, and Wagner Free Institute of Science are all welcoming visitors. On the first Sunday of each month, the Barnes Foundation offers free admission, although as of early January, the games, activities, and stories that guests have come to enjoy are paused due to the surge in COVID cases. Be sure to check details on each museum's website regarding openings or closings
If Disney, Netflix, Google, and NASA are using Python, you know this is the "it" tool for programming. Learn, explore, and then create your own game on January 6, 2022.
RELATED: Outdoor Ice Skating Around Philadelphia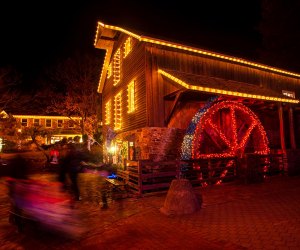 Enjoy the illuminated Fire & Frost Fun at Peddler's Village. Photo courtesy of Peddler's Village
8. Fire and Ice Festivals
Fire and Ice make everything nice throughout the Philly region this winter. Bonfires, a "Find Jack Frost" scavenger hunt, and ice sculpture displays await visitors to Fire & Frost Fun at Peddler's Village. Guests can purchase food at one of the three food trucks on site. Cross the bridge to Jersey for the Mount Holly Ice Exhibition and warm your tummy with great chili while admiring icy artistic eye candy. Dozens of ice sculptures will be on display in downtown Harrisburg at their Ice and Fire Festival if you're up for the drive. On Saturday only, a street festival will entertain visitors with an ice slide, fire dancers, fire pits and s'mores, performances by local groups, food trucks, vendors, a cocktail/coffee/cocoa crawl, and more.
The refuge's trails are always free, but popular programs like Nature Tots are back! Children ages 3-5 and an adult can explore nature with a refuge ranger and also enjoy storytimes, crafts, and hikes. Will Tinicum Tim see his shadow? Find out on January 29, 2022, at the refuge's Groundhog Day Celebration. Expect a live animal presentation, a story walk, ranger-led walks, live music, refreshments, and crafts.
Children from birth through 5 years old can engage in music, stories, and yoga through a secular Jewish humanism cultural lens. Sunday Funday is held on January 16, 2022.
Complete the arboretum's 4-Senses Scavenger Hunt while exploring the beautiful grounds. Awbury is free and open to the public every day from sunup until sundown.
Don't let cool temps keep the family from enjoying the great outdoors this winter. Grab your coat, hat, and gloves, and head out to the beautiful parks and trails for a fun family hike.
13. Visit a Nature Center
Miles of trails are free and open to the public at Philly-area nature centers from sunrise to sunset, and many centers are holding free events for kids all winter long. Bring the family to Winterfest for Wildlife at The Schuykill Center and show your support for the Wildlife Clinic's work by participating in guided nature hikes, talks with the clinic director, and more. Peace Valley Nature Center invites kids to free events where they'll learn about animals' amazing adaptations and travel in the light of the snow moon. At Briar Bush Nature Center, Winterfest 2022 hosts games, activities, crafts, and more before the big game on Super Bowl Sunday.
Winter just might offer the most beautiful views of the 12 remaining covered bridges in Bucks County, especially if we get a little snow. Families can download a map and an educational sheet with the history of each bridge. The tour is split into an eastern loop, which takes about two and a half hours, and a western loop, which takes about one and a half hours.
The African American Museum in Philadelphia is hosting three days of kid-friendly art workshops, scavenger hunts, and service projects to honor the legacy of this Civil Rights pioneer. You can also leave your mark, not your trash, in your community and take part in the annual Trash Cleanup at Bristol Marsh.
There's no cost for families to sit outside City Hall and admire the whimsically crafted reindeer topiaries, seasonal plantings, and twinkling lights of Wintergarden.
Tune in live for discussions about current science topics and issues, and learn why they matter. Log in on January 19, 2022.
Pennsylvania maple sugaring season runs from February through April, and several free local events allow kids to tap the trees for a sweet treat.
RELATED: Snow Tubing Near Philadelphia for Winter Family Fun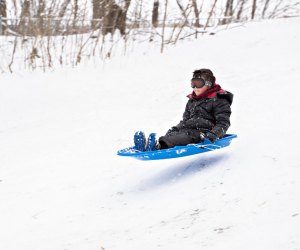 We still have a few more months to hope for snow! Photo by Brianna Spause/Philadelphia Parks & Recreation
This is always one of our favorite free activities for kids, provided the weather cooperates. Here's hoping Mother Nature gives us enough of the white stuff to hit these hills around Philly this winter.
These family-friendly walks offer Philly families lots of cute and furry fun and happen regularly thanks to the Philly Goat Project. Check their website for updated schedules and more details.
RELATED: 20 Great Winter Day Trips and Getaways near Philadelphia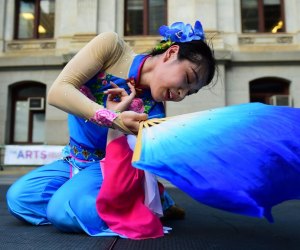 A performer in traditional dress for Lunar New Year at the Main Line Art Center. Photo courtesy of the center
21. Celebrate the Lunar New Year
Mark the Year of the Tiger with hands-on art workshops and family-friendly performances at the Main Line Art Center.
Experience the "Seat at the Table's" touchscreens virtually for stories of women innovators in the categories of Agents of Change, Politics & Government, Business & Finance, STEM, Communications & Media, and Sports.
Sign up for the Mommy Poppins Newsletter today!