Where To Go Maple Sugaring near Philadelphia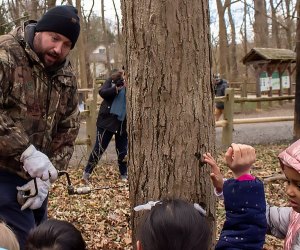 It's tree-tapping time in Pennsylvania, and we've rounded up the best places to go maple sugaring with kids near Philly. The official season kicks off in February, but sugarings and tastings across PA run through April. Our list includes demos in which visitors can watch an actual tree tapping as well as daylong experiences and weekend festivals. Many are local events, but some are better suited to a day trip or weekend getaway. Keep reading to check out what the syrup season has to offer.
Don't forget to take advantage of everything winter has to offer families in our Winter Activities Guide. For more stories like this sent straight to your inbox, sign up for newsletters.