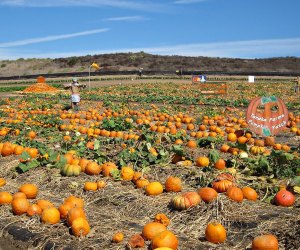 Things To Do in LA this Weekend with Kids: Knott's Fall-o-Ween, Haunted Hayride, American Girl, & Fireworks
Check your calendars, folks, because apparently it's Halloween season in these here parts. As of now, Angelenos can pick their pumpkins, eat sweet 'n' spooky treats, and have the bejeebies scared out of them.

Little by little our favorite venues are finding ways to come back to us (hello LA Zoo and Sea Life Aquarium!). New favorites are popping up, taking advantage of our twin loves of cars and movies. In the coming days you can see Goosebumps, Men in Black, The Incredibles, and Grease just to name a few.
Of course, many of our favorite events are too social to accomplish much distancing, but this week we can wiggle waggle walk our way through virtual editions of the Marine Mammal Care Center's Sealpalooza, LA Library's annual Los Angeles Libros Festival, the Aquarium of the Pacific's Baja Splash Cultural Festival, and the Hollywood Bowl's Fireworks Finale. (Not to mention the Monterey Jazz Festival, Farm Aid and Bonnaroo!)
And our Back-to-School Fair is still going; catch the last few free demo classes this week, including Atlantic Acting and Coucou French.
Keep on reading to find some of our top picks for September.