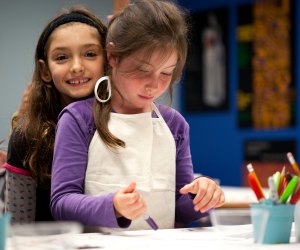 Things To Do in LA this Weekend with Kids: Big Bounce, Turtle Odyssey, and DC Zoo-per Heroes
We put our faith in him, but it's time we admit, that varmint is a no good liar. Either that, or he's just bad at his job. How hard can it be? Stick your head out, see no shadow and…. eternal winter!?! Is he a groundhog, or Elsa?! With that in mind, this weekend might be a good time to explore some warmth-generating activities like biking and bouncing. Might be a good time to explore heat-adjacent topics like cooking and volcanoes.
The camellias are in bloom this weekend, unless they are freezing their pitooties off like the rest of us Southern California lightweights. Aha! The turtles! New turtles are hatching and thriving and venturing out to sea. Scratch that; they're in Australia. It's summer there now. Must be nice.
Luckily a number of local events this weekend can warm your heart, if not your frostbitten extremities. Love is in the (bitter, frigid) air. With Valentine's Day fast approaching, you can sip the tea, dress up fancy, tour the manor, and make Valentines for deserving souls.
Keep reading for our most chill picks for the weekend...