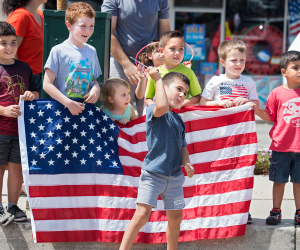 Memorial Day Weekend for LA Kids: Greeks, Scots, Star Wars, and Fireworks
First and foremost, Memorial Day is about the members of the armed forces who gave their lives in our nation's service. Their sacrifice is unimaginable, our debt to them beyond measure. To those lost, and to those who serve our nation and all it stands for, we salute you.
The weekend is not all somber reflection; Memorial Day also means a long weekend, and the unofficial start of summer. Festival is the word of the day: throughout the Southland folks gather to enjoy yummies and winged wonders, and to celebrate different cultures (including Greek, Scottish, and Topangan). Discovery Cube opens new exhibits that explore the different sides of super powers. (It's just science.) The Aquarium of the Pacific opens a new wing that encourages us all to be super heroes for the ocean.
And, of course, Memorial Day weekend closes with tributes to our fallen heroes. Ceremonies are being held at the Nixon Presidential Library, in Burbank and Canoga Park, and at Woodlawn and Forest Lawn Cemeteries.
Read on for some of our favorite picks for this three-day holiday weekend...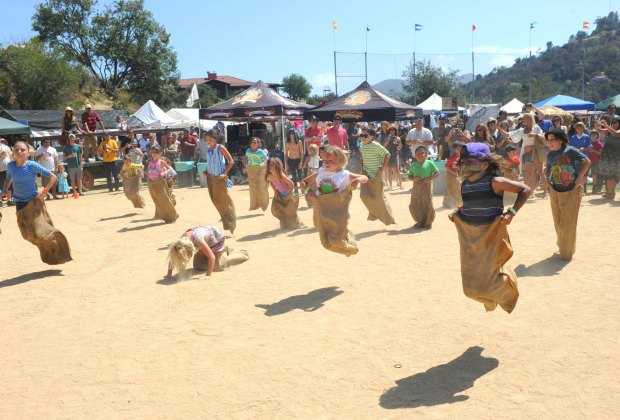 Hop to it at the Topanga Days sack race. Photo by Rich Saputo​
ALL WEEKEND
La Cañada's Fiesta Days - La Cañada-Flintridge
They've covered all the bases in La Cañada this weekend, with a 5K & 10K run, community breakfast, a farmers market, a parade, a vintage car show, a memorial service, a screening of Coco, and even fireworks. (also Monday)

Topanga Days Country Fair - Topanga
Sack race. 3-legged race. Watermelon spitting. Pie-eating. Water balloon war. And lots and lots of music. Welcome to Memorial Day weekend in Topanga. (also Monday)

Garden Grove Strawberry Festival - Garden Grove
One of the largest community festivals in the West, the Strawberry Festival features carnival rides, a giant strawberry shortcake, a parade, celebrity appearances, a Berry Berry Beautiful Baby contest, and a redhead roundup. (also Monday)
Opening Weekend Pacific Visions - Long Beach
The Aquarium of the Pacific opens its long awaited new wing. Pacific Visions explores the challenges of climate change through immersive programming and inspires visitors to take action for a sustainable future. (also Monday)
Queen Mary's Salute to Service Memorial Day Weekend - Long Beach
The Queen Mary's Memorial Day Weekend recalls the ship's WWII service as a troop carrier, through historical reenactment and character portrayal.

DC Super Heroes: Discover Your Superpowers - Santa Ana
It's DC in the OC, as Superman, Batman, Wonder Woman, and their super hero friends invite kids to join them in the fight for justice at Discovery Cube OC.
Discovery Cube LA (Sylmar) has two new exhibits opening: Wild Kratts: Creature Power! looks at amazing animals. In Science + You, you are the animal ... er... subject!
Memorial Day Weekend at Kidspace - Pasadena
Kidspace observes the holiday with themed story times, a collaborative memory wall, and performances of American music by duo Razzle Bam Boom.(also Monday)
​
Circus Vargas: The Greatest of Ease - Downey
The latest extravaganza from Circus Vargas pays homage to the golden era of circus in America. (also Monday)

Valley Greek Festival - Northridge
This one is worth it for the food alone! From moussaka, to baklava, souvlaki to spanakopita, the Greek Festival has it all (with dancing, live music, and kids' activities along the way). (also Monday)

Scottish Fair and Highland Games - Costa Mesa
In Scotland, Highland dancing was once considered an athletic event. Learn about this vigorous and challenging art at a celebration of Celtic culture. Parents can also partake in whisky tasting (while not exactly athletic, it is thoroughly vigorous and challenging).
Fiesta Hermosa - Hermosa Beach
Touted as the largest arts & crafts fair in Southern California, the Fiesta also features a Kiddie Carnival with a 30-foot slide, mechanical rides, rock climbing wall and bungee jump, pony rides, a petting zoo, and face painters. (also Monday)

Koroneburg Old World Renaissance Festival - Corona
The only permanently built Renaissance Faire in Southern California returns this weekend.
Kiddee Matinees - Hollywood
This is big: The New Beverly screens Tom Hanks' classic Big this Memorial Day weekend.
Memorial Day 70mm Films at the Aero - Santa Monica
The films at the Aero are big, bold, and beautiful.
Cirque du Soleil: Amaluna - San Pedro
Cirque du Soleil's look at femininity, fertility, and the moon continues its San Pedro run this weekend.
​World Cafe: Heartbeat of Mexico - Orange
Musco Center's Heartbeat of Mexico Festival celebrates the culture of Mexico with ticketed concerts, free Ballet Folklorico on Saturday, and a day-long free festival on Sunday.
Aladdin - Hollywood
You ain't never had a friend like the big blue genie played by Will Smith. (also Monday)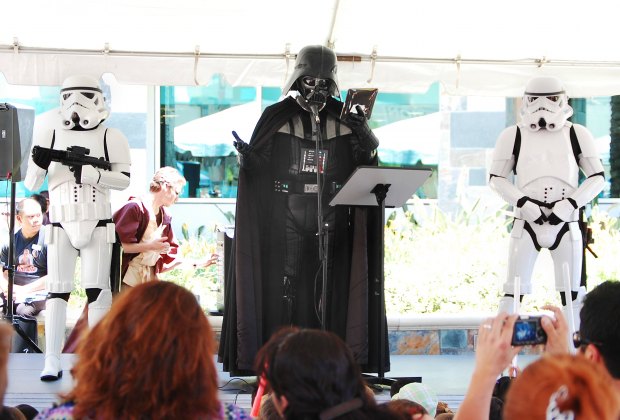 Darth Vader takes over storytime at the Rancho Cucamonga Public Library. May the force be with you! Photo courtesy of the library
​SATURDAY MAY 25
Wake Up with the Waves - Santa Monica
Get the kids moving on this holiday weekend.
10th Annual Monarch Butterfly Day - Fountain Valley
When it comes to butterflies, the Monarch is king!

AMC Theatres Sensory Friendly Films - Multiple Locations
A man, a pokemon, a movie. Pika Pika Pika. Participating AMC Theatres offer sensory-friendly screenings of Detective Pikachu.

Free Crafts for Kids - Multiple Locations
Lakeshore Learning celebrates Memorial Day with a We Remember! Memorial Day Wreath craft.

FIGat7th Kids Club - Downtown
Reduce, reuse, re-envision! Kids at Figat7th can make a CD Sun Catcher.

Star Wars Day - Rancho Cucamonga
Rancho Cucamonga's annual tribute to all things Star Wars takes over the library for the day.

Family Floralia Workshop - Pacific Palisades
You're never too busy to stop and smell the roses (or whatever flowers you might find in a Roman Garden).
Street Food Cinema - Pasadena
Rev up the DeLorean; it's time to go back to the future for an outdoor screening of Back to the Future. (There's also Goodfellas in Exposition Park, but that one's rated R.)
Angels Post-Game Fireworks - Anaheim
​The holiday weekend gets going with a bang (and pretty colors): fans are treated to fireworks after the Angels/Rangers game.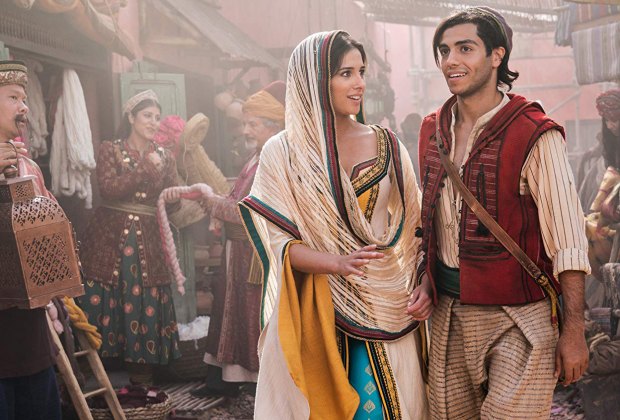 Aladdin opens at El Capitan. Photo courtesy of Walt Disney Pictures​
SUNDAY MAY 26
Family Sunday/ Kids Run the Bases: Angels - Anaheim
After the Angels/ Ranger game on Sunday, kids can get in on the action and round a few bases.
Family Fashion Workshops - Santa Ana
The Bowers helps you get your fashion on, with a family-friendly workshop on sewing and tailoring.
Birdwatching for Young Children and Parents - Malibu
This long reflective weekend offers a perfect time to stop and watch the birdies.
Santa Monica Symphony - Santa Monica
The finale concert of the season presents works of Verdi, Rachmaninov, and Brahms.
Cinespia - Hollywood
What's that... out my rear window....? It's a screening of Rear Window...in a cemetery!

Memorial Day Sunday Fireworks - Buena Park
Knott's Berry Farm lights up the night with some big colorful bangs.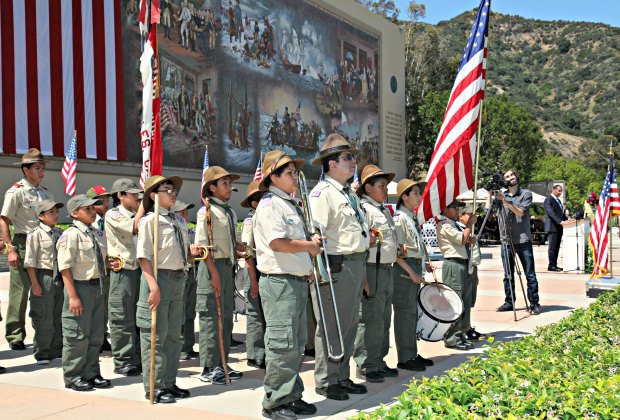 Photo courtesy of Forest Lawn Cemetery
MONDAY MAY 27 - MEMORIAL DAY
Canoga Park Memorial Day Parade - Canoga Park
Canoga Park celebrates Memorial Day with a patriotic parade. The theme is "Saluting the Price of Freedom."

Memorial Day Ceremony - Glendale, Long Beach, Cypress, & Hollywood Hills
Forest Lawn pays tribute to fallen soldiers with patriotic music, wreath laying, free refreshments, and free souvenirs.

Target Free Holiday Monday at LACMA - Mid-Wilshire
LACMA is free for the whole family on Memorial Day. Highlights include live music and art workshops.

Memorial Day Family Concert - Yorba Linda
Memorial Day events at the Richard Nixon Presidential Library includes a panel featuring POW wives of the Vietnam era.

Memorial Day Observance - Santa Monica
The annual Memorial Day observance at Woodlawn Cemetery is now in its 81st year.
Free Ice Cream Social at The Gourmandise School - Santa Monica
I scream, you scream, we all scream for the free Ice Cream Social at The Gourmandise School.

Blaire's Cookie-Decorating - Fairfax
American Girl fans can share in Girl of the Year Blaire's love of the farm by decorating themed cookies.
2019 Summer Concerts in the Park - Thousand Oaks
Conejo Community Park starts its summer concert season with The Long Run - Experience the Eagles.

Battleship Iowa Memorial Day Remembrance - San Pedro
Battleship Iowa's Memorial Day honors our fallen heroes with a free pierside festival.
As always, there are many more activities listed on our Event Calendar. Whatever you choose to do this weekend, we hope you have memorable time!