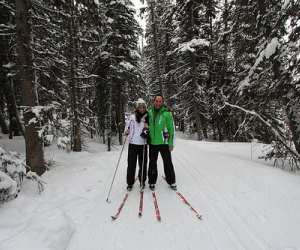 Cross-Country Skiing Spots on Long Island
There's at least one good thing about a snow-filled winter: It gives us the chance to ski. And if cross-country, rather than downhill, is your family's preferred winter sport, you're in luck. Long Island boasts a number of great trails for locals from beginner spots best for younger kids to the more adventurous perhaps better appreciated by parents or experienced teens. In fact, many state parks open bright and early after a snowfall, so that skiers can hit the fresh powder.
Just be sure to call in advance to make sure the park or nature preserve is indeed open. And for more cold weather fun, check out our Skiing, Snowboarding & Snow Sports Guide.
Bethpage State Park
99 Quaker Meeting House Road, Farmingdale
(516) 249-0701
Enjoy miles of cross-country skiing trails—along with sledding—at this popular park.
Christopher Morley Park
Searingtown Road, Roslyn
(516) 571-8113
The park features 30 acres of peaceful and beautiful wooded nature trails that can be used for cross-country skiing in the winter.
Eisenhower Park
Field 1
600 Merrick Avenue, East Meadow
(516) 572-0348
Winter brings cross-country skiing, sledding and tobogganing to Eisenhower Park.
Garvies Point Museum & Preserve
50 Barry Drive, Glen Cove
(516) 571-8010
With 62 acres of forests and meadows, families can come to Garvies to cross-country ski, but stay to learn more about Long Island's rich history.
North Woodmere Park
750 Hungry Harbor Road, North Woodmere
(516) 571-7801
Enjoy the views as you cross-country ski through this 150-acre park.
Muttontown Preserve
Route 25A on Muttontown Lane, East Norwich
(516) 571-8500
Sprawled over 550 acres, Muttontown Preserve offers fields, nature trails and woodlands for exploring by ski or foot. If open, be sure to check out Chelsea Mansion, a former residence now on the National Register of Historic Places.
Trail View State Park
Jericho Turnpike, west of Woodbury Road, Woodbury
(631) 423-1770
This 400-acre park, which extends from Cold Spring Harbor State Park on the north shore of Suffolk County to Bethpage State Park, and eventually to the south shore of Nassau County, boasts pretty and quiet forests for cross-country skiing.
Valley Stream State Park
Southern State Parkway, exit 15A, Valley Stream
(516) 825-4128
This state park offers cross-country ski trails, as well as walking (or snowshoeing!) trails, so families can enjoy nature even in the winter months.
Photo via PhotoPin.