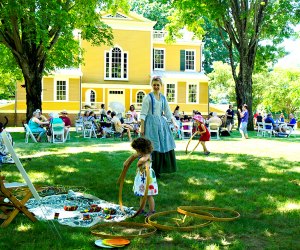 8 Fun Day Trips From New York City Without a Car
Although New York City is home to wonderful museums and cultural centers, destination day trips are a fun and easy way to give kids a change of scenery, while giving the whole fam the chance to explore nearby cities and towns. Maybe you have a touch of cabin fever, or just want to explore someplace new—either way, we've rounded up close-enough-to-home adventures for a quick trip out of the city. And the best part is, you don't even need a car! All of our picks are accessible by public transit, so no need to wrestle with traffic jams—just enjoy the commute with the kids and make getting there part of the adventure.
Be sure to check each destination's website for specific directions, hours, and admission.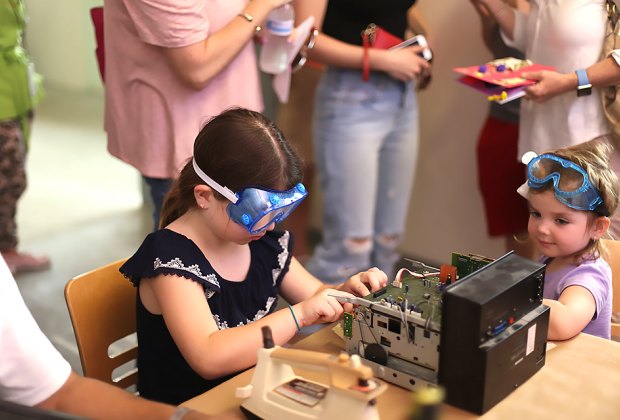 Explore the maker space at the Westchester Children's Museum. Photo courtesy of the Westchester Children's Museum
Westchester and Lower Hudson Valley
Westchester Children's Museum — Rye
45 minutes from Grand Central
This welcome addition to the famed boardwalk in Rye opened its doors in 2016. All exhibits are fully interactive and engaging—you'll find a maker space, book nook, and more. During summer months, look no further than Playland Park—steps away on the boardwalk—for old-school amusement park fun.
RELATED: Best Science and Natural History Museums Within a Day Trip of NYC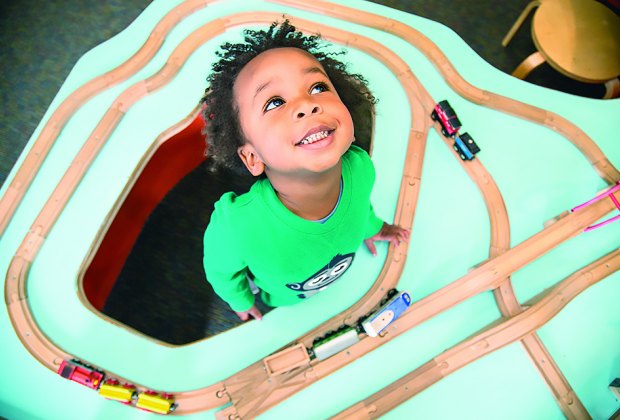 Trains, interactive exhibits and more are just a short train ride away at the Mid-Hudson Children's Museum. Photo courtesy of the museum
Mid-Hudson Children's Museum — Poughkeepsie
1 hour, 45 minutes from Grand Central
Located on the banks of the majestic Hudson River, this museum is an easy jaunt on the Metro-North and walking distance from the Poughkeepsie station. Interactive exhibits focus on early learning and incorporate elements of science, math, and literacy, as well as art and music, encouraging hands-on play and exploration.
Boscobel — Cold Spring
1.5 hours from Grand Central
Open to the public each year from mid-April through December
Boscobel hosts many family-friendly events, including guided house tours, the Hudson Valley Shakespeare Festival, and the Cold Spring Farmers' Market. Special children's programming is also on deck. Past events include Bring the Kids! Second Saturdays and Rhyme Time by the Hudson. Check Boscobel's website for updated events. Special rates for Metro-North riders are available.
RELATED: Family-Friendly Day Trips on the Metro North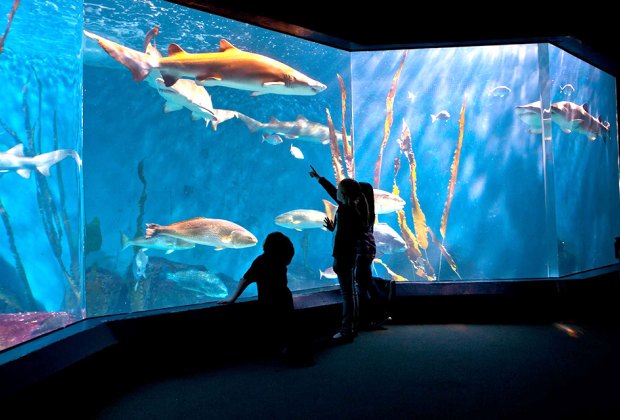 Gaze at the amazing ocean life at the Maritime Aquarium in Norwalk. Photo courtesy of the aquarium
Connecticut
Maritime Aquarium — Norwalk
1 hour from Grand Central
Get up close and personal with all forms of aquatic life, from frogs and sea turtles to seahorses, seals, and otters. Norwalk's aquarium is within walking distance of the Metro-North station, so you'll be face to face with marine life in no time flat. Discount packages are available for Metro-North riders. Beyond the aquarium, South Norwalk (SoNo to the locals) offers lots of visit-worthy attractions including nearby Oyster Shell Park, Stepping Stones Museum for Children, and the historic Lockwood-Mathews Mansion Museum.

Head to the moon at the Liberty Science Center. Photo by Karen Turner
New Jersey
Liberty Science Center — Jersey City
1 hour from the World Trade Center Path Train Station
Hop the PATH train or enjoy a ferry ride (with connections to a local bus or light rail) to the Liberty Science Center. Once inside, science comes to life with permanent and rotating interactive exhibits and educators to complement them all. Keep in mind, this place is huge—you'll need several visits to see it all.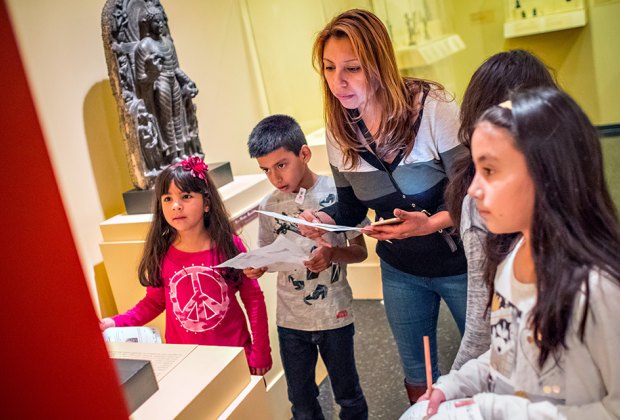 Many family programs are offered throughout the year at the Newark Museum. Photo courtesy of the museum
Newark Museum — Newark
1 hour from Port Authority
Easily accessible via New Jersey Transit, Newark Museum is the largest in New Jersey—think the Metropolitan Museum of Art and the Museum of Natural History rolled into one—with 80 galleries of art and natural sciences to explore. Many family programs are offered throughout the year, including film screenings, science experiments and projects and arts and crafts activities.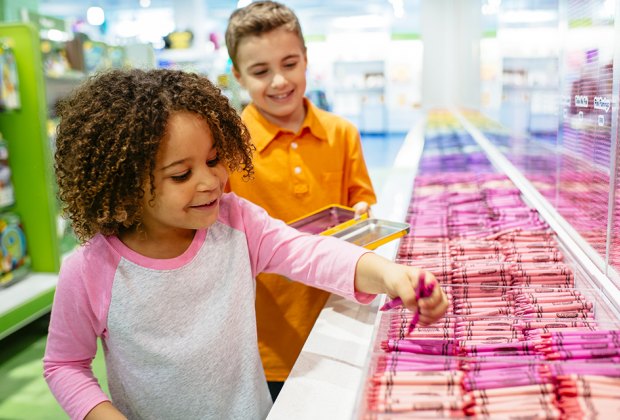 Choose your favorite colors as you make your very own pack of crayons at the Crayola Experience! Photo courtesy fo the Crayola Experience
Pennsylvania
Crayola Experience — Easton
2 hours from Port Authority
A direct bus trip from Port Authority Bus Terminal delivers you half a block away from the front doors of The Crayola Factory in less than 2 hours. This awesome activity center invites visitors to paint, draw with every color possible, sculpt and even write on a glass wall. You'll also get to see a live demonstration of how crayons and markers are made.

It's hands on everything at the Please Touch Museum in Philadelphia. Photo courtesy of the museum
Please Touch Museum — Philadelphia
2 hours from Penn Station
The furthest of the lot, but completely worth the trip, the Please Touch Museum is easy to get to by taking Amtrak straight into center city Philadelphia. With two floors of immersive fun, Please Touch is completely hands-on and considered one of the best children's museums in the country. Permanent and rotating featured exhibits, plus the whimsical Woodside Park Dentzel Carousel make this museum worthy of repeat visits.