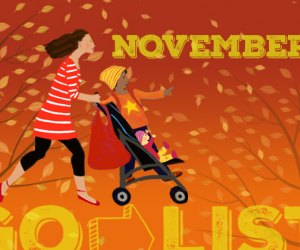 November GoList: Best Things To Do With Connecticut Kids This Month
Colored Turkeys at Gozzi's Turkey Farm — Guilford
Friday, November 1- Tuesday, December 24
This 70 year old family business has brightly colored turkeys for the kids. Turkeys are also available for purchase.
The Great Pumpkin Drop — Storrs
Friday, November 1
Not sure what you will do with your sad, leftover Halloween Pumpkin? Why not drop it...from 30 feet in the air...while ziplining? All climbers at The Park on November 1st will be able to drop their pumpkin while ziplining.
Día de los Muertos: Free Community Event — Hartford
Saturday, November 2
Celebrate Day of the Dead at the Connecticut Historical Society. Bilingual English/Spanish tours will be held for visitors to get to know the ofrendas, or small altars, that have been set up by local families.
Harvest Festival — Stamford
Saturday, November 2 - Sunday November 3
Enjoy a ton of activities for your family ranging from some traditional favorites, such as apple slingshots and apple cidering demonstrations, to new offerings like planetarium shows. Enjoy live animal interactions, face painting, storytelling, live music, children's crafts, and more.
Learn more about Indian culture at the ICC Children's Diwali Party. Photo courtesy of India Cultural Center of Greenwich
ICC Children's Diwali Party — Greenwich
Sunday, November 3
Celebrate Diwali at the India Cultural Center. The party will feature performances by ICC's Bollywood students taught by Vaibhavi Pandit, crafts, a photo booth, and a DJ with dancing.
Scouts & Soldiers - Native American Living History Event — Norwalk
Sunday, November 3
Explore a Native American soldier's campsite with living historian of Algonkian life, Drew Shuptar-Rayvis. View 18th century Native American artifacts, learn about Native American survival techniques, and discover the Native American tradition of wampum belt making. There will also be a live musket demonstration.
Awesome Autumn Day— New Canaan
Tuesday, November 5
Vote for Nature on Election Day! Frolic in the leaves and take part in field games, such as pumpkin ring toss, corn hole, and parachute games.
Hempsted Thanksgiving —New London
Saturday, November 9
Talk with a period cook about colonial foods and cooking techniques as she prepares a harvest meal over an open hearth. Watch members of the Hempsted Youth Group make cider and play historic games on the lawn.
Tribute to Veterans at New England Air Museum —Windsor Locks
Saturday, November 9
Visitors to the Air Museum will have the opportunity to meet and talk one-on-one with veterans of World War II, Korea, Vietnam, Iraq and Afghanistan. They can tour the Museum's three hangars with its extensive collection of vintage including many military aircraft.
Science Solvers: Pine Cone Lab — Greenwich
Saturday, November 9
Stop by the Bruce and learn about their science exhibitions with this drop-in program. Every other weekend families will be able to get interactive with science from hands-on activities to different challenges that vary in science topics.
Disney Junior Holiday Party — Wallingford
Saturday, November 9
Families can sing and dance along to their favorite Disney Junior songs, plus holiday classics with their favorite Disney friends, including Mickey & Minnie Mouse, the Puppy Dog Pals, Vampirina and many more. Plus expect a special visit from Santa Claus.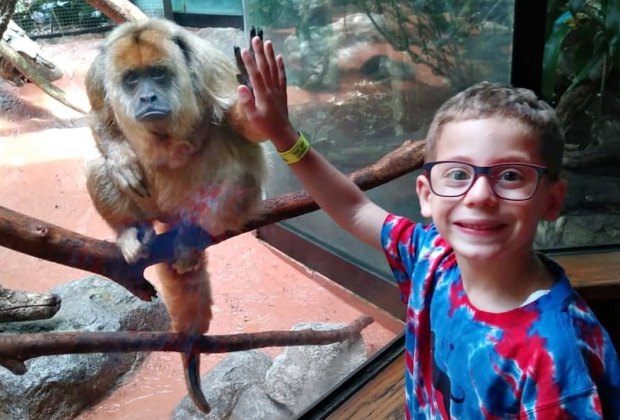 Bond with primates at the zoo. Photo by Dawn Graham Lowery courtesy of Beardsley Zoo
Fall Into Fun Family Weekend II — Bridgeport
Saturday, November 9-Monday, November 11
The weekend will include a maze to navigate, story-times, scavenger hunts, and crafts at the Research Station. The canteen will serve corn on the cob and apple cider in celebration of fall. Guests will enjoy seeing the dozens of decorated scarecrows on the lawn in front of the Victorian Greenhouse and hear Animal Talks from the Zoo's Education staff.
The Transit of Mercury — Westport
Monday, November 11
The planet Mercury will move directly between the Earth and the Sun. Viewers with telescopes and approved solar filters will be able to observe the dark disk of the planet Mercury moving across the face of the Sun. This is an extremely rare event that occurs only once every few years. The next transit of Mercury will not take place until 2039.
Fantasy of Lights — New Haven
Friday, November 15 - Tuesday, December 31
The Fantasy of Lights route, which is about a mile long, features more than 60 displays and 100,000 lights. Many of the displays are animated and some are fitted with LED bulbs, making them more colorful and vibrant. Try a pair of 3D glasses to really bring the displays to life.
Thanksgiving is Here! at Welles Shipman Ward House — Glastonbury
Sunday, November 17
The house will be open and full of demonstrations conveying the hustle and bustle of the holiday. There will be tours of the 1755 Connecticut River valley mansion, two of the barns, and the new tobacco shed will be open. You'll see how vegetables would have been preserved, as well as some examples of heirloom vegetables that are similar to some of the veggies that would have been available to the colonial house wife. The fire will be going and you'll see demonstrations of some of the treats that a family might have enjoyed on their Thanksgiving table that aren't commonly eaten today.
Bruce Explorers: Thanksgiving Food Science Lab — Greenwich
Sunday, November 17
The Bruce Explorers will get to learn about a wide variety of science topics, like what's often found on the holiday table. This drop-off program is designed for children ages 7 to 16 who are ready to take a deep dive into science.
Visit with Santa and Mrs. Claus — Canterbury
Saturday, November 23
Launch the holiday season with a special visit from none other than Santa and "Mrs. Merry" Claus. They will provide some brief insights into Christmas lore and their roles in it, then pose with anyone who wants for pictures.
Toys, Trains & Magnificent Trees — Norwalk
Wednesday, November 20 - Sunday, January 5
The Lockwood-Mathews Mansion Museum kicks off the holiday season with its traditional display of trees and decorations that highlight the development of the holiday traditions during the Victorian era in America.
Lantern Light Tours — Mystic
Saturday, November 23 - Sunday, December 22
Set on Christmas Eve in the year 1876, the play offers small windows into the lives of people on the verge of great change, both personal and cultural.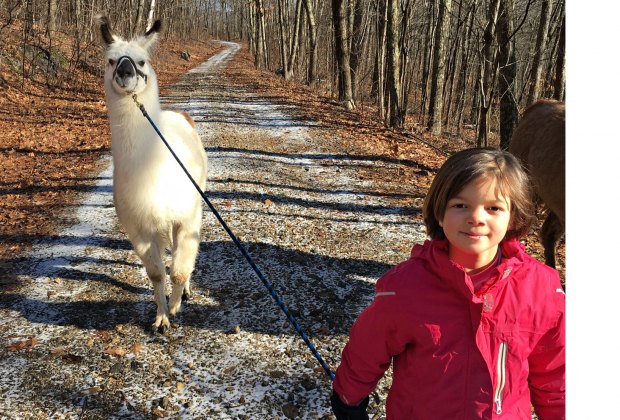 Walk with friendly llamas this November. Photo courtesy of Country Quilt Llama Farm
Llama Walk with Debbie Labbe from Country Quilt Farm — Litchfield
Sunday, November 24
Come and take a one hour walk with a llama on a wooded trail within one of the most beautiful and diverse wildlife sanctuaries in America.
Stamford Downtown Parade Spectacular — Stamford
Sunday, November 24
Stamford's annual holiday balloon parade has become one of the largest events of its kind in the country. The parade features everyone's favorite giant balloon characters, award winning marching bands, and fabulous floats.
Pequot Runners Thanksgiving Day Road Race — Southport
Thursday, November 28
Now marking its 40th year, the race features five fast, scenic miles through Connecticut's "Gold Coast" – or a 2.7 mile walk through beautiful Southport harbor.
Winterfest and the Tunnel of Lights — New Haven
Friday Nov 29 - Sunday, Dec 29
Take a trolley ride during the holiday season. Ride in a closed car or brave the elements in an open "electric sleigh."
Santa Special — Essex
Friday, November 29 - Monday, December 23
Enjoy the spirit of the season as you relax with family and friends aboard festive railway cars adorned with vintage decorations. Rudolph and Pablo the Penguin will be on board to spread holiday cheer. Plus, each child will receive a small holiday gift from Santa's Elves.
Annual Greenwich Reindeer Festival — Greenwich
Friday, November 29 - Tuesday, December 24
This cherished town tradition continues at this expansive nursery where visitors can have their photo taken with Santa, meet the reindeer and also ride on the Winter Wonderland Carousel and the North Pole Polar Express Train, all just minutes from downtown Greenwich.
Thanksgiving Weekend Waddle — New Canaan
Saturday, November 30
Grab the entire family (and any lingering holiday visitors too!) and head on down to the New Canaan Nature Center! Join the NCNC Naturalists for a healthy, invigorating Trail Trek to work off that holiday meal.
Mystic Tree Lighting & Lighted Boat Parade — Mystic
Saturday, November 30
Santa Claus is coming to Mystic with the Holiday Lighted Boat Parade in Historic Downtown Mystic. Thousands gather at the Mystic River Park to watch Santa arrive at 2pm on a 60-foot tug boat, the John Paul, to open his ears to the wishes of children waiting anxiously in line to see him.