Best Things To Do in Chicago with Kids this Spring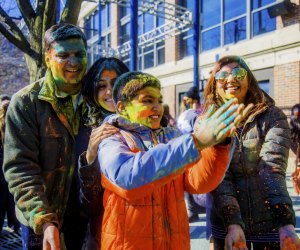 3/13/22
- By
Maureen Wilkey
Is it officially spring yet? No one knows for sure if the last snow of the season is officially behind us in Chicago, but we do know that plenty of fun events await as kids approach spring break and the end of the school year. Flower shows are back in full force with Chicago Botanic Gardens showing off its orchids, Garfield Park Conservatory offering up playful plant-themed knock-knock jokes, and Lincoln Park Conservatory standing tall with its pillars of spring. Dinosaurs and other prehistoric animals are another popular theme of Chicago's spring events, with the Field Museum giving kids a chance to Doze with the Dinos, Kid Works Children's Museum hosting a weeklong Dino Works event, and Brookfield Zoo following up its Dinos Everywhere show with an animatronic Ice Age Giants exhibit. And plays and music based on books and fairy tales ignite the minds of kids throughout the city: Chicago Symphony Orchestra presents Jack and the Beanstalk; Chicago Children's Theater is putting on Carmela Full of Wishes based on a recent picture book, and Chicago Kids Theatre acts out modern versions of Rapunzel and the The Ugly Duckling.
We've got ideas for Pi Day, Easter, and Mother's Day. If it's cold over spring break, check out our list of winter day trips near Chicago. If it's warm, you can try out some of our favorite summer day trips. Or skip going out of town together and take a staycation in Chicago with some of our top tourist attractions (who knows, you might catch us there doing a review).
Hope springs eternal that this will be a great year to have kids in Chicago, so get out there and enjoy it!