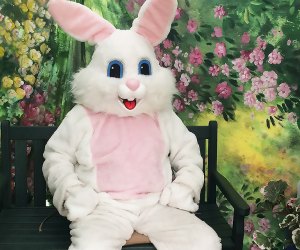 Where To Take Easter Bunny Pictures with Chicago Kids (Plus More Easter Fun)
With Easter just weeks away, and things opening up across the Windy City, the Easter Bunny is making several appearances in Chicago this spring. While he's not hopping to quite as many spots as years past, we've still found several places where Chicago kids can pose for Easter Bunny pictures. And he's not just around for mere pictures—he's popping up for photo ops at delicious brunches, virtual 5K runs, pizza parties, storytimes, and more.
You know where else you can often find the Easter Bunny? At Easter egg hunts! There are plenty of egg hunts taking place all over the city, and we know just where to find them. For even more spring events in the week leading up to Easter, check out our list of fun spring break activities.
Editor's note: While we are trying to promote safer activities that occur outdoors or with social distancing guidelines in place, please keep your family and others safe by always wearing a mask and maintaining an appropriate distance. Be sure to click through to the listings for complete information, including locations and times. Remember, these events tend to be crowded, so make a reservation where possible.