The Best Winter Day Trips Near Chicago for Kids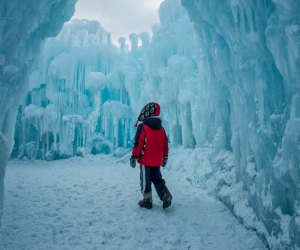 Winter in Chicago can feel long. Luckily, there's no shortage of fun things to do both indoors and out. From museums to outdoor snow fun and nearby states to visit, we've rounded up some of our favorite winter day trips near Chicago to do with kids. These are perfect for that post-holiday stretch when you just need to get the kids out of the house and into a fun winter adventure, whether it's a short drive away or a local activity that takes most of the day.
For more travel guides and winter activities, check out our Chicago Family Travel Guide here.
Indoor Winter Day Trips Near Chicago
When it's just too cold to even bundle up and enjoy yourself outside, there are still plenty of indoor places to take the kids for the day. Here are some indoor winter day trip ideas near Chicago.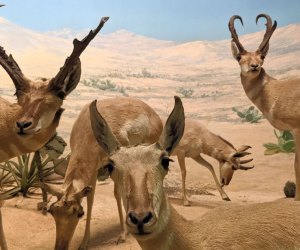 Travel across the world by visiting the dioramas at the Field Museum, photo courtesy of the museum
Spend a Winter Day at a Museum
Chicago is home to some of the best museums in the world. From Field Museum to the Chicago Children's Museum, there is a museum for every interest and age level. Check out a hands-on exhibit designed for toddlers or take your tween to see a new exhibit at the Museum of Contemporary Art.
Check out an Indoor Play Place
From the city to the suburbs and everywhere in between, there's an indoor play space waiting to be explored. This list of Chicago's Best Indoor Play Spaces has a space for everyone in your family. These are great for those cold winter days when you need to let the kids run around and burn off some energy.

A local aquarium can take up most of a winter day. Photo courtesy of the Shedd Aquarium
Visit a Zoo or Aquarium
Animals don't all hibernate just because it's winter. In fact, there are plenty of animals who love the cooler temps that are out and about that you won't see that often at a zoo in the summer months. Many zoos also have indoor and outdoor sections that are great for warming up and taking a break from the cold. The Shedd Aquarium, for example, is almost all indoors so you can explore the oceans, seas, Great Lakes, and more regardless of how cold it is outside. For our list of favorite zoos and aquariums, check out this list here.
Take a Winter Day Trip to Wisconsin
Depending on where you live, the Wisconsin and Illinois border may only be a short drive away. There are several day trip options available in southern Wisconsin that are great to explore in the Winter. Check out our Favorite Things to Do in Milwaukee with Kids for some great day trip inspiration. If you're looking for an easy day trip with a chance to get out and walk, read more about Exploring the Shore Path of Lake Geneva.
Take a Winter Day Trip to Indiana
From the zoos to the farms and children's museums, there's no shortage of things to do in Indiana with kids. From the loop, the Indiana border is less than an hour away. This makes Indiana a great day trip option. Visit the Albanese Candy Factory in Merrillville or visit the Potawatomi Zoo for one of their Winter Days.
Outdoor Winter Day Trips Near Chicago
Chicago kids don't stop going outside just because it's winter. Between snow tubing, sledding, skiing, and ice skating, there's always something fun to do outside in Chicagoland. Here are some of our favorites.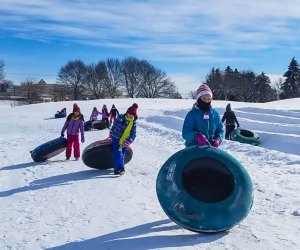 Snow tubing makes a great winter day trip near Chicago. Photo courtesy of Villa Olivia in Bartlett, Illinois
Snow Tubing
Snow tubing takes sledding to a whole other level. Just a short drive from Chicago you'll find some of the best snow tubing in the Midwest. From Illinois to Michigan, and Wisconsin, we've rounded up a list of our favorite snow tubing spots within a short drive from Chicago. Check out the full list here.
Ice Skating
Ice skating is an awesome activity for the entire family. Whether you're a seasoned pro or a first-timer, check out our list for some of the best ice skating in Chicago and the nearby area. Every rink on this list is outdoors and many offer skate rentals and treats to refuel after your skate.

Take a winter day trip to the Ice Castles. Photo courtesy of Geneva National Resort
Visit the Ice Castles
The Ice Castles are coming to Lake Geneva, Wisconsin in 2022. Located less than two hours from Chicago, the Ice Castles is the perfect weekend day trip. Explore caverns, tunnels, slides, and more made entirely of ice. Nearby Lake Geneva offers quaint shops, coffee, ice cream, bakeries, and restaurants to check out before or after your visit to the castles.
Go on a Winter Hike
Who says hiking is only for the summer or fall? Winter is a great time to get out and explore nature's magic. We've rounded up a list of some of the best places to hike with kids near Chicago here. Many of these hikes are a short drive away and perfect for a little snow play or a sunny day when the temperature is mild. Make sure to wear good boots with a grip and put the kids in snow pants and gloves as well. A hike is always a little more fun when a snowball fight ensues.