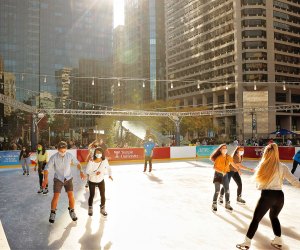 30 Fun Things to Do Over the Holiday Break with Philly Kids
With many schools using remote or hybrid learning models during the 2020 academic year, Philly families have become accustomed to having their kids around the house. But now that Christmas break is almost here, Philly parents can take time to figure out how to spend these days without Zoom.
More than ever before, it is important to make holiday break feel different, memorable, and special. With colder weather arriving and COVID restrictions in place, getting out of the house might be tougher than usual, but there are still plenty of fun activities to keep kids busy.
We've created a list of ways to add a little fun to winter break. Whether your family likes the chill of outdoor fun or prefers indoor activities, there is something for everyone. For more family fun ideas, check out our Philadelphia Holiday Guide, which features posts on train rides, holiday light displays, and the best holiday and Christmas events in the region.
Note: The City of Philadelphia has announced a "Safer at Home" initiative continuing through January 1, 2021. Restrictions might impact events held in the city limits. Please check directly with the venue website before heading out. While we try to promote safe activities that occur outdoors or with social distancing guidelines in place, keep your family and others safe by wearing a mask and maintaining appropriate distance. If you arrive at an event that appears too crowded, try using the "nearby" search feature on our event calendar to find something else to do.
Great Things to Do Near Philly Over Christmas Break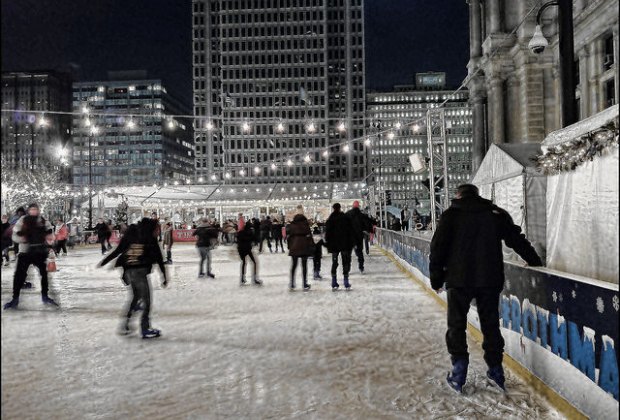 Rothman Orthopaedics Ice Rink even offers nighttime skating. Photo from Flickr by Raymond Clark/CC2.0
1. Lace up your skates and take a twirl on the outdoor ice at Rothman Orthopaedics Ice Rink or Blue Cross RiverRink.
2. Be mesmerized by the train garden at Brandywine River Museum.
3. Play a round of miniature golf at Franklin Square's newly themed Chilly Philly Mini Golf, featuring holiday lights and music.
4. Listen to the great-great grandson of Charles Dickens perform A Christmas Carol from the comfort of home.
5. Put on your super sleuth hat and participate in Elf on the Stealth, a mystery walking tour at Peddler's Village.
RELATED: Polar Express Train Rides for Philly Kids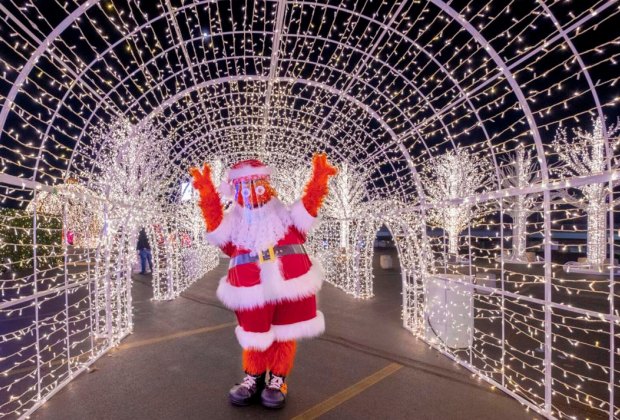 Greet Gritty from a safe distance at Winter on Broad Street. Photo courtesy of Wells Fargo Center
6. Say hello to Gritty Claus at Winter on Broad Street.
7. Load up the car and drive to Herr's Snack Factory to glimpse the magical lights.
8. Meet Betsy Ross, the historical figure who made our nation's glorious flag, at The Courtyard outside the Betsy Ross House.
9. Be spontaneous and take a road trip to one of these near-Philly destinations.
10. Bounce off some energy at a trampoline park. (Note: These are closed until January 4, 2021.)
11. Hershey Park isn't just a summertime excursion. Check out Christmas Candyland before its last day of the season on January 3, 2021.
12. See the beautiful lights on display at Longwood Gardens' yearly exhibit, A Longwood Christmas, open until January 10, 2021.
13. Leave your favorite memory on the wall at the Delaware Museum of Natural History as it prepares for a renovation during its Countdown to Chrysalis.
14. Get creative with a visit to the Crayola Experience in Easton. While the theme is closed, kids can still enjoy the Crayola Store.
15. Roll up your sleeves and do some volunteering as a family.
16. Put on your snow pants and try tubing down a mountain in the Poconos.
17. Revisit the splishing and splashing of summer with a trip to Great Wolf Lodge in the Pocono Mountains.
RELATED: Great Winter Getaway Ideas for Philly Families

Ever seen an underwater Santa? You can in Camden. Photo courtesy of Camden Aquarium
18. Bid one final goodbye to Santa with an underwater adventure at Camden Aquarium.
19. Watch the Deck the Hall Light Show in Center City.
20. Wish happy holidays to the furry gang at Sesame Place's A Very Furry Christmas celebration, which ends on January 3, 2021.
RELATED: Outdoor Ice Skating Rinks in the Philly Area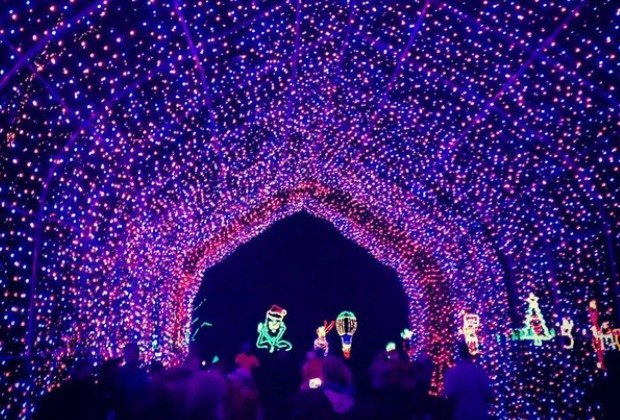 Enjoy one final look at Philly-area holiday lights. Photo courtesy of Shady Brook Farm
21. Grab some hot chocolate for the road and pack the kids into the car for one final look at the best Christmas light shows in the area.
22. Take a spin on Parx Liberty Carousel at Franklin Square.
23. All aboard! Find a seat on the Snowflake Special at Colebrookdale Railroad.
24. Walk through Koziar's Christmas Village and take in the beautiful illuminated displays.
25. Enjoy a winter staycation with your little ones to keep the family fun going.
26. View the holiday makeover at LEGOland for the Holiday Bricktacular event. Again, while the Discovery Center is closed, kids can still enjoy the Lego store.
27. Hit the slopes and burn off some energy as you ski or snowboard at these nearby mountains.
28. Play carnival games and enjoy the rides at Gilbertsville's Carnival of Lights.
29. Visit the animals at Elmwood Park Zoo for its Wild Lights holiday celebration.
30. Add your New Year's resolution to the Kimmel Center's New Year's Resolution Wall, virtually. The center remains closed.
Writer Kristen Sullivan contributed to this post, which was was updated for 2020.