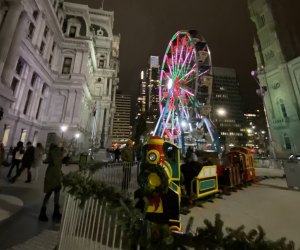 30 Fun Things to Do Over the Holiday Break with Philly Kids
With its train rides, holiday lights, and Philly area must-do activities, Christmas is almost here and so is winter break. Having the kids around the house for a week (or more) can be great, but it can also be exhausting. With cold weather here to stay, getting out of the house may be a little tougher than usual, but Philadelphia has plenty of fun activities to keep kids busy. Catch a play, visit a special exhibit, or get active outdoors.
For more family fun ideas, check out our Christmas and Holiday Fun Guide!
1. Check out the family-friendly production of Little Red Robin Hood at People's Light

2. Disney on Ice returns to Philly with "Mickey's Search Party," just in time to beat the winter break blues with little ones!

3. Don't let the learning stop just because school is out with the Museum of the American Revolution's latest exhibit, Civil War and Reconstruction, before it closes December 31, 2019.

4. See Scrooge as never before at the Bucks County Playhouse production of Ebenezer Scrooge's BIG Playhouse Christmas Show.

5. Take the kids to see the quintessential holiday performance, Pennsylvania Ballet's The Nutcracker.

6. Learn about Dinosaurs at the Delaware Museum of Natural History's Discovery Days.

7. Catch the Philadelphia Zoo special exhibit LumiNature, on display until January 5, 2020

8. Go ice skating at one of the many outdoor ice skating rinks nearby.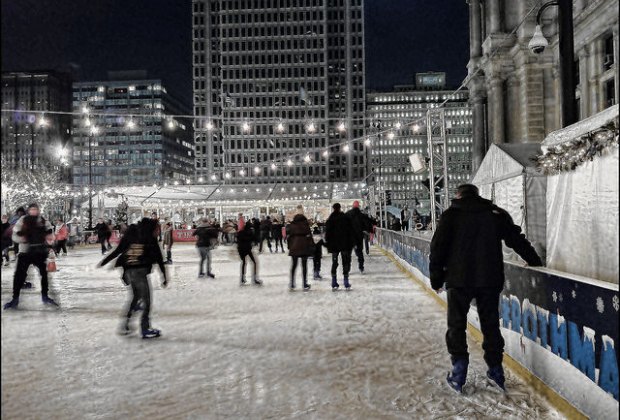 Head to Rothman Ice Rink for some nighttime skating. Photo from Flickr by Raymond Clark/CC2.0
9. Want more Hamilton? Visit the National Constitution Center to explore the exhibit Hamilton: The Constitutional Clashes that Shaped a Nation

10. Check out the special holiday programming at the Franklin Institute, featuring an incredible exploration of the Moon.

11. Be spontaneous and take a road trip!

12. Get ready to laugh it up with Shrek the Musical! at the Walnut Street Theatre.

13. Jump into the pages of Eric Carle's classics with the Very Eric Carle exhibit at the ​Please Touch Museum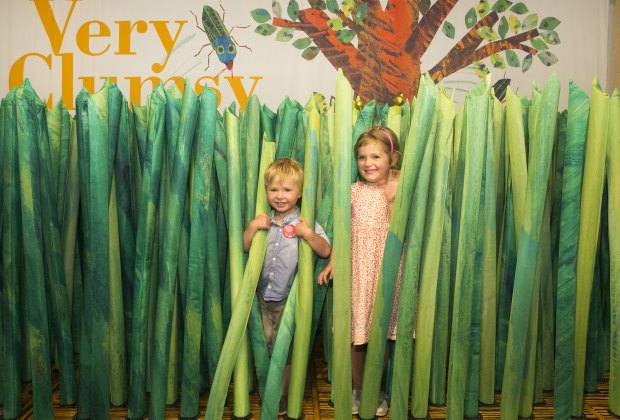 Jump, literally, into a good book with the Eric Carle exhibit. Photo courtesy of Please Touch Museum
14. Bounce off some energy at a trampoline park.

15. Have your kids put on their chefs' hats and try out these simple and adorable no-bake snowman cookies.

16. Go to a space where everyone can find their Happy Place a pop-up experience at the King of Prussia Mall through January 5, 2020

17. Sure to be a new holiday favorite, catch the adventures of Mikey the Elf and the Case of the Missing Mistletoe at Act II Playhouse.

18. Hershey Park isn't just a summertime excursion. Check out Christmas Candyland before its last day of the season on January 1, 2020.

19. Make holiday candy wishes come true at Candytopia before it heads out of town!

20. See the beautiful lights on display at Longwood Gardens' yearly exhibit, A Longwood Christmas (open until January 5).

21. Check out some of the Free Library of Philadelphia's events, including book fairs, yoga, chess, and more.

22. Grab a pass to a nearby museum from your local library.

23. Take a trip to Easton and visit the Crayola Experience.

24. Roll up your sleeves and do some volunteering as a family.

25. Revisit the splishing and splashing of summer with a trip to Great Wolf Lodge in the Pocono Mountains.


See a scuba diving Santa and the world's largest underwater Christmas tree at the Camden Aquarium. Photo courtesy of Camden Aquarium
26. Bid one final goodbye to Santa with an underwater adventure at Camden Aquarium.

27. Have some holiday fun at Dilworth Park, featuring festive rides and exciting city views and yummy treats in the lodge.

28. Wish happy holidays to the furry gang at Sesame Place

29. Grab some hot chocolate for the road and pack the kids into the car for one final look at the best Christmas light shows in the area.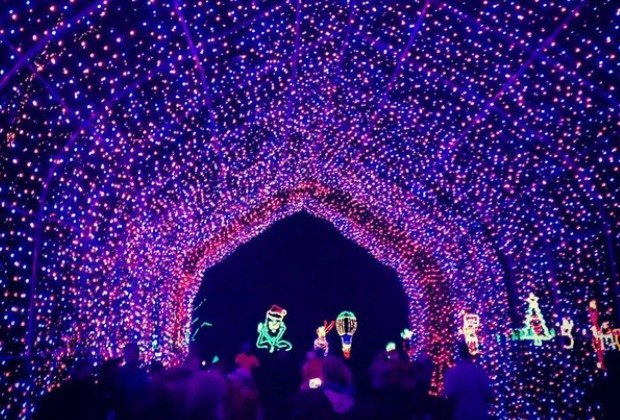 Drive through the light show at Shady Brook Farms. Photo courtesy of Shady Brook Farm
30. Enjoy a winter staycation with your little ones to keep the family fun going!
31. Check out the Annual Antique Toy Train Show.
32. View the holiday makeover at LEGOland for the Holiday Bricktacular event.
33. Check out how local snack-maker Herr's gets festive at the Snack Factory Christmas Lights celebration.
34. Take to the slopes and burn off energy as you ski, snowboard, or snowtube the Poconos.
35. Knock those last items off your 2019 bucket list of Philly fun.
Post updated for 2019