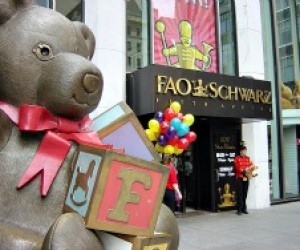 Free Indoor Activity Spots on the Upper East Side for NYC Kids
​Barnes & Noble
150 East 86th Street between Lexington and Third Avenues
This large B&N outpost is particularly family-friendly. Don't worry that it's two stories underground: There's an elevator and even stroller parking. The large children's section is stocked with books, educational toys and games, and school supplies. There's a lovely little reading area with pillows, and even a kid-size table with chairs, but children tend to plop down all over. A separate room hosts frequent kids' events on Sunday mornings, not just readings but live music performances and art workshops, and there's a regular Wednesday morning storytime at 10am. And there's a cafe on-site if you need a snack.

​FAO Schwarz
Unfortunately FAO Schwarz closed in July 2015.
No wonder this is one of our favorite stores to play in. Make like Tom Hanks in Big and hop around the BIG Piano, pose with the real-life Toy Soldiers stationed at the front door, race in Hot Wheels village, make goo-goo eyes at the baby dolls in the nursery, check out a toy demo (there always seems to be one going on), make your mouth water in the massive candy area, and gawk at the oversize stuffed animals, dress-up outfits and playthings to suit every taste. We would love to tell you that the iconic megastore is less busy at a certain time of day, but we don't think that hour exists. Face painting and glitter tattoos are available daily from 11am to 6pm for a fee, but Barefoot Books' storytime is free.
Apple Store Fifth Avenue
767 Fifth Avenue between 58th and 59th Streets
Right next door you'll find this tech Mecca (another one of our top shops to play in). I was here recently and noticed there were as many kids trying out the company's new products as adults! Play at the game stations or check out the latest apps for iPads, iPods and iPhones, but be prepared to battle hordes of tourists.

Eloise at the Plaza
The Plaza Hotel, Fifth Avenue at Central Park South
Across the street from FAO and Apple you'll find this chichi boutique, dedicated to the hotel's most famous fictional resident. In the Fashion Room, kids can try on gorgeous outfits that put Fancy Nancy's to shame, and in the Reading Room they can enjoy Eloise movie clips or read about her outrageous adventures. Of course, there are also lots of things to buy and teatime doesn't come cheap so leaving without dropping any dough might be difficult.

Chess & Checkers House
Central Park, mid-park at 64th Street
Challenge your kids to a rousing game of chess, checkers, dominoes or backgammon at this indoor visitors center, where you can borrow everything you need to play. The house also hosts no-cost chess clinics and the occasional craft workshop, so be sure to check the calendar to see what's happening.

Petco
1280 Lexington Avenue at 86th Street
When we rounded up places to play indoors on the Upper West Side, we noted that pet stores are like catnip for little kids. The workers tend to be very understanding and let your kids coo at the hamsters, mice, guinea pigs, turtles and colorful fish as long as they want. And Petco's frequent adoption drives mean you can get face time with cats and dogs, too. Still need more animals? There's a Petland Discounts a few blocks further east.

New York Public Library
Webster Library, 1465 York Avenue at 78th Street
96th Street Library, 112 East 96th Street near Lexington Avenue
Yorkville Library, 222 East 79th Street between Second and Third Avenues
67th Street Library, 328 East 67th Street near First Avenue
The UES boasts four NYPL branches where you can pick up a book, watch a movie or enjoy some quiet time. Webster is our favorite: It has a young adult collection on the second floor and a children's section with comfy seating and a handy kids-only restroom on the first. The branch hosts several toddler storytimes as well as read-aloud workshops for preschoolers. While both programs are free, tickets are distributed on a first-come, first-served basis. Be warned: Like many NYPL branches, this one gets very busy when school's out. The other UES libraries offer various types of kids' programming. Check their respective calendars on their websites.


Read all of our posts about the Upper East Side.