Indoor Play Spaces on the Upper West Side: 23 Fun Inside Spots for NYC Kids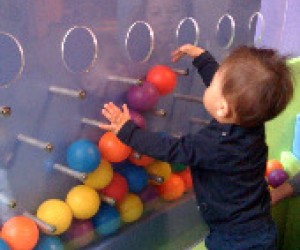 So far this month as part of our focus on the Upper West Side, we've rounded up cool things to do and awesome toy stores. Now we're rounding up indoor places to play on the UWS.

While the UWS is bookended by Riverside Park and Central Park, their playgrounds clear out when it's cold or rainy. But there are plenty of inside neighborhood spots where kids can run around and have fun. We're not just talking about the usual pay-to-play places like CMOM or AMNH, or members-only play spaces like NY Kids Club; there are also lots of unusual destinations, many of which are free. Here are our top 23 UWS spots where kids can play (or at least hang out a bit) indoors.
Free Indoor Play
Fauna
265 West 87th Street between West End Avenue and Broadway
Pet stores are great fun for kids, and Fauna (formerly known as Uptown Birds) is our favorite one in the neighborhood. Check out the cool aquariums and reptile cages, or sit and stare at an array of colorful, noisy birds. The store is large, clean and particularly kid-friendly: there's even a Friday morning storytime at 10am.

Petco
2475 Broadway at 92nd Street
Need an additional animal fix? You can gawk at more hamsters, mice, guinea pigs, turtles and colorful fish at the UWS outpost of this national chain. The minute the staff see your kid they know why you're there and they leave you alone. Good luck convincing your child your family doesn't need a new addition.

The JCC in Manhattan on select Saturdays and Sundays
334 Amsterdam Avenue at 76th Street
While the JCC is not usually free, the culture spot regularly hosts no-cost programming for families. On Saturdays, November 5–March 24, 2-5pm, enjoy R&R Shabbat at the JCC. Kids can do art projects, catch live entertainment like bands and magicians, and play organized games. On Sundays in July, the JCC also offers free access to its 3,000-square-foot rooftop playground—of course that's outdoor fun, but still good to know.

Barnes & Noble
2289 Broadway at 82nd Street
The closure of the Lincoln Square B&N, which regularly hosted kids' events, was a real blow to neighborhood families. While this location doesn't have children's programming, it does have a well-stocked (and often quite busy) kid-lit section, a cafe and clean bathrooms. Good for killing a half hour or so.

The David Rubenstein Atrium at Lincoln Center
Broadway between 62nd and 63rd Streets
Technically, this spot is located just south of our 66th Street UWS cutoff, but we couldn't skip this lovely indoor public space. The gigantic live plant walls and giant projection screen will fascinate your kids, and there's plenty of room for little ones to toddle around while mom rests at one of the tables and enjoys the free Wi-Fi. And there are bathrooms. Bonus: On the first Saturday of every month at 11am, the atrium hosts free interactive performances for families, like December 3's George Balanchine's The Nutcracker Children's Workshop presented by the New York City Ballet. You can find a complete schedule on the website.

New York Public Library
St. Agnes, 444 Amsterdam Avenue between 81st and 82nd Streets
Bloomingdale, 150 West 100th Street between Amsterdam and Columbus Avenues
Library for the Performing Arts, 40 Lincoln Plaza at 65th Street
In addition to their book, DVD and CD collections, the St. Agnes and Bloomingdale branches both offer regular no-cost programming for kids, including weekly storytimes and live performances. The events at the Library for the Performing Arts are a bit more grownup (concerts with names like Bach to the Future, etc.) but for tweens and teens who are interested in the arts, it's the spot to check out historic recordings, videotapes and sheet music, as well as vintage programs, posters and photographs.

Apple Store, Upper West Side
1981 Broadway between 67th and 68th Streets
There's a reason all three NYC Apple Stores are listed in our shops to play in post. Kids can play at game stations, and check out the latest apps for iPads, iPods and iPhones, and probably teach mom and dad a techie thing or two. This outpost also hosts lots of in-store events (children's author Mo Willems recently launched his Don't Let the Pigeon Run This App! app here) and there are also youth programs. Visit the website for a complete schedule.

Toy Stores
We recently wrote a post about our favorite UWS toy shops. Assuming you can leave without buying anything, they're awesome free places to play. Essentials Plus (2259 Broadway at 81st Street) has a cool Thomas the Tank Engine train table; West Side Kids (498 Amsterdam Avenue at 84th Street) puts out a peg board and a build-an-animal set; and Giggle (352 Amsterdam Avenue at 77th Street) has a fun toy kitchen. Read about our other top toy store in the neighborhood.
Drop-in Play Spots
Children's Museum of Manhattan
212 West 83rd Street between Broadway and Amsterdam Avenue
What can we tell you about this kids' fun zone that you don't already know? Well, did you know that CMOM just unveiled a brand-new interactive exhibit, Eat Sleep Play, that encourages kids to lead healthier lives? Or that the museum frequently hosts concerts by local kids' bands and hands-on workshops with arts professionals? And that's in addition to all of the other cool things kids can do here every day. $11, free for babies under 1. Free to all the first Friday of the month 5-8pm.

Discovery Room at the American Museum of Natural History
79th Street and Central Park West
Again, we all know that the AMNH is a beacon for NYC families. But if you ever tire from looking up at the massive dinosaurs or marveling at the giant gems, the Discovery Room is a great place to visit. Here, kids can build a life-size dinosaur skeleton, romp in an interactive tree house, play memory games with fossils and much more. Sessions last 40 minutes but space is extremely limited, so be sure to pick up your free pass at the Discovery Room entrance first thing when you arrive at the museum. Free with suggested general admission: $19 for adults, $10.50 for children ages 2-12, free for kids under 2.

ACT Indoor Playstation at the Cathedral Church of St. John the Divine
1047 Amsterdam Avenue at 111th Street
Like the David Rubenstein Atrium, this spot is technically outside of our official UWS zone. However, this Morningside Heights mainstay is one of the cheapest play spaces in NYC. Run by ACT, which offers very affordable after-school programs, and holiday and summer camps, this modest indoor gym includes slides, balls and crawl spaces on a large colorful mat. The downside is it's only open Monday-Thursday, noon-3pm (although you can book birthday parties here on weekends). For children 5 and under. $6 per kids, free for adults and babies under 6 months.

Elliott's Gymnastics
131 West 86th Street between Amsterdam and Columbus Avenues
Earlier this year, I wrote a post about my favorite classes for toddlers on the UWS, and I raved about the offerings at this local gym. But you don't have to sign up for a class to enjoy the space: For a few sessions on Monday-Thursday afternoons, it's open anyone who wants to come bounce, swing and play for a $15 drop-in fee. Visit the website for a complete schedule.
Members-Only Play Spots
As one of the most family-friendly neighborhoods in all of NYC, it's no wonder that there are a number of members-only play spaces, kids' gyms and clubs. For some you pay an annual free, with others you can enroll your kid in a class. Each one has its own unique fees and offerings, so visit the respective websites for up-to-date information including schedule and prices.

NY Kids Club - Upper West Side
169 Amsterdam Avenue between 67th and 68th Streets
Offers classes, birthday parties and camps.

Kidville - Upper West Side
205 West 88th Street between Broadway and Amsterdam Avenue
Offers classes and programs, birthday parties and open play for members.

Gymboree - Upper West Side
240 West 73rd Street between West End Avenue and Broadway
217 West 84th Street near Broadway
The national chain has two neighborhood locations, both offerings classes and birthdays.

Super Soccer Stars West
606 Columbus Avenue at 89th Street
Offers soccer classes and birthday parties.

The Little Gym of the Upper West Side
2121 Broadway between 74th and 75th Streets, second floor
The UWS of the popular chain offers classes and birthday parties, and even free introductory sessions.

My Gym
22 West 66th Street between Columbus Avenue and Central Park West
Offers classes and birthdays.


For other cool and offbeat places to play, check out our Indoor Activity Guide. Or see all of our posts about the Upper West Side.