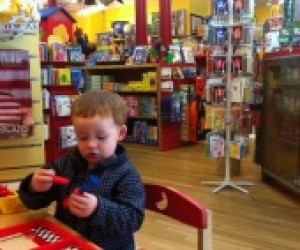 NYC Toy Stores: Best Toy Shopping on the Upper West Side
As we mentioned last week, Mommy Poppins' neighborhood of the month is the Upper West Side. We already shared our top 30 things to do on the UWS. Today we're highlighting our favorite toy stores in the area.

The UWS is so family-friendly that you can find a business selling toys on most blocks (along with a Starbucks or two). The West 80s in particular could be dubbed "Toy Store Row." Now if you ask my three-year-old, there's no such thing as a bad toy store. However, as an UWS parent who frequently finds herself searching for last-minute birthday party gifts, I certainly like some more than others. Here are sixUpper West Side toy shops that really stand out from the rest in terms of products, prices and cute offerings. One even has a Tooth Fairy Registry.
West Side Kids
498 Amsterdam Avenue at 84th Street
Opened back in 1981, this is my family's favorite neighborhood toy store, and we know lots of locals who agree. The selection is lovely, and the shop is organized, clean and very cheerful. The staff is sweet to the kids and eager to help parents. There are tables with trains and stacking pegs where my son plays while I browse. We've picked up a lot of great stuff here, including musical instruments, dominoes and educational games, and even my son's scooter. I always find something that I'm excited to wrap up and give as a gift—whether it's for my own kids or for a friend's.

Essentials Plus
2259 Broadway at 81st Street
We already said how much we love the Thomas the Tank Engine train table display on the second floor of this family shop. Although this upstairs area is all about the kids, it's a pain to get to if you have a stroller since there's no elevator. Once you make it, you'll find several aisles of amusements, including puzzles, baby toys, craft supplies, sticker books and, of course, toy trains. It's a popular makeshift neighborhood play space, especially on rainy days.

Thérapie
309 Columbus Avenue at 75th Street
If you stroll by this "luxury lifestyle emporium," you'll probably think, nah, this can't be a toy store. But Thérapie sells quality playthings like animal figurines, puzzles and lots of Playmobil toys as well as goodies for moms like stationery and bath and body items. Kids can enjoy the community play tables as parents look around. The shop even sells discounted movie tickets!

T.J.Maxx
808 Columbus Avenue near 97th Street
As much as we try to support small local businesses, we'd be remiss if we didn't mention the UWS outpost of this popular national chain, conveniently located by Whole Foods and Michaels. This T.J. Maxx has a good toy section with great discounts. In fact, in my experience, these are the lowest toy prices in the area, so I stock up on gifts here. The inventory changes constantly and some months are better than others, but overall I've been impressed with the range of items to please babies to big kids. The book shelf is a real steal, too.

A Time for Children
506 Amsterdam Avenue near 85th Street
You can feel good about shopping at this carefully curated boutique since all of its profits go to support The Children's Aid Society of New York. The store also hires and trains teens in the organization's programs. The selection includes toys, clothes and gift items, so it's a win for all.

Stoopher & Boots
385 Amsterdam Avenue near 79th Street
The "Tooth Fairy Registry" sign on the store's window was what initially caught my eye. Turns out the staff can start a toy wish list for any special occasion. The shop sells bright, artsy stuffed and wooden toys, along with dress-up items, clothing and accessories. Prices are on the more expensive side but the wares are lovely.

Read our other posts about the Upper West Side.