Upper East Side Indoor Play Spaces: Drop-in and Members-Only Play Spots for NYC Kids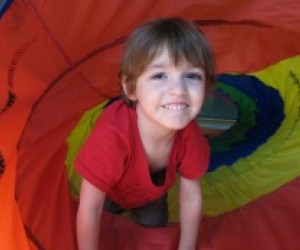 We continue our month-long focus on the Upper East Side with a look at all of the awesome indoor play spots in the neighborhood. With Carl Schurz Park and Central Park as its east and west borders, and lots of playgrounds, the UES has no shortage of places to play outdoors. But the area is also filled with indoor spots where kids can run around.

In addition to some free indoor activity spots, there area a slew of members-only kids' gyms like Gymboree, Kidville and Jodi's Gym, the UES boasts more offbeat drop-in play spots, like indoor petting zoo The Art Farm in the City and costume Mecca Let's Dress Up! Here are 12 places for kids to play indoors on the Upper East Side.
Drop-in Play Spots
​Let's Dress Up!
345 East 85th Street between First and Second Avenues
At NYC's only play space dedicated to dressing up, kids can pretend to be anyone they want to be. The selection of costumes and accessories is impressive, but definitely skews girlie (think princess, mermaid, mommy—there's a reason its tagline is "the premier princess party and play place"). Open playtime is offered (despite what the website says) but the hours change frequently so it's best to call for the most up-to-date info: 212-879-0956. The fee varies depending on how many one-hour sessions you purchase: five for $60, ten for $100, etc. Best of all, you don't have to find a way to put everything back in the closet like you do at home!

​The Art Farm in the City
419 East 91st Street between First and York Avenues
We've been raving about this one-of-a-kind play space for years. At this indoor petting zoo and farm, kids can enjoy classes, parties and even adopt and care for a part-time pet. If you don't want to make a commitment, there are various drop-in options, including the weekend Mornings on the Farm program, when your kids can help feed and care for the creatures at the crack of dawn (okay, fine, 8am. That's early to some people!). Weekday afternoon open play is also available.

TLB Music
266 East 78th Street between Second and Third Avenues
This music education program offers drop-in sessions in its colorful playroom. Don't worry if your kids aren't musically inclined: Active preschoolers can hide out in the clubhouse, jump into soft blocks, whoosh down small slides and cook in the play kitchen. Toys, puzzles, a train table and ride-on cars are also available. Price varies depending on how many sessions you purchase: $25 for one hour, $100 for five hours, etc.

Museum of Motherhood
This venue closed in March 2014.
Located in a former Gymboree space, this cozy museum hosts exhibits and performances that explore the experience of motherhood. However, it's not all about mamas here: Every week, the spot hosts kids' classes and playgroups, storytime and other child-centric events, plus there's a small drop-in play space, best for the preschool set. Fees vary depending on activity, but the regular suggested admission is $15 for adults, $5 for children ages 5-12 and free for kids under 5.
Members-Only Play Spots
As one of the most family-friendly neighborhoods in all of NYC, it's no wonder that there are a bunch of members-only play spaces, kiddie gyms and athletic clubs. For some you pay an annual free, with others you can enroll your kid in a class. Each one has its own fees and offerings, so visit the respective websites for up-to-date information including schedule and prices.

Jodi's Gym
244 East 84th Street between Second and Third Avenues
This independent play space is a soft-play dream—there's no way kids can hurt themselves in here. Primarily a class-based facility, all registered kids get free open playtime in the gym, and siblings can accompany them at no additional fee.

Asphalt Green
555 East 90th Street between York and East End Avenues
This 5.5-acre athletic complex boasts state-of-the-art facilities for the whole family, including an Olympic-size indoor pool (where Olympic medal winner Lia Neal trained!), a separate heated kiddie pool, a gymnastics studio, fitness center, massive outdoor ball field and more. Annual memberships are available as are a wide range of kids' classes, everything from gymnastics to team sports to swimming.

NYC Elite Upper East Side
421 East 91st Street between First and York Avenues
This awesome play gym offers excellent gymnastics classes for kids (and adults) of all ages. Drop-in playtime is available for current students but passes must be obtained in advance.

​Gymboree Play & Music
1622 First Avenue at 85th Street
The national chain's UES outpost offers the usual gym, music and art programs for members, who also get open playtime.

Kidville
163 East 84th Street between Lexington and Third Avenues
Another national chain with impressive facilities, including a versatile soft-play gym with brightly-colored swings, trampolines and parallel bars. Signing up for a class gets you a couple of passes to the gym, but you also need to pay an annual registration fee. Higher level memberships come with more open playtime.

New York Kids Club
219 East 67th Street between Second and Third Avenues
This local chain hosts a variety of enrichment classes for kids, and also offers access to its state-of-the-art play space to currently enrolled students for an additional fee.

My Gym Children's Fitness Center
250 East 60th Street between Second and Third Avenues
Lots of flexibility here: Open enrollment means you can register for a class anytime, and all current students get unlimited open play in the gym. There are occasionally Pay 'N' Play weekend events open to members and non-members. A second UES location at 1608 First Avenue between 83rd and 84th Streets is set to open this fall.