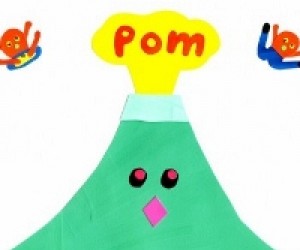 Best Museum Exhibits for NYC Kids: 6 Must-see Shows for Winter 2012
We've already shared our picks for the best concerts and stage shows for families this winter. Now we turn our attention to the best kid-friendly exhibits coming your way.

While three of the installations are at familiar tot spots—the American Museum of Natural History, the Children's Museum of the Arts and the New York Hall of Science—we've also scoped out cool kid-friendly exhibits at the Rubin Museum of Art, the Brooklyn Museum and the Intrepid. And we've got an up-to-date list of free museum hours so you can figure out when to visit at no cost.

From bioluminescent creatures to Tibet in popular culture to a major Keith Haring retrospective, here are six exhibits to take the kids to this winter.
Hero, Villain, Yeti: Tibet in Comics – Rubin Museum of Art
150 West 17th Street between Sixth and Seventh Avenues
Through June 11
Free with admission: $10 for adults, free for children under 13
Attention comic book geeks: The Rubin has amassed an incredible collection of titles touching on Tibet. The country's scenery, traditions, people and mysteriousness have figured in many comic books, both vintage and contemporary, from the U.S. (expect some Marvel and DC in the mix) Germany, France, Belgium, Italy, India and Japan. Kids can also check out first edition superhero action figures, a short documentary on the subject, and compare the real country with the mythic one depicted in comics. There's also a comic book nook, with all titles translated into English.

Ship-Shape: Nautical Scale Models – Intrepid Sea, Air and Space Museum
Pier 86, Twelfth Avenue at 46th Street
Through July 8
Free with admission: $24 for adults, $19 for children ages 7-17, $12 for ages 3-6, free for kids under 3.
Young sea lovers can gawk at incredibly intricate model boats. Dozens of replicas of vintage vessels will be on display, including ships in bottles, collectible crafts and good old-fashioned toy boats. Kids can also learn how these models are created. For more miniature boats, check out the recently reopened South Street Seaport Museum.

Misaki Kawai: Love from Mt. Pom Pom – Children's Museum of the Arts
103 Chartlon Street between Hudson and Greenwich Streets
March 14- June 10
Free with admission: $10
The museum's gallery space will be transformed into the magical Mt. Pom Pom, full of colorful creatures and giant fuzzy animals by Japanese artist Misaki Kawai. The multimedia show features paintings, drawings, sculptures, installations, books and zines, as well as animation and video. Kids should relate to the Misaki's playful works. Bonus: Visit the museum March 7th-12 and you can watch the artist at work in the gallery.

Keith Haring: 1978-1982 – Brooklyn Museum
March 16-July 8
200 Eastern Parkway near Washington Avenue
Free with suggested admission: $12 for adults, free for children under 12
Children have been marveling at the late artist's kinetic drawings for decades. At this retrospective, families can learn about the old-school New York art scene and view Haring's early works, including pieces from his very first days in the city, many of which have never been seen before. The large-scale exhibit includes 55 works on paper, lots of experimental videos and more than 150 archival pieces like sketchbooks, journals, flyers, posters, subway drawings and photographs.

Animation – New York Hall of Science
47 111th Street between 47th and 48th Avenues
March 31-September 2
$11 for adults, $8 for children ages 2-17, free for kids under 2
My son and I are particularly looking forward to this one. Kids can learn about animation at six interactive kiosks, everything from the history of cartoons (complete with an old, hand-cranked mutoscope) to the science and technology behind today's CGI releases. Visitors can also try storyboarding, watch cartoons and examine cells, drawings and other memorabilia up close. And since the exhibit was created in conjunction with Cartoon Network, kids can spot their favorite TV stars in the colorful backgrounds.

Creatures of Light: Nature's Bioluminescence – American Museum of Natural History
Central Park West at 79th Street
March 31-January 6, 2013
$24 for adults, $14.50 for children ages 2-12, free for kids under 2
Visitors can explore various recreated environments that are home to bioluminescent plants and animals. Find out the different ways these glowing creatures make their own light and learn how they use it to attract mates and prey, or keep predators at bay. Kids can get up close with live glowing flashlight fish or study my son's favorite, the angler fish that waves its own nightlight in the depths of the ocean.

Find out about other family-friendly exhibits in our Museum Guide.