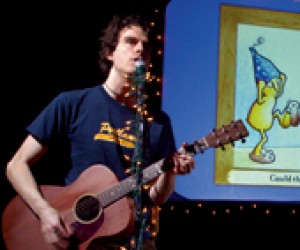 Best NYC Kids' Concerts for Winter 2012: 13 Rockin' Live Music Shows
We love taking the kids to indoor concerts when it's cold outside. It's a great way for them to shimmy and shake away the winter blues. Unlike sing-alongs or jazz concerts, pop and rock bands really let little music lovers blow off steam.

Lots of our favorite kids' groups are playing this winter, like The Deedle Deedle Dees and Suzi Shelton, but we've also included less well known groups we love. Whether you want to see a big name like Dan Zanes or are hoping to discover a new musical obsession, here are 13 cool kids' concerts in New York City.
The Deedle Deedle Dees – Park Slope
Fridays, January 27 and March 2 at 5pm
Two Moon Art House & Cafe
315 Fourth Avenue between 2nd and 3rd Streets
$7 per family
We hope you're already familiar with this awesome Brooklyn-based family band. Even if you've seen the Dees before, these Family Happy Hour shows are different than their usual gigs. In addition to playing their history and science-themed kids' songs, they'll share their "adult" party music, a mixture of jazz, klezmer, Bollywood, swing and soul that they usually play at clubs. Adults can also order beer and wine off the restaurant's menu. Now that's an evening out all of you can enjoy.
Suzi Shelton – Park Slope
Sunday, February 5 at 11am
Brooklyn Arts Exchange
421 Fifth Avenue at 8th Street
$7, free for children under 2
Put on your tutus and sequin sneakers and head to BAX, where this Brooklyn mom and kids' crooner will share her wonderful songs like "Goin On A Road Trip" and "Tomboy In a Princess Dress". BAX will also make its preschooler playspace available at no cost if kids need to a break.
Gustafer Yellowgold – Upper West Side
Saturday, February 11 at 11am, Sunday, February 12 at 4pm
Symphony Space
2537 Broadway at 95th Street
$25 for adults, $15 for children
Gustafer concerts are always unique, since the quirky animated adventures of the little yellow alien from the sun always accompany Morgan Taylor's catchy tunes. This show should be particularly epic, since Taylor will be playing with The Chelsea Symphony. His Beatles-esque songs will sound glorious with orchestral accompaniment.
Laura Veirs & the Tumble Bees – East Village
Sunday, February 12 at 3pm
Joe's Pub
425 Lafayette Street near Astor Place
$15 for adults, $12 for children under 12
Previous known for her adult albums, Veirs has released her first children's CD, Tumble Bee, with charming covers of old folk songs by the likes of Woody Guthrie and Harry Belafonte. To get a taste of her sweet vocals and arrangements, you can download the tune "Lap Dog Lullaby" for free. It's truly lovely. Doors open 30 minutes before the show, and food and drinks will be available.
Still Saffire – Dumbo
Sunday, February 12 at 4:30pm
Superfine Restaurant
126 Front Street between Adams and Jay Streets
$20 per family, cash only
Jam on Dumbo produces outdoor concerts during the summer, but the series has gone indoors for the winter. Families can enjoy a night out with dinner and indie tunes by this adorable teen girl rock band, which is made up of two sets of sisters. Tweens will love the cool tunes, and younger kids will dig the free face painting and balloons. Doors open at 4pm and a kids' menu is available.
Recess Monkey – Upper West Side
Saturday, February 25 at 11am and 2pm
Symphony Space
2537 Broadway at 95th Street
$20 for adults, $13 for children
This Seattle band made up of elementary school teachers doesn't play NYC that often, so this is your chance to catch them. With playful songs about marshmallows, grandparents and lunch, they really tap into the spirit of preschoolers.
Lloyd Miller and the Brooklyn Phonebook – Park Slope
Sunday, February 26 at 11am
Brooklyn Arts Exchange
421 Fifth Avenue at 8th Street
$7, free for children under 2
This is a solo show (with a little help from his friends) by Lloyd Miller, local dad and leader of The Deedle Deedle Dees. This concert is nothing like his mellow sing-alongs. He'll be performing many of the band's rockin' history songs, and will be accompanied by friends and his bass, guitar and banjo students. Audience members are invited to bring their instruments to join in the jam, too. Just like at the Suzi Shelton show, BAX's playspace will be open at no additional cost.
Brooklyn Kids Rock! – Fort Greene
Saturday, March 3 11am-4pm
Brooklyn Masonic Temple
317 Clermont Avenue at Lafayette Avenue
In advance: $14; at the door: $17; $48 for a family four-pack
This family music festival will benefit the Maple Street School in nearby Prospect Lefferts Garden. The lineup includes popular Brooklyn bands like Rolie Polie Guacamole, Jeremy Plays Guitar and The Deedle Deedle Dees (yup, them again). Other fun includes face painting, balloon animals, snacks and beverages, and carnival games, but a $20 activity bracelet is required.
Dirty Sock Funtime Band – Upper East Side
Sunday, March 4 at 2pm
The Jewish Museum
1109 Fifth Avenue at 92nd Street
$16 for adults, $11 for children under 12
Young kids will love dancing to the party songs by this colorful kids' band, whose members include the rainbow wig-coiffed Mr. Clown and glitter-covered dancer Annie. The concert should be extra festive since it's in honor of Purim, the "Jewish Halloween." Come in costume!
Shine & the Moonbeams – Dumbo
Sunday, March 11 at 4:30pm
Superfine Restaurant
126 Front Street between Adams and Jay Streets
$20 per family, cash only
We were so blown away by this band's soulful sound that we did a dedicated post on them last summer. Every member of the family will enjoy Shine's R&B groove at this Jam on Dumbo concert. Doors open at 4pm. Other attractions include free face painting and balloon animals, and an affordable kids' menu. Shine & the Moonbeams also plays Symphony Space on Saturday, February 4 at 11am. $20 for adults, $13 for children.
Flooky and the Beans – Prospect Heights
Saturday, March 24 at 1pm
Brooklyn Public Library, Central Branch, Dweck Center
10 Grand Army Plaza
FREE
This live concert kicks off the free spring Saturday Family Programs at the BPL's main branch. As you can probably tell from the name of the band, it's best suited to the preschool set, with a cast of "beans" romping in the land of Beantown. Hey, it's free.
Princess Katie & Racer Steve – Tribeca
Sunday, March 25 at 11am
92YTribeca
200 Hudson Street near Canal Street
$15, children under 2 free
Although this concert is a few days into spring, we couldn't resist including it. As always with this fun pop-rock duo, it's an interactive, dress-up affair, with energetic songs, glitter, wigs and kooky dancing. Since this show is dubbed "The Monster Concert," kids should come in ghoulish garb or bring their scary stuffed friends. Think of it as Halloween in March!
Dan Zanes – Upper East Side
Sunday, April 1 at 3pm
Metropolitan Museum of Art
1000 Fifth Avenue at 82nd Street
$15
We'd put this concert in our spring roundup, but we suspect it will be sold out by then. The daddy of kindie music was on break touring with his old adult punk band the Del Fuegos, but he's back and ready to please his young fans. Afterward, stay and enjoy the museum: Your ticket includes free admission for the day.

Photo by Adam Cantor.