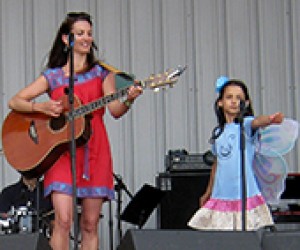 Best NYC Kids' Concerts for Fall 2012: 11 Live Rockin' Music Shows
September is synonymous with back to school but it doesn't have to be all work and no play. This month also marks the beginning of the new fall culture season and we're kicking off our coverage with a roundup of awesome concerts for kids.

If you're a kindie music fan, it's likely some of your favorites are playing New York City over the next few months. Big names include Gustafer Yellowgold and Elizabeth Mitchell, as well as popular local acts like the Deedle Deedle Dees, Princess Katie & Racer Steve, and Suzi Shelton. My four-year-old daughter and I recently became fans of Shelton—we've been to three of her shows in the last three months.

The coolest thing about our kiddie concert roundup? Five of these shows are FREE. So get ready to move and groove at our top 11 family rock concerts in NYC this fall.
Gustafer Yellowgold with Strings Attached – Greenwich Village
Saturday, September 15 at 11am
NYU's Skirball Center, 566 LaGuardia Place at Washington Square South
$28
We've raved about Gustafer Yellowgold for years. The animated adventures of a ray of sun living on Earth are set to singer/songwriter Morgan Taylor's Beatles-esque tunes. It's engaging, whimsical and unlike anything else out there. Experience Gustafer at the gorgeous Skirball Center in September, or catch the show at Symphony Space on Saturday, November 17.

Suzi Shelton – Crown Heights
Saturday, September 22 at 1pm and 2pm
Brooklyn Children's Museum, 145 Brooklyn Avenue at St. Marks Avenue
Free with admission: $9
The Brooklyn Children's Museum reopens after its annual fall spruce up with a pair of concerts by this local mom singer/songwriter. Shelton has an angelic voice and a down-to-earth personality, and manages to keep her young fans dancing throughout her shows. Songs like the spirited "Tomboy in a Princess Dress" and the moving "No Ordinary Day" entertain kids and parents alike. Shelton is also performing downtown at 92YTribeca on Sunday, November 18 and on the Upper West Side at Symphony Space on Saturday, October 6 with her full band, including her son on mandolin and her daughter as one of her backup singers. Check her website for additional details.

The Deedle Deedle Dees – Carroll Gardens
Saturday, September 29 at 2-5pm
Carroll Park, between Smith and Court Streets, Carroll and President Streets
FREE
The Carroll Park Kids' Concert Series goes out with a bang with one of our favorite local bands. Come at 2pm for food and activities, with the Dees hitting the outdoor stage at 4pm to play catchy songs that give the hippest history lessons you've ever heard. Although the event is free, it is a benefit for nearby P.S. 29 so donations are encouraged. The Dees are playing a number of concerts in NYC this fall so check their website for info on shows at the Hip Tot Music Fest on Sunday, October 14 and 92YTribeca on Sunday, October 21 in support of the recently released compilation Science Fair.

Conroy Warren – Prospect Heights
Saturday, October 6 at 1pm
Brooklyn Public Library, Central Branch, Dweck Center, 10 Grand Army Plaza
FREE
The BPL's no-cost Saturday Family Program kicks off its new season with an interactive concert of reggae, calypso and folk tunes. Every Saturday at 1pm throughout the fall, the Dweck Center will be hosting a free family performance, including live theater, storytelling and music. Check the website for the complete schedule.

Hot Peas 'N Butter – Upper East Side
Sunday, October 7 at 11:30am
The Jewish Museum, 1109 Fifth Avenue at 92nd Street
$18 for adults, $13 for children under 12
The rousing multi-culti band plays multi-genre tunes for the preschool set. Your kids will get a taste of all kinds of music, including Latin, Afro-Caribbean, jazz, folk and rock.

Elizabeth Mitchell – Chelsea
Wednesday, October 10 at 10:30am
Hudson Guild, 441 West 26th Street between Ninth and Tenth Avenues
FREE
The indie-folk crooner, who often performs with her husband and daughter, continues her series of no-cost kids' concerts courtesy of CarnegieKids. You can also hear her sweet songs on Saturday, December 15 at Symphony Space.

KBC Kids – Flatiron
Saturday, October 13 11am-2pm
Madison Square Park, between Fifth and Madison Avenues, 23rd and 26th Streets
FREE
Madison Square Park throws its annual Fall Kids Fest featuring crafts, giveaways, free food, a pumpkin patch, a costume parade and other seasonal activities. One of the highlights will be the 1pm concert by KBC Kids, a fabulous and fun hip-hop band that spreads positive messages while making its young fans feel like they're at a happening party.

Moona Luna – Tribeca
Sunday, October 21 at 11am
92YTribeca, 200 Hudson Street between Vestry and Desbrosses Streets
$15
This talented Latin band is just one of awesome groups performing in support of Science Fair, a sensational, science-themed kids' compilation that was released this past summer. (A portion of the proceeds from the CD benefits science and engineering education for girls, which we love.) The concert lineup is still being finalized, but as of now Moona Luna will perform alongside Babe the Blue Ox and the aforementioned Deedle Deedle Dees.

Alastair Moock – Tribeca
Sunday, October 28 at 11am
92YTribeca, 200 Hudson Street between Vestry and Desbrosses Streets
$15
This Boston-based rocker has dubbed this concert "The Slightly Scary Spectacular Show." My daughter and I became huge fans last year when we caught his Halloween gig. My kid danced the whole time in her robot costume while I was wowed by his gravelly voiced, soulful songs.

Princess Katie & Racer Steve – Tribeca
Sunday, October 28 1-3pm
Washington Market Park, Greenwich Street at Duane Street
FREE
Be prepared to party with this highly entertaining husband-wife duo and their backup band. My daughter and I saw them months ago and I still have their ska song "Hey Monster" in my head! They always encourage kids (and parents) to come dressed up in kooky outfits but since this is a special outdoor Halloween Party and Costume Parade show, it's practically a requirement. In addition to the concert, there will be lots of seasonal activities for kids: crafts, a bone dig in the sandbox, penny in a haystack and a kick-off procession to the park. According to the band's site, they'll be playing a FREE show in the same place on Thursday, September 13 but it's not listed on the park's page.

The Itty Biddies – Gowanus
Sunday, November 11 at 2pm
Littlefield, 622 Degraw Street between Third and Fourth Avenues
$12 for adults, $8 for children under 12, free for non-walkers, $35 for a family four-pack in advance
This playful all-girl trio writes joyous tunes and also does some cool covers of songs by bands like The Smiths. Part of the recently launched Hip Tot Music Fest series, the concert should entertain older preschoolers although the event itself is aimed at children under 3 with simple arts and crafts, face painting and complimentary snacks.