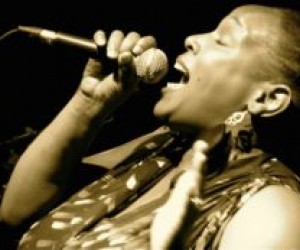 Shine & the Moonbeams: Catch this Brilliant New Kids' Band for Free in NYC
There are lots of free outdoor summer concerts for kids where you can check out all kinds of big (and lesser known) bands on the children's music scene.

Although I enjoy seeing established stars like Dan Zanes, I love being totally blown away by a new group. And that's exactly how I felt when I caught Shine & the Moonbeams at the Kindiefest music conference this past spring.

The NYC-based quartet is playing three free concerts this month as part of SummerStage Kids. Read on for details about the gigs, and why this soulful band should be on your radar—and once the CD comes out, on your iPod!
As a children's music critic, I hear a lot of kids' CDs and attend a ton of concerts, so I'm rarely floored by an act. But I totally fell in love with Shine's sophisticated blend of all-ages retro R&B. For a minute, I thought Sharon Jones and the Dap-Kings had snuck into Kindiefest. After I scooped my jaw off the ground, I realized that front woman Shawana Kemp had sung on Dan Zanes' recent single "Hail the Creatures." She also has a duet with him on his upcoming album Little Nut Tree.

Kemp—who works as a teaching artist in NYC public schools and has a three-year-old child—writes lyrics that touch on things kids know all about like standing up to bullies, surviving harried morning routines and celebrating individuality, and her evocative delivery is smooth and sincere. It's exactly the kind of music I love playing for my own daughters: heartfelt, insightful and emotional with brilliant musicianship to boot.

Shine is so new, it doesn't even have a website (you can find the group on Facebook where you can stream the rousing single "High Five"), and its debut album doesn't come out until October. But you've got three free chances to catch the band in action this week courtesy of SummerStage Kids. Trust me, you want to see Kemp and her cohorts now. Come next year, you're going to have to pay to catch the band.

Catch Shine & the Moonbeams on:
Thursday, July 21 at 10:30am in Morningside Park in Manhattan
Friday, July 22 at 10:30am in Brower Park in Brooklyn
Sunday, July 24 at 3pm in Queensbridge Park for Queens Family Day
See our other posts about music for NYC kids.