News: MoonSoup Play Space Closes, Williamsburg's Flying Squirrel Moves to Greenpoint, Prospect Park Gets a New Rustic Play area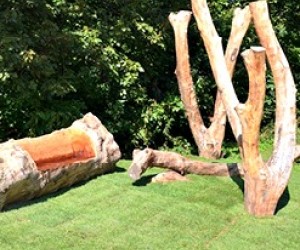 Comings, goings & relocations There's a new romping spot in Prospect Park—just don't call it a playground. The Donald and Barbara Zucker Natural Exploration Area (pictured above) doesn't have a fence or traditional equipment. Instead, it features rustic structures (some created from trees damaged by Hurricane Sandy) meant to inspire imaginative play. An interesting idea for sure, but do kids like it? We plan to pass by in person soon but in the meantime if you've visited share your thoughts in the comments.

Williamsburg's go-to baby and kids' resale shop, The Flying Squirrel, has taken off for a new neighborhood: Greenpoint. Located at 87 Oak Street at Franklin Street, the new shop opens its doors this Wednesday, October 17. The move means the store's annual Witches Walk on October 31 also has a new route. We've got the scoop in our Halloween parades post.

Speaking of changing NYC Halloween traditions, this is the last year to see the incredible jack-o'-lantern house on Kane Street. The artist behind the installation, Jane Greengold, recently moved and while she's doing it in 2013, the pumpkins won't be back in Cobble Hill next year. Can't make it out there on October 31? The display usually stays up through Christmas, although by then the rotting fruit are truly scary.

Sad news as a pair of East Side family mainstays close their doors for good: early education enrichment center MoonSoup on East 56th Street and the East 73rd Street location of drop-in craft spot Little Shop of Crafts. Happily the Upper West Side outpost of Little Shop of Crafts is still going strong. Planning on visiting? Leave a rave review on Yelp and you'll receive 20% off your creations.

Saturday, October 26 will be the day the music dies at soon-to-close Lower East Side concert venue The Living Room. Though best known for its grown-up shows, it was the longtime home of family concert series Kid Rockers and was also where Morgan Taylor and his wife, Rachel Loshak (a.k.a. Gustafer Yellowgold) met. The owners hope to reopen in another as-yet-determined space.

Coming soon: cool new kids' culture We realize everyone seems to be raising money for something these days, but this crowdfunding campaign caught our eye and we definitely think it's worthy. Teatro SEA, which performs charming folk tales in English and Spanish, is hoping to offer FREE performances to thousands of low-income kids in NYC and beyond. Donate what you can to bring quality culture to those who need it most. You'll also be supporting the theater's annual Three Kings Day celebration.

In other family entertainment news, our partner, the New Victory Theater, is incubating new projects from some exciting NYC artists, including Broadway production designer Julian Crouch of Shockheaded Peter fame and Parallel Exit, a hilariously funny physical theater/dance troupe. We can't see what they dream up!

The Rockettes aren't just for Christmas anymore. The long-legged ladies will be starring in a brand-new Radio City extravaganza this spring: a limited five-week engagement of Heart and Lights. The 90-minute show has quite a pedigree: It's written by Pulitzer Prize and Tony Award-winner Doug Wright and features eight diverse production numbers.

Or maybe your kids want to be in a show instead of watch one. That can be arranged if they've got a circus act or two up their sleeves. The Bindlestiff Family Cirkus is looking for variety performers under age 21 for its upcoming Cavalcade of Youth performance at Coney Island USA on Sunday, November 17 at 4pm. Young acrobats, hoopers, jugglers, clowns and novelty acts welcome. If your kids think they've got what it takes, email cavalcade@bindlestiff.org with your child's name, age and a description of the routine. No audition required! No pay, either, beyond minimal tips and lots of applause.

Get schooled Washington Heights lit haven Word Up is earning its "community bookshop" subtitle. Every Tuesday evening from 5 to 7pm, staff members are offering FREE tutoring—from essay editing to SAT prep and more—to students in grades 6 to 12.

Speaking of books, the New York Public Library recently released its roundup of the 100 greatest children's books of all time. The list undoubtedly contains many of your family's favorites as well as new-to-you titles worth checking out (we just wish it included age ranges, but you can find those when you click through to each listing).