Best NYC Kids' Concerts for Fall 2013: 12 Live Rockin' Music Shows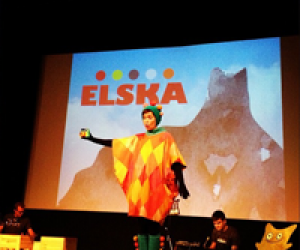 So far this month, we've told you about the best museum exhibits for kids and family theater shows debuting this autumn. Now we wrap up our fall culture preview with a roundup of the top 12 kindie rock concerts to catch this season.

Sadly, due to the closing of 92YTribeca last summer, one of our favorite family music series, Bring Your Own Kids, is no more. But don't start singing the blues yet: There are still plenty of cool kids' groups playing NYC this fall, including Grammy nominee Justin Roberts, history-loving crooner Lloyd Miller of the Deedle Deedle Dees and bouncy bilingual band Moona Luna. Bonus: Most of the shows are inexpensive or FREE. In fact eight of our picks don't cost a penny. So put on your dancing shoes and shake your booty at a dozen super-fun family concerts this fall.
The Itty Biddies – Chelsea
Hudson Guild, 441 West 26th Street between Ninth and Tenth Avenues
Friday, October 4 at 10:30am
FREE
This playful all-girl trio isn't like any other band on the kids' scene, perhaps because they moonlight at the adults-only Lascivious Biddies. But as the Itty Biddies, they're strictly G-rated and perform joyous original tunes as well as covers of songs by bands like The Smiths. Catch them at no cost courtesy of CarnegieKids' free concert series.

Moona Luna – Battery Park City
Robert F. Wagner Jr. Park, north of Historic Battery Park off Battery Place
Saturday, October 5 at 12:30pm
FREE
Part of Battery Park City's Go Fish! Festival. Enjoy the crisp fall air, catch-and-release fishing in the Hudson, art projects and a no-cost concert by lively Latin band Moona Luna. With bouncy bilingual tunes delivered by charismatic front woman Sandra Lilia Velásquez, the group will keep kids and parents bopping long after the last note is played.

Lloyd Miller – Williamsburg
City Reliquary, 370 Metropolitan Avenue near Havemeyer Street
Sunday, October 6 at 11am
FREE
Deedle Deedle Dees front man Miller will be doing an extra-sweet set at the City Reliquary's annual Sugar Sweet Festival, an offbeat celebration of our city's bakers. The singer/songwriter promises new tunes and skits alongside some seriously tasty treats. Bonus show: Miller is playing an S.S. Brooklyn CD release show at the Hip Tot Music Festival on Sunday, October 13 ($10 per ticket) where he'll be joined by his Dees' bandmates in honor of their 10th anniversary!

Louie Miranda – Prospect Heights
Brooklyn Public Library, Central Branch, Dweck Center, 10 Grand Army Plaza
Tuesday, October 15 at 11am
FREE
Enjoy interactive and educational guitar music for tots from this seasoned veteran of the family music scene. Part of the BPL's First Five Years Program.

Hot Peas 'N Butter – Long Island City
LaGuardia Performing Arts Center, 31-10 Thomson Avenue between Thomson and 47th Avenue
Wednesday, October 16 at 10am and 11:30am
FREE
This rousing multi-culti band plays multi-genre tunes for the preschool set. Get a taste of all kinds of music, including Latin, Afro-Caribbean, jazz, folk and rock, at a pair of free CarnegieKids' concerts.

The Little Rockers Band – Flatiron
Madison Square Park, Fifth to Madison Avenues between 23rd and 26th Streets
Saturday, October 19 at 11am-2pm
FREE
Madison Square Park's biannual Kids Fests are all the rage with the preschool set. Catch this educational party band at the fall edition. Other activities include costume parades led by a Big Apple Circus clown, a pumpkin patch and tricks by the Amazing Max.

Rolie Polie Guacamole – Prospect Heights
Brooklyn Public Library, Central Branch, Dweck Center, 10 Grand Army Plaza
Tuesday, October 22 at 11am
FREE
This kindie rock jam band never disappoints their young audience members. Expect lots of clapping and singing along since it's part of the BPL's First Five Years Program.

The Rockdoves – Prospect Heights
Brooklyn Public Library, Central Branch, Dweck Center, 10 Grand Army Plaza
Saturday, November 2 at 11am
FREE
Mellow out to gentle acoustic rock about birds and city life penned and performed by a local duo.

Elska – East Village
Judith Charles Gallery, 196 Bowery between Prince and Spring Streets
Saturday, November 3 at 11am
Suggested donation: $10 per person, $20 per family
Bells and vibraphones provide an other-worldly background for singer/performance artist Shelley Wollert's breathtaking Icelandic story-songs. And her offbeat act should be particularly well served by this offbeat venue. My family and I have seen the one-of-a-kind Elska a number of times now and we're always mesmerized.

Justin Roberts and the Not Ready for Naptime Players – Upper West Side
Symphony Space, 2537 Broadway at 95th Street
Saturday, November 16 at 11am and 2pm
$25 for adults, $15 for children
The priciest show on the list is worth every penny. Playing songs off his latest release, Recess—his strongest and most bombastic album to date—Roberts and his brilliant band return to Symphony Space to show families how kindie music is done.

Tim and the Space Cadets – Upper East Side
The Jewish Museum, 1109 Fifth Avenue at 92nd Street
Sunday, November 17 at 2pm
$18 for adults, $12 for children ages 2-12
Local music and acting sensation Tim Kubart brings down the house with kiddie rock anthems about superheroes, elementary school plays and parades.

Suzi Shelton – Gowanus
Hip Tot Music Fest, ShapeShifter Lab, 18 Whitwell Place between 1st and Carroll Streets
Sunday, December 8 at 11am
In advance: $10; at the door: $15
Often described as the Sheryl Crow of kids' music, Shelton is all smiles, hugs and perky acoustic pop rock that little girls and boys can enjoy.

Find out about other great seasonal activities in our Fall Fun Guide.