Best Museum Exhibits for NYC Kids Fall 2013: 8 Cool New Installations & the Reopening of the Queens Museum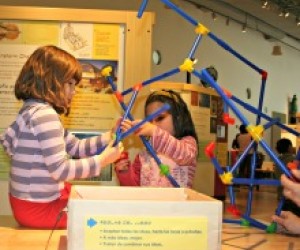 Fall isn't just back-to-school time, it's also the kickoff to a whole new season of cool culture for families. Autumn is when New York City museums and galleries unveil new exhibits and installations, and we've got the scoop on the best ones for kids.

This fall's crop of kid-friendly exhibits is quite eclectic. Families can catch an alfresco flick at an artsy drive-in at the New York Hall of Science, enjoy hands-on design projects at the Brooklyn Children's Museum, learn about the birds and the bugs at the Children's Museum of the Arts and Central Park's Arsenal Gallery, find out what life was like for the crew aboard the Intrepid and more. Bonus: After months of work, the renovated Queens Museum in Flushing Meadows Corona Park reopens with expanded gallery space, new exhibits, a cafe and a shorter name.

While all of these exhibits are new this fall, you still have time to catch many of our summer picks, including Shipwreck! Pirates & Treasure and The Art of the Brick at Discovery Times Square, Frogs and Whales at the American Museum of Natural History, and a bunch of FREE outdoor public art installations.
Notched Bodies: Insects in Contemporary Art – Upper East Side
Arsenal Gallery, 64th Street and Fifth Avenue inside Central Park, third floor of the Arsenal Building.
Friday, September 13-Wednesday, November 13
FREE
My boy is insect obsessed but even if your kids think they're gross, this exhibit may inspire them to look at creepy crawlies in a new way. Eleven contemporary artists showcase the beauty of bugs in a multimedia display that includes an outdoor light installation that literally shines a light on Central Park's nocturnal insects. On Saturday, November 9, the gallery will host a screening of animated insect-themed shorts for kids.

Tweet – Hudson Square
Children's Museum of the Arts, 103 Charlton Street between Hudson and Greenwich Streets
Thursday, September 26-Sunday, January 26, 2014
Free with admission: $11, free for children under age 1
No, this exhibit isn't about social media. It's about the original tweeters, birds, and how important it is to put down our screens once in a while to appreciate nature. The display will feature bird-themed art in large- and small-scale installations, including Vik Muniz's scrap metal Hummingbird in flight and Nina Boesch's mosaics of NYC birds made from MetroCards. I suspect the highlight will be Perch Interactive's installation where kids can use their bodies to manipulate the flight of virtual migrating birds projected on the ceiling. As always, CMA will hold a rich series of educational activities in conjunction with the exhibit, including bird-calling workshops led by the Audubon Society.

Empire Drive-In – Corona
New York Hall of Science, 47-01 111th Street in Flushing Meadows Corona Park
On view Thursday, October 4-Sunday, October 20 but movie schedule varies by date
Exhibit is free with admission: $11 for adults, $8 for children ages 2-17; movie screenings cost $15-$20
I'm really excited about this massive multimedia installation in the New York Hall of Sci's parking lot, which reimagines the old-school drive-in experience with an artsy twist. Instead of driving over in your own vehicle, the exhibit features 60 junked cars and trucks to sit in while you watch a movie on a 40-foot screen made from salvaged wood. Before each screening, enjoy a slide show of drive in-themed photography and entertainment like Bollywood dance lessons, live music and dancing forklifts. While the schedule is still being worked out there are already some confirmed screenings that sound good for kids, such as The End of the Road: Cars & Other Junk with Greg Saunier's Casio Orchestra, which includes the silent shorts One Week featuring Buster Keaton, One A.M. starring Charlie Chaplin and Kid Speed with Oliver Hardy accompanied by live music and the curious sounding "car percussion." Even when movies aren't being screened, the exhibit will be open to explore.

Tesla's Wonderful World of Electricity – Corona
New York Hall of Science, 47-01 111th Street in Flushing Meadows Corona Park
Through Sunday, October 20
Free with admission: $11 for adults, $8 for children ages 2-17
More interactive fun at the Hall of Sci: Learn about the legacy of mad scientist and inventor Nikola Tesla. whose creations laid the groundwork for florescent lighting, remote controls, X-ray machines and alternating current electricity

Building Brainstorm – Crown Heights
Brooklyn Children's Museum, 145 Brooklyn Avenue at St. Marks Avenue
Opens Saturday, October 5
Free with admission: $9, free for children under age 1
We reviewed BCM's traveling exhibit Building Brainstorm back in 2009 and now it's back for a return engagement. Inspired by the work of mid-20th-century designers Charles and Ray Eames, the installation teaches kids about architecture and design through hands-on stations where they complete activities like the Shape Search and the Floor Plan Challenge. Read our full review from last time.

The Grinch's Holiday Workshop – Upper West Side
Children's Museum of Manhattan, 212 West 83rd Street between Broadway and Amsterdam Avenue
Friday, October 25-Sunday, Tuesday, December 31
Free with admission: $11, free for children under age 1
My son and I really enjoyed all of the cool hands-on projects at this holiday-themed studio last year so we're glad to see it come back. Like last time, the walls will be decorated with blown-up pages of Dr. Seuss' classic How the Grinch Stole Christmas with interactive art stations in the center of the room. New this year: a fun sounding indoor sock-skating rink. Check the calendar for the complete schedule of creative workshops, storytimes and appearances by the mean green guy himself.

Art Spiegelman's Co-Mix: A Retrospective – Upper East Side
The Jewish Museum, 1109 Fifth Avenue at 92nd Street
Friday, November 8-Sunday, March 23, 2014
Free with admission: $12 for adults, $7.50 for students, free for children under 19 and to all on Saturdays
Best known for his groundbreaking Pulitzer prize-winning graphic novel Maus inspired by his parents' experiences during the Holocaust, author-illustrator Art Spiegelman will enjoy a career retrospective at the Jewish Museum. Given the mature nature of some of his work, the exhibit is best for middle schoolers and up. More than 300 pieces of original art will be on display, including pages from Maus, his indie comics, his thought-provoking art for The New Yorker and his recent children's books. A good time to visit with kids is the Family Day on Sunday, December 15 featuring a kid-friendly tour and a comics workshops with a professional illustrator.

Queens Museum – Corona
NYC Building, Flushing Meadows Corona Park
Opening day is Saturday, November 9.
Suggested admission $8 for adults, $4 for students, free for children under 12
After months of renovation, the Queens Museum (formerly known as the Queens Museum of Art) will reopen to the public in November. At more than 100,000 square feet, it will be double its old size with a cafe and a glass atrium. The new galleries will focus on contemporary art and have adequate room to display the museum's extensive Tiffany glass collection. The beloved Panorama of the City of New York has been spruced up and will be back on view, too. To celebrate the grand opening, the museum is hosting a Family Day on the November 11 Veterans Day holiday, with art workshops and multicultural performances.

Working Below Decks – Midtown West
Intrepid Sea, Air and Space Museum, Pier 86, Twelfth Avenue at 46th Street
On view through Friday, November 15
Free with admission: $24 for adults, $19 for children ages 7-17, $12 for ages 3-6, free for kids under 3
The decommissioned aircraft carrier-turned-museum recently debuted a new exhibit about what life was like for the thousands of sailors who served on the Intrepid. Take a behind-the-scenes peek at what they did on and far below the flight deck, including the unglamorous jobs that kept the ship running. You can also check out artifacts like a printing press, an operating table and a laundry press.

Find out about other kid-friendly exhibits in our Museum Guide.