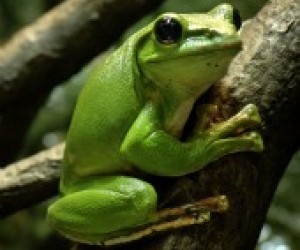 Frogs at the American Museum of Natural History: A Hoppin' Exhibit
This post was written about the 2011 incarnation of Frogs, so some details may have changed. Things are really jumping at the American Museum of Natural History. That's because the frogs are back. Frogs: A Chorus of Colors, which features more than 200 live specimens, previously appeared at the institution in 2009. Now the amphibians, from tiny dart-poison frogs to giant bullfrogs, have returned for another tour.
Since my son had only just been born the last time the green guys were in town, this is the first time I got a chance to check out the special exhibit. Even though it's a little advanced for toddlers, we had a fun time watching and learning about these waxy super-jumpers, some of whom can leap more than 20 times their body length.
The draw is, of course, the frogs, and you really get to see them up close. Since many of the show's stars are quite small, visitors can examine large, colorful photos and information displays that reveal lots of details and facts. There are also cool interactive elements, like lift-the-flap, video and audio features, including one where kids can push a button to set off different "ribbit" and "croak" recordings, which echo throughout the exhibit.


Our favorite part of the show was the glass case in the center of the hall containing more than 80 dart poison frogs hopping and climbing around. We stood there for quite a while watching the tiny but vivid creatures in a rainbow of hues bounce through the lush green environment. There were even a few stepping stools to give smaller kids a better view. We enjoyed pointing out various frogs and following them around the display. There were also stations where we could use a joystick to control video cameras, so we could zoom in on our favorites.


Kids (and parents) will learn a whole leapin' lot about frogs, including their biology (without having to dissect them, the way you did in high school science!), their role in the environment and the threats they face. It's all laid out in easy-to-follow and visually-stunning displays. We particularly liked the tank where we could watch the frogs swim back and forth. Saying the frogs' evocative names—tomato frog, the waxy monkey frogs, the strawberry frog, the fire-bellied toad—was almost as much fun as looking at them.


The only downside to Frogs is the cost ($20 for adults, $11 for kids), which seems a bit pricey for an exhibit that took me and my toddler under an hour to explore, much as we enjoyed ourselves. Museum members, however, get in free.
If you bring a stroller, be prepared to leave it outside the exhibit in a designated parking area.
Frogs: A Chorus of Colors is on view through January 5, 2014 at the American Museum of Natural History. $20 for adults, $11 for children ages 2-12, free for kids under 2. Timed entrance is available every 30 minutes from 10:30am to 4:30pm.

Photos: Joe McDonald and Leslie Thompson