News: Free Rides on Coney Island's Wonder Wheel, 92YTribeca to Close, No-Cost Broadway Concert at Town Hall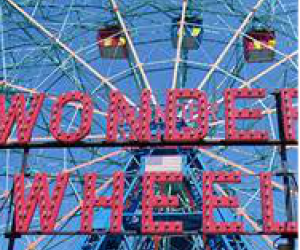 One thing you can always count on in NYC? Even when a beloved spot closes something cool is opening somewhere else. Such is the case this week as 92YTribeca announces its demise while we have the scoop on a new kiddie gym in Harlem and a new children's boutique in Tribeca. Want more good news? How about FREE rides on Deno's Wonder Wheel in Coney Island, new attractions on Governors Island, an easy way to stock up on Girl Scout Cookies and a no-cost Broadway concert good for tweens and up.
One of the city's best venues for kindie rock concerts, 92YTribeca, is closing its doors for good this summer. While some of the culture spot's programming will move uptown to the 92nd Street Y, there's no word yet on what will happen to the Sunday morning Bring Your Own Kid concert series, so rock out downtown while you still can.

Meanwhile, just a few block south, a new children's boutique is set to debut. One of our favorite Chelsea kids' boutiques, My Little Sunshine, is opening a second location in Tribeca this spring. Expect the same trendy clothes and cool kids' haircuts.

Coney Island may have been battered by Hurricane Sandy but it's bouncing back. Not only is the New York Aquarium partially reopening this spring, but Luna Park and Deno's Wonder Wheel Amusement Park are opening for the season this Sunday, March 24. Bonus: The Wonder Wheel is offering free rides on opening day. Go early to avoid lines.

Some readers have been writing in asking whether Ringling Bros. and Barnum & Bailey are planning to hold their annual Elephant Parade this year to celebrate the opening of their new show at Brooklyn's Barclays Center. They're not, but they are throwing an Elephant Dance Party under the Brooklyn Bridge in Dumbo at 11am this Wednesday, March 20. The circus promises performances by basketball unicyclists, clowns and their signature pachyderms, and PETA promises protesters. Posting about anything to do with Ringling is always controversial but this is one of those crazy things happening in NYC that people are curious about. If you want to know more about animal rights and circuses, Gothamist has a post that links to some elephant training footage so you can make up your own mind. If you want to see a circus without animals, there are other troupes in town that only have human acts, like Bello Mania and Cirque du Soleil's Totem.

Got a kid who just received high school acceptance letters? Find out everything you want to know about the institution with InsideSchools' Insidestats, which has extensive data on 422 public high schools including attendance records, class sizes, drop-out rates and more. Watch the video tutorial to get up to speed on this useful new tool.

Governors Island is sprucing up more of its grounds. The spot is revamping 30 acres with new sports fields, sculpted hedges and tree hammocks. While the section won't be ready for the summer season, visitors will be able to tour the area.

You don't need to know any Girl Scouts to enjoy their Cookies. Stock up on Thin Mints and Lemonades at one of five NYC pop-up shops this spring.

Last year we lamented the closing of The Little Gym of Harlem. But a brand-new kiddie gym is about to open in its old space. My Gym is set to open on April 4 and offers a lot of the same kinds of classes, including gymnastics, martial arts and yoga.

A special Broadway concert at The Town Hall takes place next Thursday, March 28 and tickets are FREE. Come out and see performances by the casts of Chicago, The Phantom of the Opera and Avenue Q, as well as Jeremy Jordan of Smash fame. Due to some mature material, the concert is best for 10 and up. Tickets will be distributed first come, first serve on Monday, March 25 at noon at the Town Hall box office.

Finally, because spring is a big season for fundraising, you might want to check with your favorite schools about online auctions they may be hosting on sites like BiddingForGood and Charitybuzz It could be your opportunity to score good deals while doing a good deed.