News: Free Kids' Tickets to Annie on Broadway, New Central Park Tot Lot, Help Save the Village Halloween Parade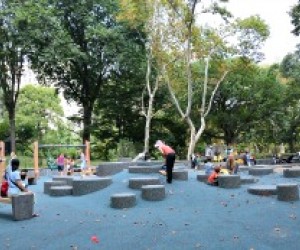 It's a truly mixed bag of news this week, including cool new stuff—a tot lot in Central Park, oversize Jenga and Connect Four in Hudson Square, a drop-in craft spot/mini-spa for kids in Bed-Stuy, a children' ticket deal for Annie on Broadway—alongside scarier news like the financial woes of the Village Halloween Parade, local casualties of the federal government shutdown and higher-priced public school lunches. Plus: A new entrepreneur program for kids, a facelift for the Children's Museum of the Arts, the retirement of an animation great and more.
New playthings and play spaces Central Park has a brand-new toddler spot, though the reception has been mixed. Formerly known as the Tots Playground, the rechristened and rebuilt Tarr-Coyne Tots Playground at West 68th Street includes a water feature, sand boxes, a blue foamy play area and lots of swings—that aren't enclosed, a major concern for regulars. The new playground is part of the Central Park Conservancy's Central Play initiative to improve all 21 playgrounds in the 843-acre green space.

Down in Hudson Square, the recently opened Freeman Plaza West near the entrance of the Holland Tunnel just debuted a six-foot-high Jenga set and a three-foot-tall Connect Four game for visitors to play with—or just gawk at.

Extreme Kids & Crew—an organization with wonderful programs for children with special needs that we've written about many times before—has moved. Formerly located in Bed-Stuy, it is now based out of P.S.15 in Red Hook. Check out the new digs at this Saturday's grand opening party.

After four years of being a mobile business, Dazzle Divaz Party Boutique & Craft Studio has opened a brick-and-mortar outpost on the lower level of the Pipsqueak Children's Shoppe in Bed-Stuy. When a private party isn't in progress, kids can drop in for a wide variety of craft activities (ceramics painting, soap making, beading, etc.), mini-spa services, glitter tattoos and karaoke.
New things at old museums The Children's Museum of the Arts in Hudson Square has reopened after a quick facelift that includes new flooring, a comfy lounge and free Wi-Fi. Meanwhile, the New Museum on the Bowery unveiled a new cafe run by Hester Street Fair featuring locally made eats from Saxelby Cheese, Heritage Meat Shop and Pain d'Avignon. While the federal government shutdown has graver implications (like government workers not getting paid), there are also local cultural casualties, including the closure of the National Museum of the American Indian and all national parks, including the Statue of Liberty and Floyd Bennett Field, home of Aviator Sports.
Free Annie The Broadway revival of Annie, which is slated to close in early January, is offering a great ticket deal for families through October 31. For every full-price adult ticket purchased, one child goes for FREE. There is, as always, fine print so all you leapin' lizards better look before you, well, you know.
Calling all aspiring entrepreneurs In the spirit of maker spaces comes 8 and Up, a new educational program for budding inventors that's making its NYC debut at Dumbo's Made In NY Media Center this month. During the six-week program, participants go through the process of inventing, designing and building their dream creations, no matter how kooky—past products include guppy separator/breeder, egg cracker and separator, day at the beach pillows, and iPad bed holders.
There is such a thing as a free lunch Public school lunches are now 25 cents more expensive. The upside? Students who formerly qualified for reduced lunch will now get their meals at no cost. The downside? Have you seen most NYC public school lunches?
Save a NYC Halloween tradition Although we usually recommend that NYC families join more kid-friendly community Halloween processions, the Village Halloween Parade is a 40-year-old tradition so we'd hate to see it stop. But unless the organizers raise $50,000 via Kickstarter to recoup losses from last year's Hurricane Sandy debacle, its future is in jeopardy. Even though we haven't personally been in years, the idea of a parade-less Halloween seems totally scary.
A sad day for anime Legendary Japanese anime writer and director Hayao Miyazaki (Spirited Away, My Neighbor Totoro, Ponyo, to name just a few) has announced his retirement from cinema. As major fans we're pretty bummed. The DVD of Miyazaki's latest release, From Up On Poppy Hill, is gorgeous and out now.
Photo of Central Park's Tarr-Coyne Playground courtesy of the Central Park Conservancy