New Victory Theater 2013-14 Season Highlights: The Best Family Shows for NYC Kids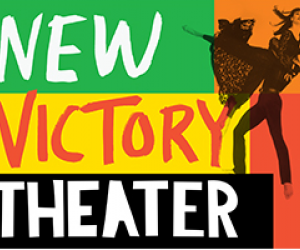 My daughter and I see a mind-boggling number of kids' shows every year. (One of the exhausting perks of being a Mommy Poppins blogger!) Some are wonderful; others, not so much (those are the shows I don't write about).

While there are lots of New York City theater troupes mounting productions for kids, there's one that consistently stands out: the New Victory Theater. Based in a beautiful and historic Off Broadway house, the nonprofit company produces a full season of eclectic works aimed at families. And when I say families, I mean every single member: I find that I often enjoy the shows as much as my daughter because they're offbeat, thought-provoking and never dumbed down or condescending. But the New Victory is much more than just a place to go see a show. Through a range of interactive educational activities like performance workshops and camps, post-show talk-backs and TXT Marks the Spot (a seriously cool high-tech scavenger hunt after select performances), the organization is raising the next generation of theatergoers and performing artists.

As longtime fans, we here at Mommy Poppins are excited to announce our new partnership with the New Victory Theater, which brings our readers more access to its incredible lineup of shows, ticket discounts and two exclusive special events (stay tuned for details). We begin with a preview of the New Victory 2013-2014 season, including show recommendations for every age and stage, tips on how to save money on tickets, exclusive video from the upcoming productions and details about enriching programs that may be under your radar.
Unless otherwise specified, all performances take place at the New Victory Theater on 42nd Street and tickets range from $14 for the balcony (I've sat up there, no nosebleeds!) to $38 for the orchestra. If you order tickets to three or more shows, you automatically become a New Victory member, which means you save 35% on tickets, 30% on workshops, 10% on camps and enjoy unlimited free date changes.
There are 15 shows playing during the New Victory's 2013-14 season. As always, they come from all over the globe and represent a wide range of genres—puppets, circus, dance, drama, comedy and even immersive theater. While all of the productions look intriguing, we've picked out our best bets by age. You can find the complete season lineup on the New Victory website.
Best Bets for Preschoolers
Songs From Above
Friday, November 8-Sunday, November 17 at the New 42nd Street Studios. All tickets are $15. Visit the website for schedule and to buy tickets.
Ages 2-5
Perfect for first-time theatergoers, this interactive half-hour performance is held in an intimate studio where parents and children sit on pillows on the floor. Dutch performer Mette Rosleff uses puppets and props to recreate simple joys of childhood that all tots can relate to like splashing through puddles and being tucked in at night.

This [Baby] Life
Wednesday, February 12, 2014-Sunday, February 23, 2014 at the New 42nd Street Studios. All tickets are $15. Visit the website for schedule and to buy tickets.
Ages 4 to 18 months
Who says babies are too young for theater? This immersive show by Australia's Sally Chance Dance takes place in a cozy studio where tots can come up and move and groove to gentle music alongside the pros.

Baby Rave
Wednesday, May 7, 2014-Sunday, May 18, 2014 at the Duke on 42nd Street. All tickets are $15. Visit the website for schedule and to buy tickets.
Ages 4 months to 4 years
A G-rated dance party for the diaper set. Babes can shake their booties as a DJ spins age-appropriate music and eye-catching projections turn the theater into a cool kiddie club. Parachutes, inflatables, sensory toys and dance leaders round out the interactive fun. I may have to borrow someone's baby so I can go to this.
Best Bets for School-age Kids
Peter Pan
Friday, October 4-Sunday, October 13. Visit the website for schedule and to buy tickets.
Ages 7 and up
Even though you probably already know the story, you've never seen it like this. This clever adaptation of J.M. Barrie's iconic fairy tale focuses on the wonders of imagination instead of special effects. The Darlings venture to the fantastical Neverland without ever leaving their bedroom. My daughter and I are going to see this on opening night!

Sleeping Beauty
Friday, November 1-Sunday, November 10. Visit the website for schedule and to buy tickets.
Ages 7 and up
In NYC, we're lucky enough to have two wonderful marionette theaters. But for puppets on a grander scale, check out this adaptation of the classic fairy tale by Italy's Carlo Colla & Sons Marionette Company. Gorgeous handcrafted 18th-century-style puppets and Tchaikovsky's music are used to bring the story to life. Parents of princess-obsessed preschoolers take note: This 90-minute show is faithful to the original story which is much darker than Disney's version so heed the age recommendation!

Mother Africa
Friday, December 6-Sunday, January 5, 2014. Visit the website for schedule and to buy tickets.
Ages 5 and up
My daughter's class is studying Africa this year so we jumped at the chance to book a school trip to see this colorful circus revue from Tanzania featuring acrobats, stilt walkers, jugglers, a contortionist, masked dancers and live musicians playing joyous Afro-beats. This is the New Vic's holiday production and as such the ticket prices are slightly higher: from $17 for the balcony to $55 for the orchestra.
Best Bets for the Whole Family
While all New Vic offerings are great for families, certain productions are better at engaging a wide range of ages. These three shows are the ones that I think will entertain even grumpy grown-ups.
Feet Don't Fail Me Now! – Midtown West
Friday, November 15-Sunday, December 1. Visit the website for schedule and to buy tickets.
Ages 6 and up
Minneapolis' Rhythmic Circus dances into town with this jubilant tap spectacle featuring kooky costumes, a seven-piece brass band and some seriously athletic hoofers. I admit, plotless dance theater pieces don't usually make my must-see list. But the New Victory has a history of amazing dance shows so I expect everyone will leave the theater with happy feet—even me.

Bob Marley's Three Little Birds
Friday, February 7, 2014-Sunday, February 23, 2014. Visit the website for schedule and to buy tickets.
Ages 5 and up
Based on Cedella Marley's picture book about a worried little boy who's afraid to leave his house, this musical features classic songs by her father, the late great Bob Marley. I can't think of a better way to introduce children to his incredible musical legacy and his message of peace and love. Plus I bet parents won't be able to stop themselves from singing along.

Bello Mania
Friday, April 4, 2014-Sunday, April 20, 2014. Visit the website for schedule and to buy tickets.
Ages 4 and up
Equal parts comedic circus spectacle and family memoir, Bello Mania enchants audiences of all ages. My daughter and I saw this award-winning show last year and I'm excited that it's back for an encore performance. The brainchild of former Ringling Bros./Big Apple Circus clown/acrobat Bello Nock, who was born to a circus family, the production features new schtick, recreations of some of his ancestors' greatest hits and appearances by his daughter, who's continuing in the family show business. The highlight: When Bello climbs all the way to the New Vic ceiling on a swaying pole right over the audiences' heads. You've got to see it to believe it! As high-spirited as Bello's famous gravity-defying hair.
Special Pre- and Post-Show Activities
In addition to the shows, the New Victory has a variety of enriching engagement programs like Busy Bees arts and crafts for preschoolers, educator-led Arts Express theater games and post-performance Talk-Backs. When buying tickets, check whether these programs are offered for the performance you select. Other New Victory programs of note:
New Victory Family Workshops – Throughout the season, the New Vic hosts hands-on workshops related to its shows. Offerings include dance, puppetry, storytelling, circus and music as well as themed week-long camps during spring and summer breaks. My daughter did the circus arts camp this past spring and is dying to go back.
TXT Marks the Spot – One of my family's favorites! After select performances, ticket holders can go on a high-tech scavenger hunt throughout the theater. Armed with a map and your smartphone, you receive texts with specific challenges that you must tackle before you move on to the next step. My daughter and I did one last season and it was a blast.
Education Partnership Program – My daughter's school is lucky enough to be part of this incredible program. For a small annual fee, teachers can book shows at a tremendous discount (just $2 for students, $5 for chaperons) and enjoy related in-school workshops at no additional cost. As you can imagine, the program has a wait list. But if you're interested in trying to sign up your school, you can apply online.