Find a Baby CPR Class for Parents and Caregivers in NYC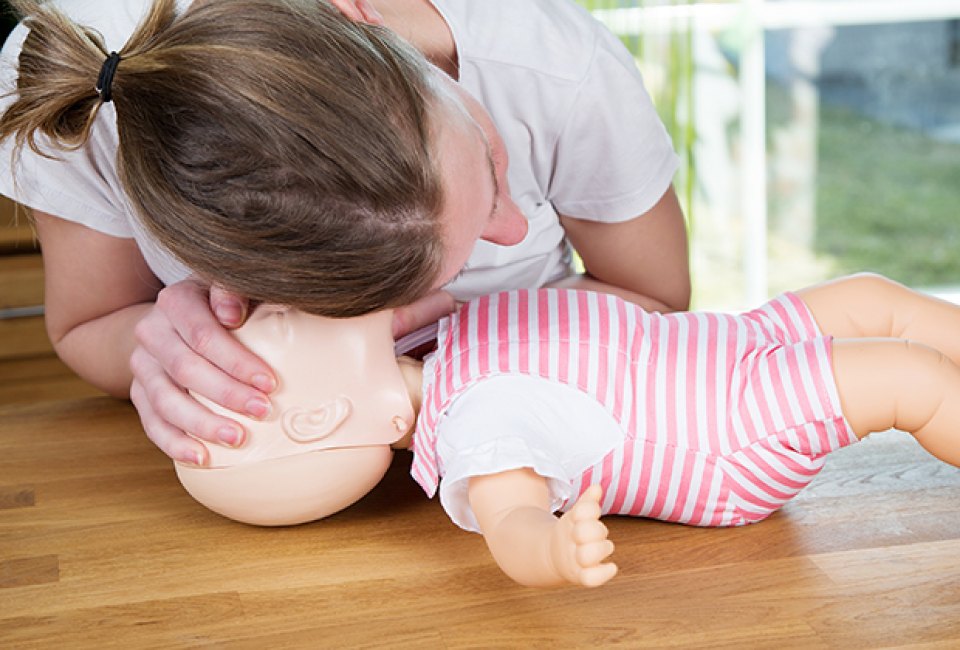 10/25/17
- By
Sarah G
As a parent, you hope you'll never need to use CPR or first aid. But the scary truth is that if your baby chokes, or suffers a trauma like drowning or an electrical shock that knocks him unconscious, you'll want to know what to do, rather than rely on the availability of a knowledgeable stranger while you wait for the ambulance.
Have we freaked you out yet? The good news is NYC boasts plenty of infant CPR (cardiopulmonary resuscitation) and first-aid classes and refreshers for parents and caregivers, such as grandparents and nannies, where life-saving skills are taught and practiced until you feel as prepared as possible. So read on for our top picks on CPR and first-aid classes in the city.
Also check out our list of babyproofing companies around the metro area, as well as our Baby & Pregnancy Guide for more essential NYC parenting tips.
You might also find classes at your pediatrician's office, children's play spaces, fire stations, yoga studios, and the hospital you gave birth at. Always make sure the class is taught by an instructor certified through an officially recognized organization such as the American Heart Association, the American Red Cross, or a major hospital.
If your family has a regular childcare provider, consider providing (or sharing the cost of) training for that person, too; first-aid and CPR certificates expire after two years and brushing up on these skills is beneficial to all. Please note: Some of our class picks offer CPR certification, but not all do; please check with the organization if you need official certification.
American Heart Association — Locations Vary
This organization wrote the book on CPR and first-aid, literally. While it offers online learning, classroom experience is preferable for first-timers. Find a class near you via the website. If you only need CPR training, look for the Family & Friends class, which includes adult and pediatric CPR and lasts about 1.5 hours. For a more comprehensive class that includes pediatric CPR and first-aid training, select the 7-hour-long Heartsaver Pediatric First Aid CPR.
Baby Be Safe — Upper West Side and East Village
Taught by American Heart Association instructors, Baby Be Safe first aid and CPR group classes are taught at the 14 Street Y and the Jewish Community Center of Manhattan. Group classes last about 2.5 hours and include first aid and CPR (infant, child, or adult, depending on the class selected). There is also the option to book a private class in your home or workplace.
Baby Bodyguards — Various Brooklyn locations
Baby Bodyguards teaches an in-home infant/child CPR and safety class taught by an American Heart Association instructor. The 90-minute class covers the Heimlich maneuver, too. The organization also offers adult CPR and Heimlich maneuver, injury prevention, SIDS prevention, babyproofing, and car seat and travel safety.
Birth Day Presence — Midtown East, Soho, and Park Slope
Infant CPR and safety classes offered by this childbirth education and doula services provider are taught by an American Heart Association certified instructor and last approximately two hours. In addition to CPR training, classes cover taxi and car seat guidelines and baby safety tips (but not first-aid).
CNT Rescue — Astoria, Queens
This America Heart Association-certified training site offers pediatric first aid/CPR classes twice a week and covers pediatric CPR/AED, choking, and managing infant and child injury or illness until professional help arrives. On-site training for small groups is also available.
Gumbo
— Boerum Hill, Brooklyn
Get a safety lesson at this kids' music and language classes spot, which frequently offers an infant/child CPR class. It's taught by a nurse and American Heart Association certified instructor who throws in a dash of general baby safety topics, including water and travel safety, and babyproofing tips for your apartment. It's all taught on a mannequin, of course, but is super hands-on.
RELATED: Postpartum Support Groups for NYC Moms: Breastfeeding and More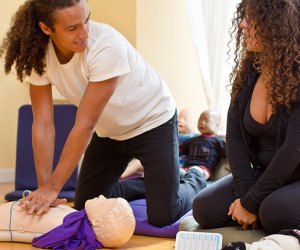 Common Sense CPR prepares new parents and caretakers for what to do if your newborn stops breathing. Photo courtesy of the class.
Infant Safety and CPR — Upper West Side
Taught by Common Sense CPR founder Vanessa Anton and dually certified by both the American Heart Association and Red Cross, this class teaches parents and caretakers how to respond to choking incidents and how to administer CPR to babies ages newborn to 1 year. Anton also provides general baby safety tips and car safety advice. Taught at the Prenatal Yoga Center, this class lasts approximately 2.5 hours.
RELATED: Questions to Ask Before Picking a Pediatrician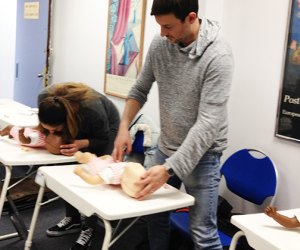 Learn infant CPR and car seat safety at the same time at Little Hearts CPR in the city. Photo courtesy of the class.
Little Hearts CPR — Hell's Kitchen
With classes for first-timers, refresher courses, Spanish-language classes, and private instruction options, Little Hearts is a one-stop shop and offers classes in Manhattan and Brooklyn. Taught by owner Amy Gross, who is an American Heart Association certified instructor, standard classes are 2.5-hours long and occur four to six times weekly at the Manhattan location. Gross is also a Child Passenger Safety Technician, so all classes include a taxi and car seat safety component.
92nd Street Y — Upper East Side
This uptown cultural institution offers a full suite of classes for all ages, but it has a huge focus on families with its preschool and parenting center. Among its offerings are multiple CPR classes and first aid certification. There's a baby/toddler CPR and safety class and a child and adult CPR/AED class and certification. They even offer a pet CPR course and another for professional rescuers. The one-time four hour baby course will also go over accident prevention and babyproofing tips. It's taught at the 92Y's May Center for health and fitness by a certified Lifesaving Enterprises instructor.
Red Cross — Locations Vary
Not just for healthcare professionals, the Red Cross trains more than 9 million Americans each year. Sign up for an adult and pediatric first-aid and CPR class near you via the agency's website or by calling 1-800-REDCROSS. These classes can run up to six hours, but there's also an option to first complete part of the lesson online, prior to attending the class. This cuts actual class time down to approximately two hours.
Wild Was Mama — Park Slope and Greenpoint, Brooklyn
This popular maternity and postpartum Brooklyn shop regularly offers educational classes for new and experienced parents, including an infant/child/adult CPR class. The upcoming class is taught by a Baby Be Safe instructor trained by the American Heart Association.
A version of this article was first published in June 2011, but it has since been updated.
Top image via Bigstock.