Baby Safety: Top NYC Babyproofing Companies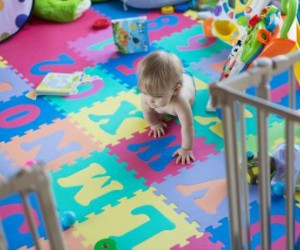 9/10/15
- By
Rachel Sokol
Whether you're an expectant mom or veteran parent, nothing can be more overwhelming than the thought of figuring out how to babyproof your New York City apartment. So in recognition of Baby Safety Month this September, we've rounded up the top babyproofing services operating throughout the city, including in Queens, Brooklyn, the Bronx, Staten Island, and of course Manhattan.
Read on to select the right pro to make your home a bit safer for baby. They'll pad sharp edges, lock down cabinets, hang window guards and secure bookshelves to the walls, as well as offer general safety tips for time-challenged New Yorkers. Here's to crossing one more parental worry off your list, and possibly gaining a bit more peace of mind.
For more helpful tips, peruse our posts on useful services and products.
Most babyproofers will offer an initial assessment of your home without an obligation to purchase anything further, but you will pay for that first visit. You call to book the appointment, they tour your place and offer suggestions on where to make changes, including an itemized list of services and costs.
A+ Childproofing
Contact: info@apluschildproofing.com
Services areas: NYC and New Jersey
Cost: An initial assessment costs $40.
This popular, father-run childproofing service does it all, installing a variety of baby gates, window guards, cabinet locks and self-closing outlet covers, as well as securing furniture to the wall and pointing out home hazards to avoid, such as a full mop bucket. Parents can opt for an initial assessment of their home and then pick and choose the services they'd like á la carte or have the assessment and work done in one day. Be warned: He books up fast.
All Star Baby Safety
Contact: 212-396-1995
Service areas: All of NYC, Long Island and lower Connecticut. Appointments can be scheduled weekdays between 9am and 4pm.
Cost: Consultation fees range from $75 to $180, depending on your location, available dates and times. This fee will be credited in $10 increments for every $100 spent.
All Star specializes in expert baby gate installation of Kidco and Cardinal products, emphasizing low-profile installation that helps minimize wall damage (your landlord will thank you!). Employees will review all safety products available for your home and prepare an itemized list of all the products/services they recommend, along with a quote. Once a price and project is approved, a date is scheduled for installation. You can also submit photos of locations you need gated (with measurements) and All Star can send photos of the gates they suggest, with costs.

Baby Proofers Plus, Inc.
Contact: 212-628-8052
Service areas: All of NYC and most of central and northern New Jersey
Cost: Evaluation fee is $70
In business for 25 years, Baby Proofers is IAFCS-certified. Safety experts will evaluate your home and provide a room-by-room analysis, identify potentially dangerous objects or conditions and answer questions mom and dad may have about baby safety. Once installation begins, most jobs are completed within 2-4 hours.
Baby Bodyguards
Contact: 718-332-0511
Service areas: Manhattan, Brooklyn, Westchester, Long Island, New Jersey. The consultation and installation can be done in one visit for a one-level home, as well as a multi-level home if client sends pictures of the openings of their stairways beforehand.
Cost: Evaluation fee is $175. This fee will be credited to the work order.
This full-service safety company also specializes in car seat installation and provides infant/child CPR classes for local parents. Employees hold a range of safety certifications and are trained as Certified Passenger Safety Technicians, American Heart Association CPR Instructors and more. Baby Bodyguards says it aims to provide aesthetically pleasing safety products, so gates and other safety items blend in with the home's decor while still meeting safety standards.
Baby safety tips from these local companies:
Never leave infants alone; supervision is the first line of defense from accidents and injuries.

Keep wires out of reach of little ones and away from cribs, high chairs and anywhere babies and tots can access.

Anchor wall units, dressers and bookcases for added safety; even heavy furniture can tip over, especially for curious little climbers.
Photo by Donnie Ray Jones via Flickr