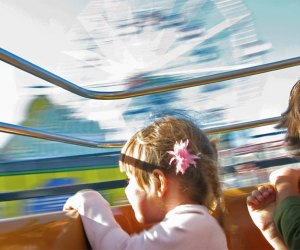 Here are the Things You Want To Do This Weekend in NYC: Coney Island Reopens, Kusama Debuts at NYBG
Is there anything better than sunshine, spring temps, and the great outdoors? What if the great outdoors was sprinkled with the brilliant artwork of Yayoi Kusama? Or Coney Island was springing back to life? Or how about being able to visit the Staten Island Children's Museum, snag some free ice cream (in Union Square, Greenpoint—or both!) or take a magical evening walk through Central Park? This is how weekends should unfold.
This weekend also brings Tartan Day, if you have a hankering for bagpipes. BAM chills out with ice dancing in Prospect Park. And you can see movies outdoors in Queens (anime hit Your Name) and Brooklyn (Ratatouille and more).
Rockefeller Center's annual Spring Sunday fest is mostly virtual this year, but you do need to sign up in advance for some of the activities, including the Brooklyn Robot Factory's flashlight-making session.
Of course, there's more. Amble through our Event Calendar for the latest word on what's happening for kids in NYC. Check out our April GoList, wander through beautiful cherry blossoms, and don't miss our list of spring day trip ideas. Last, don't forget to book those summer camps. Slots are going fast for the 2021 season! Learn more about local and virtual summer camps with our upcoming Online Camp Fair. Visit virtual booths and watch live camp demos.
Editor's note: While we are trying to promote safer activities that occur outdoors or with social distancing guidelines in place, please keep your family and others safe by always wearing a mask and practicing social distancing. If you arrive at an event that appears too crowded, try using the "nearby" search feature on our Event Calendar to find something else to do. Please plan your outings in advance, as many venues require timed-entry tickets or reservations to limit crowd size.