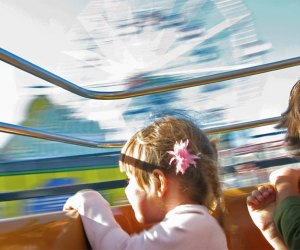 Here are the Things You Want To Do This Weekend in NYC: April Showers, Flowers, Earth Day
April showers have certainly come our way, but we don't have to wait until May for flower power: This weekend we've got a Floral Fantasy blooming in Brooklyn, and the Queens Botanical Garden is welcoming families to its very own Flower Patch. You can swap seeds - both floral and vegetable - at Old Stone House on Sunday. We're also looking forward to a visit to Randall's Island to explore the Urban Farm, and maybe peek at a cherry tree or two.
Early Earth Day celebrations are proliferating around town, too. Stop by DUMBO's fete for balloon twister, arts and crafts, and soccer and science labs. (Psst... The Cliffs at DUMBO are reopening this weekend too, if you're in the area and love to climb.) Explore Ecology Park and learn about its plant communities. Or scramble over to CMOM to make Earth Day Planters.
As you know, we're planting activities on the regular on our Event Calendar and it is blossoming with even more activities for kids in NYC. Check out our April GoList, wander through beautiful cherry blossoms, and don't miss our list of spring day trip ideas. PSA: don't forget to book those summer camps. Slots are going fast for the 2021 season! You can learn more about local and virtual summer camps at our upcoming Online Camp Fair, where you can visit virtual booths and watch live camp demos from the comfort of your couch.
Editor's note: While we are trying to promote safer activities that occur outdoors or with social distancing guidelines in place, please keep your family and others safe by always wearing a mask and practicing social distancing. If you arrive at an event that appears too crowded, try using the "nearby" search feature on our Event Calendar to find something else to do. Please plan your outings in advance, as many venues require timed-entry tickets or reservations to limit crowd size.