See Alexander Calder's Work Up Close at New MoMA Exhibit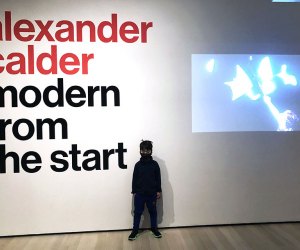 One of the most important American sculptors of the 20th century, Alexander Calder, loved to incorporate motion, repurposed objects, and a sense of whimsy in his works. He is well-known for his mobiles, stabiles, wire sculptures, and large-scale, outdoor sculptures. We have good news for New Yorkers: All these are on display at MoMA's newest exhibition, Alexander Calder: Modern from the Start.
Read on for our full review of the installation at the family-friendly culture hub, which I recently explored with my 4.5-year-old son. He had been familiar with Calder's works from an art book, but seeing them in person took his appreciation to another level. As always, find more kid-friendly exhibits in our Guide to Museums and Galleries.
Editor's note: While we are trying to promote safer activities that occur outdoors or with social distancing guidelines in place, please keep your family and others safe by always wearing a mask and practicing social distancing.
The exhibit focuses primarily on Calder's early years, with most of the works sourced from MoMA's own archives and supplemented by pieces on loan from the Calder Foundation. It opens with several of Calder's large-scale, sheet metal works in all black, which reminded my son of spider-like creatures. As we walked around them, they seemed so light, as if they were ready to pounce and scatter away.
The next set of galleries showcase Calder's toy-like sculptures, wire portraits and animal figurines, mobiles, and stabiles made with repurposed objects gently swaying, and sculptures made to look like mini-constellations. My son really enjoyed the wire portraits and figures, which evoke a child's sense of play and wonder. One piece is made to look like a cow, to which Calder added little pieces of wire dung. My son remarked that Calder must have been a very funny artist.
RELATED: See Yayoi Kusama's Whimsical Art at NYBG's Newly Opened Exhibition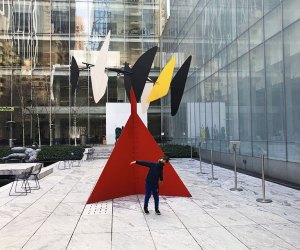 See large-scale works Sandy's Butterfly and Man-Eater with Pennants in MoMA's sculpture garden.
My son also noticed that, in addition to black and white, Calder used mostly primary colors in his works. His use of primary colors is especially on display in the two large works in the garden. Joining Sandy's Butterfly, a mainstay in the Garden, there's also Man-Eater with Pennants, a Calder work that hasn't been on view for more than 50 years. These sculptures are fun to walk around and enjoy while having a snack in the Garden, watching the long steel rods gently swaying in the wind.
RELATED: Goodnight House Lets Visitors Step Inside a Beloved Children's Book

MoMA's Calder exhibit includes works both large and small, displayed in the galleries and the garden.
Know Before You Go
MoMA is open daily from 10:30am-5:30pm. The exhibit runs through Saturday, August 7.
Tickets must be purchased in advance online. General admission includes the Calder exhibit. Tickets cost $25 for adults; children under 16 are FREE.
Make sure to keep a close eye on your child walking through the exhibit. Many of the pieces are not roped off and could be easily disturbed. There are museum guards stationed throughout the galleries to make sure no one gets too close.
The exhibit is also part of MoMA's Virtual Views, which lets you explore the exhibit virtually.
The indoor cafes and restaurants are closed, but the Garden Cafe is open.
Photos by the author